December 3, 2018
— A cosmonaut and two astronauts bound for the International Space Station made it safely into Earth orbit on Monday (Dec. 3), two months after another crew suffered an in-flight abort attempting to do the same.

Cosmonaut Oleg Kononenko of Russia's federal space corporation Roscosmos, astronaut Anne McClain of NASA and astronaut David Saint-Jacques of the Canadian Space Agency (CSA) lifted off aboard Russia's Soyuz MS-11 spacecraft from the Baikonur Cosmodrome in Kazakhstan at 5:31 a.m. CST (1131 GMT or 5:31 p.m. local Kazakh time).

About two minutes later, their Soyuz-FG rocket's four side-mounted boosters fell away from the launch vehicle, marking the point in flight when the previous Soyuz MS-10 crew had to quickly transition to making an emergency ballistic landing.

"Risk is part of our profession," said Kononenko at his crew's pre-launch press conference, addressing the Oct. 11 launch failure. "We go through a lot of training where we prepare for different off-nominal situations and we understand they can happen during spaceflight."

"The outcome of the last flight doesn't directly correlate to how we feel about this flight. We feel very ready for it," added McClain. "There were three important questions to be answered prior to clearing us for flight and those were: figuring out what happened, why it happened and how to prevent it from happening again."

A Russian state commission determined that a deformed sensor had resulted in one of the side-mounted boosters impacting the Soyuz MS-10 rocket's second stage, which then broke apart in flight. The Soyuz MS-10 spacecraft performed as expected and crewmates Aleksey Ovchinin and Nick Hague safely returned to the ground, landing on the steppe of Kazakhstan.

"The crew was perfectly okay thanks to the incredibly safe and redundant design of the Soyuz spacecraft," said Saint-Jacques. "As crew members, I would say it was almost a reassuring thing to witness how, even in such dire circumstances, a high in the atmosphere failure, they came back to Earth completely safe."

Nine minutes into their launch, Kononenko, McClain and Saint-Jacques entered orbit, putting them on course to rendezvous with the space station four orbits later. The crew selected a small plush raccoon and an "Elf on the Shelf" doll holding a small green dragon as their "zero-g indicators," signaling their successful ascent.

Update: The Soyuz MS-11 docked at the orbiting outpost's Poisk module at 11:33 a.m. CST (1733 GMT) on Monday.


Waiting for Kononenko, McClain and Saint-Jacques aboard the space station are Expedition 57 commander Alexander Gerst of the European Space Agency (ESA) and flight engineers Serena Auñón-Chancellor of NASA and Sergey Prokopyev of Roscosmos. The six astronauts and cosmonauts will work together through Dec. 19, when Gerst, Auñón-Chancellor and Prokopyev will depart on Soyuz MS-09.

Kononenko will then become commander of Expedition 58. A new three-member crew are scheduled to arrive on Soyuz MS-12 in March.

As Expediton 57/58 crew members, Kononenko, McClain and Saint-Jacques will continue work on hundreds of experiments in biology, biotechnology, physical science and Earth science. They will also conduct spacewalks, including an EVA (extravehicular activity) by Kononenko and Prokopyev scheduled for Dec. 11, and will oversee the arrival and departure of cargo resupply spacecraft.

An uncrewed test flight of SpaceX's commercial Dragon spacecraft designed to fly astronauts to and from the space station is also slated to arrive while Kononenko, McClain and Saint-Jacques are on orbit.

Kononenko, McClain and Saint-Jacques are expected to stay on the space station through June.

Kononenko, 54, is beginning his fourth stay on the International Space Station after serving on Expedition 17 in 2008, Expedition 30/31 in 2012 and Expedition 44/45 in 2015. He starts this mission having already logged 533 days in orbit.

McClain and Saint-Jacques are making their first spaceflights. McClain, 39, is the first of NASA's 2013 astronaut class, nicknamed the "8-Balls," to enter space (Hague was slated to earn that distinction before the Soyuz MS-10 abort). Saint-Jacques, 48, was selected as a Canadian Space Agency astronaut in 2009.

Soyuz MS-11 is the 57th Russian Soyuz spacecraft to launch to the International Space Station since October 2000 and 140th since the first Soyuz flight in 1967.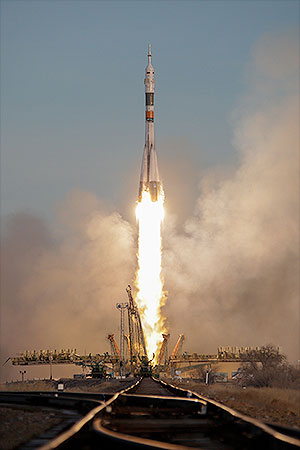 Soyuz MS-11 launches for the International Space Station from the Baikonur Cosmodrome, Dec. 3, 2018. (Roscosmos)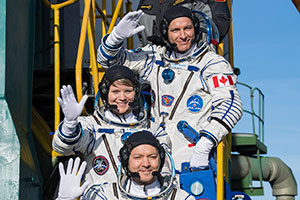 Soyuz MS-11 crewmates Oleg Kononenko of Roscosmos, Anne McClain of NASA and David Saint-Jacques of the Canadian Space Agency wave before their launch. (NASA/Aubrey Gemignani)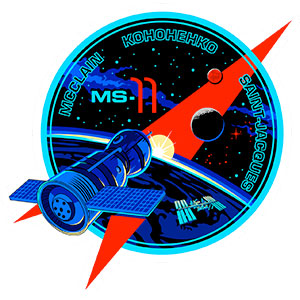 Soyuz MS-11 crew mission patch. (Roscosmos/spacepatches.nl)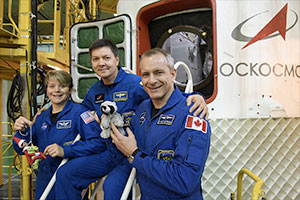 Soyuz MS-11 crewmates Anne McClain of NASA, Oleg Kononenko of Roscosmos and David Saint-Jacques of the Canadian Space Agency posing with their chosen zero-g indicators. (RSC Energia)