December 3, 2018
— An artistic tribute to a fallen astronaut is now in Earth orbit, following a history-making launch.

The ENOCH sculpture-satellite, which memorializes Robert H. Lawrence, Jr., the first African American selected to train as an astronaut, flew as part of Spaceflight Industries' SSO-A SmallSat Express. The mission, which launched Monday (Dec. 3) aboard a SpaceX Falcon 9 rocket with 63 other spacecraft, marked the largest single rideshare from a U.S.-based launch vehicle to date.

The launch, at 10:34 a.m. PST (1834 GMT) from Space Launch Complex 4E (SLC-4E) at Vandenberg Air Force Base in California, was also the first time that SpaceX reflew one of its reusable Falcon 9 first stages for a third time. The stage, which again landed on a sea-based droneship, previously launched in May and August on missions to deploy commercial communication satellites.

Artist Tavares Strachan, working in collaboration with the Los Angeles County Museum of Art (LACMA), created the ENOCH satellite to bring to light Lawrence's story by combining the traditions of ancient Egypt with Japanese rituals and the history of space exploration. The satellite is comprised of a 24-karat gold canopic jar with a bust of the late Manned Orbiting Laboratory (MOL) trainee.

A U.S. Air Force pilot with a doctorate in physical chemistry, Lawrence flew test flights that later informed the performance of the space shuttle landing from orbit. In June 1967, he was recruited for the Air Force's MOL program, which was focused on establishing a crew-tended reconnaissance platform in Earth orbit.

Lawrence, 32, died on Dec. 8, 1967, in the crash of an F-104 Starfighter jet. Had he lived, he would have likely transferred with other MOL candidates to NASA's astronaut corps after the Air Force program was canceled two years later. The move could have led to him being the first African American in space, a distinction that Guion "Guy" Bluford gained in 1983, flying on the space shuttle Challenger with MOL veteran Richard Truly.

In 1997, Lawrence was honored by the Astronauts Memorial Foundation with the addition of his name to the Space Mirror Memorial at the Kennedy Space Center in Florida.

"I remember first discovering the story of Robert Henry Lawrence Jr., America's first black astronaut who never got the pleasure of space exploration," wrote Strachan on his Facebook page. "A superhero mixed with fighter pilot, mixed with physical chemist, Lawrence Jr. was the kind of person lots of boys and girls on my street corner would have wanted to be, but never knew his story."

The ENOCH satellite borrows symbolically from the ancient Egyptian practice of using a canopic jar to protect and preserve organs of the deceased for use in the afterlife. Stachan's canopic jar was blessed at a Shinto shrine in Fukuoka, Japan to recognize it as "a container for Lawrence's soul." The name "Enoch" refers to a biblical figure in Jewish, Christian and Muslim texts who never experienced mortal death, but instead ascended directly into the afterlife.

The satellite, which is expected to circle the planet for the next seven years, was sponsored by SpaceX through a grant awarded by the LACMA Art + Technology Lab. In 2014, Strachan met with SpaceX president and chief operating officer Gwynne Shotwell, an advisor to the lab, to explore how technology could push his art in new directions. Strachan's portfolio includes works themed around deep sea exploration, extreme climatology and aeronautical and astronomical science.


"Tavares Strachan's ENOCH exemplifies the LACMA Art + Technology Lab's mission to foster conversations between talented artists and leading technology companies to realize collaborations that would not be otherwise possible," said Michael Govan, LACMA CEO. "Launching an artwork into space is a spectacular result of the program. More importantly, Tavares's project justly honors an under recognized pioneer of NASA's space program."

ENOCH launched alongside another art project as part of the SSO-A mission.

Contemporary artist Trevor Paglen's Orbital Reflector, produced in collaboration with the Nevada Museum of Art, is a sculpture made of a reflective Mylar-like material that will be visible from Earth with the naked eye. Deployed from a small cubesat, the 100-foot (30-meter) "balloon" will orbit Earth for a few months before falling into the atmosphere to be destroyed.

"I think one of the most important things that art can do is give you a reason to look at something," said Paglen in a video accompanying a 2017 Kickstarter campaign that raised $76,000 for the Orbital Reflector project. "Here I am going to create a reason for you to look at the sky and think about what it is you are looking at."

The 62 other satellites deployed on Monday include microsats and cubesats from commercial and government entities, which vary from technology demonstrations and imaging satellites to educational research endeavors.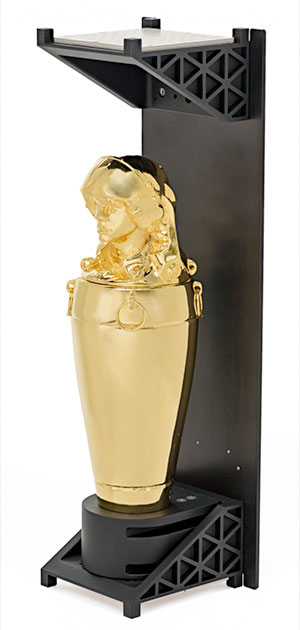 Artist Tavares Strachan's ENOCH satellite, now in orbit, features a 24-karat gold canopic jar with a bust of Manned Orbiting Laboratory astronaut Robert H. Lawrence, Jr., the first African American to be selected for a possible spaceflight. (LACMA)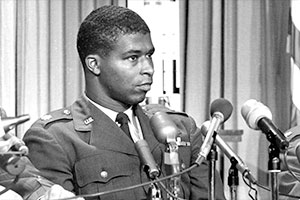 Robert Henry Lawrence, Jr., seen here at a 1967 press conference for the U.S. Air Force's Manned Orbiting Laboratory program, was the first African American to be selected as an astronaut. Lawrence died in December 1967 in an F-104 jet crash. (U.S. Air Force)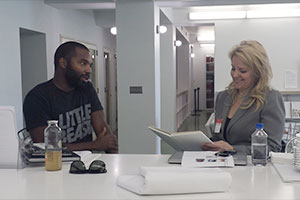 Artist Tavares Strachan met with SpaceX CEO and chief operating officer Gwynne Shotwell to discuss his art in 2014. (LACMA)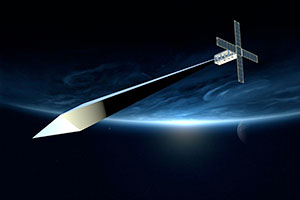 Artist rendering of Trevor Paglen's Orbital Reflector as it appears deployed in Earth orbit. (Nevada Museum of Art)