January 26, 2017
— Three astronauts who died 50 years ago this week were remembered at a public ceremony in Florida on Thursday (Jan. 26), not far from the launch pad where a fire claimed their lives.

The Apollo 1 crew members, Virgil "Gus" Grissom, Edward White and Roger Chaffee, were honored at the Astronauts Memorial Foundation's NASA Day of Remembrance at the Kennedy Space Center Visitor Complex.

The annual event also paid tribute to the 14 space shuttle crew members and seven other U.S. astronauts who made the ultimate sacrifice while in the pursuit of exploration and whose names are engraved on the Space Mirror Memorial, a national monument to the fallen space explorers.

"Every year at this time, NASA remembers all of our brave family members we have lost and who've given everything, a full sacrifice, to advance this mission of exploration," said Robert Lightfoot, the newly-appointed Acting Administrator of NASA. "Particularly poignant this year because it marks 50 years since Apollo 1."

"We can't forget our fallen heroes — and they are heroes," said Lightfoot. "To those in my generation who watched as these folks pushed that envelope and ultimately got us to the moon, that is why I am here, [and] that is why most of the people of my generation are here."


Grissom, White and Chaffee were taking part in a routine "plugs out" test atop their Saturn IB rocket at Complex 34 in Cape Canaveral when a spark, set off by a short circuit, ignited a flash fire inside the pure oxygen environment of the Apollo command module. Unable to open the hatch as a result of its design and the pressure within the capsule, the astronauts died within 30 seconds of the blaze erupting due to smoke inhalation and thermal burns.

"Today we are not here for a space launch, no launch this time," said astronaut Michael Collins, who orbited Earth on Gemini 10 and orbited the moon on Apollo 11. "But just as important, [we are here] to contemplate a launch which did not take place but that in many ways was just as important as any which flew later."

"Without Apollo 1 and the lessons learned from it," Collins continued, "in all probability, such a fire would have taken place later in flight and not only a crew, but the spacecraft would have been lost, and NASA — with no machinery to examine — would only be able to guess at the causes and how to prevent still another occurrence."

"Yes, Apollo 1 did cause three deaths," said Collins, "but I believe it saved more than three later."

One of NASA's original seven astronauts, Grissom flew on the second U.S. piloted space flight, Mercury-Redstone 4, in July 1961, and led the first crewed mission on the space agency's two-seat spacecraft, Gemini 3, in March 1965.

White followed Grissom into Earth orbit three months later on the Gemini 4 mission, becoming the first American (and second person worldwide) to spacewalk on June 3, 1965.

Chaffee was preparing for his first flight, the maiden launch of NASA's later moon-bound space capsule, when he and his two Apollo 1 crewmates were caught up in the fire.

"I cannot believe it's been 50 years since I lost my father, along with his Apollo 1 crewmates, Gus and Ed," remarked Sheryl Chaffee, who was eight years old at the time of the fire and later worked at the Kennedy Space Center for 33 years. "Although on that January day they lost their lives across the river on Complex 34 at the Cape Canaveral Air Force Station, their story did not end there and their legacy lives on today."

Three astronauts, Theodore "Ted" Freeman, Elliot See and Charles Bassett, were killed in jet aircraft accidents prior to the fire. The Apollo 1 tragedy was the first time that NASA lost a crew aboard a spacecraft, albeit on the ground.

Nineteen years (and one day) later, the STS-51L mission crew — Dick Scobee, Michael Smith, Judy Resnik, Ellison Onizuka, Ron McNair, Greg Jarvis, and Christa McAuliffe — died aboard the space shuttle Challenger when it broke apart 73 seconds into flight on Jan. 28, 1986.

It was then 17 years later, on Feb. 1, 2003, when the STS-107 mission crew — Rick Husband, William McCool, David Brown, Kalpana Chawla, Michael Anderson, Laurel Clark, and Israeli astronaut Ilan Ramon — were killed aboard the space shuttle Columbia as it reentered Earth's atmosphere after a 16-day mission dedicated to science.

Four other astronauts are honored on the Space Mirror — Clifton "C.C." Williams, Michael Adams, Robert Lawrence and Manley "Sonny" Carter, all victims of aircraft accidents between 1967 and 1981.

Thursday's ceremony was followed by a wreath laying at the Space Mirror Memorial. In addition to Collins, Apollo 16 astronaut Charles Duke took part in the ceremony. Apollo veterans Buzz Aldrin and Thomas Stafford also attended, as did former space shuttle and current space station crew members.

The ceremony preceded two additional Apollo 1 memorial events set for Friday, the day of the 50th anniversary of the fire, including the reveal of a new public exhibit displaying the Apollo 1 spacecraft's three-part hatch, and an evening ceremony at Pad 34, the site of the tragedy.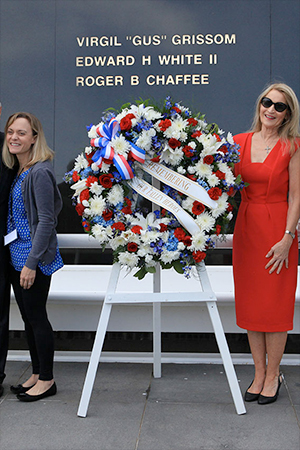 Family members of the fallen Apollo 1 crew gather beside a wreath placed at the Space Mirror Memorial at the Kennedy Space Center Visitor Complex in Florida on Thursday, Jan. 26, 2017. From left to right are: Lowell Grissom, brother of astronaut Gus Grissom; Carly Sparks, granddaughter of Grissom; Bonnie White Baer, daughter of astronaut Ed White; and Sheryl Chaffee, the daughter of astronaut Roger Chaffee. (NASA/Kim Shiflett)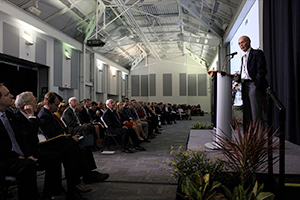 Apollo 11 astronaut Michael Collins addresses guests at Kennedy Space Center's Day of Remembrance. (NASA/Kim Shiflett)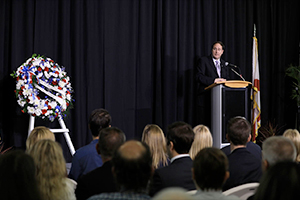 NASA Acting Administrator Robert Lightfoot addresses guests at Kennedy Space Center's Day of Remembrance. (NASA/K. Shiflett)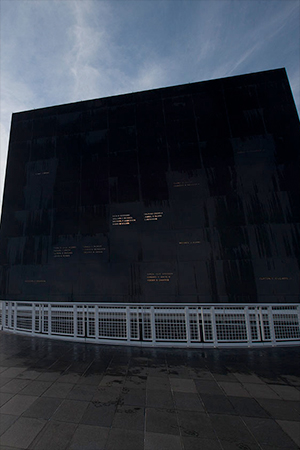 Early morning sunlight illuminates the names on the Space Mirror Memorial at Kennedy Space Center Visitor Complex. (NASA)