December 1, 2020
— A high-profile street artist whose original creations lifted off on SpaceX's first rocket to fly with NASA astronauts aboard is now ready for his own launch, of sorts: the sale of limited edition replicas of his flown-in-space art.

Tristan Eaton watched as his two laser-etched metal panels, entitled "Human Kind," flew alongside astronauts Bob Behnken and Doug Hurley on SpaceX's Crew Dragon Demo-2 mission to the International Space Station (ISS) in May. Packed within the "extra cargo space" on board the commercial space capsule, Eaton's gold-plated and powder-coated aluminum panels, along with a stencil made out of aerospace-grade aluminum, spent three months circling the planet before returning with the astronauts to a splashdown in the Gulf of Mexico.

"We're so happy the SpaceX crew made it back to Earth safely! To celebrate the historic journey of Eaton's art to the ISS on SpaceX's Dragon spacecraft, we will be releasing a very special series of art prints and posters," Eaton announced to his followers on Instagram a couple of days after the Aug. 2 landing.

Now the commemoratives are ready for release. A limited edition box set and an open edition pair of prints will debut for sale on Thursday (Dec. 3) at 3 p.m. EST (2000 GMT) exclusively on the artist's website, tristaneaton.com.

Like the flown plates, the replicas and prints feature a montage of scientific and cultural pop-art images arranged in Eaton's patchwork style. Among the monotone graphics are representations of NASA's Saturn V rocket, which carried the first humans to orbit and walk on the moon, and SpaceX's own Dragon capsule, which flew the art itself to space and back.

The replicas, which are limited to only 100 box sets, include dual-sided aluminum panels silkscreened with Eaton's "Human Kind" art. The boxes also come with wooden display stands for the two 12-by-18-by-0.125-inch (30-by-45-by-0.3-cm) panels, custom silk-screened art sleeves and a certificate of authenticity featuring a reproduction of the letter that Eaton wrote to the astronauts on the station.

The box sets will be sold for $2,500 each, with a limit of two boxes per person.

"It's a pricey item, but very justified in my opinion," Eaton wrote on Instagram.

The "Human Kind" paper prints will be available in either gold or silver metallic ink. The prints are $200 for a pair of two; each print reproduces one side of one panel, suitable for framing.

"The paper edition will be open to make sure everyone that wants one gets one," said Eaton. "It wouldn't feel right for people to miss it. This project is special."

With "Human Kind" now having flown and returned from space, Eaton has become part of a small but prestigious community of artists whose works have been launched into orbit and beyond, including Andy Warhol, Robert Rauschenberg, Claes Oldenburg and Damien Hirst.

The original plates and stencil that flew aboard the Demo-2 mission are slated for auction in early 2021. Details about that sale are still to come.

In addition to being the first SpaceX launch with astronauts (and commercial art) aboard, the Demo-2 mission also marked the first flight of Americans on a U.S.-built rocket from a U.S.-based launchpad in the nine years since NASA's space shuttle fleet was retired. Since the Demo-2 test flight ended, a second Dragon launched with the Crew-1 astronauts on the first SpaceX operational mission for the U.S. space agency.

"Human Kind" was Eaton's first foray into space art. He previously co-founded the designer toy brand Kid Robot and has created original pieces for major clients including Nike, Universal and Marvel. Eaton's work can be seen in the Museum of Modern Art's (MoMA) permanent collection and on the side of skyscrapers in the form of large-scale murals in New York and Shanghai, among other cities around the world.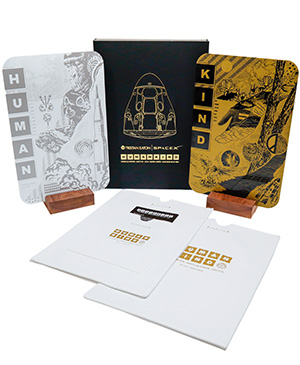 Tristan Eaton's "Human Kind" box set includes replicas of the street artist's metal panels that launched on SpaceX's Crew Dragon DM-2 mission to the International Space Station in May 2020. (Atrbute)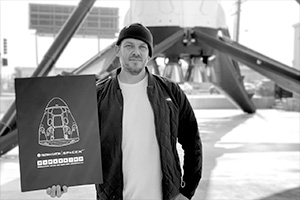 Artist Tristan Eaton with his "Human Kind" limited edition box set at SpaceX's headquarters in Hawthorne, California. (Tristan Eaton)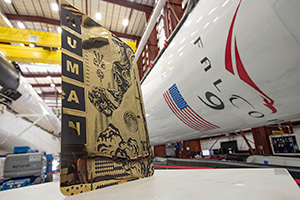 Tristan Eaton's "Human Kind" artwork, seen beside SpaceX Falcon 9 rockets at NASA's Kennedy Space Center in Florida. (SpaceX)