May 28, 2020
— A street artist whose portfolio includes multi-story-tall murals and designer toys has ventured into a new genre — space art.

As in artwork launched into outer space.

"My art is going to space today!" Tristan Eaton exclaimed on Instagram, about an hour before weather forced SpaceX to scrub its first attempt at launching NASA astronauts on Wednesday (May 27). The company is set to try again on Saturday.

Eaton's artwork "Human Kind" is flying on SpaceX's Demo-2 mission with Bob Behnken and Doug Hurley, the first NASA crew to launch from the U.S. since the space shuttle was retired nine years ago this July. SpaceX's new Crew Dragon spacecraft will rendezvous and dock with the International Space Station (ISS).

"As an artist I try to look at the world with a big picture view. No one gets a bigger view of our world than our brave astronauts on the ISS," wrote Eaton.

After being provided the flight opportunity by SpaceX, Eaton created a series of indestructible paintings made from gold, brass and aluminum. Each piece is double-sided, "to represent the duality of Human Kind, our past and our future," the artist explained.

The metal plates depict a montage of science-inspired and cultural scenes, including a chimpanzee and its child; the launch of a Saturn V moon rocket, a representation of nuclear fission, an outstretched hand and a dove (with an inscription identifying the latter as a member of the "Columbidae" family of birds). Other elements of Eaton's "Human Kind" include water lilies, a fingerprint, the peace symbol, a nautilus shell, a smiley face, the American flag and SpaceX's Crew Dragon capsule.

A binary code appears on the side of the art labeled "Human," as well as the inscription, "Small steps lead to giant leaps." On the "Kind" side, are the names of the colors in the rainbow.

"I wanted to make something inspirational. Looking down from space to see all of Human Kind together on this tiny planet might remind you how much history and potential we have. Yet we have so much further to go," Eaton wrote.

"With kindness, hope and science, Human Kind has changed the world many times over. For a better future, we can do it again," he said.

Each plate fits into its own protective sleeve (dated "5.27.20") with a front pocket holding the artist's statement, a printed card with a greeting for the astronauts.

"Welcome to space!" the card reads. "Thank you for taking time to view these works I created for this expedition. Your courage and dedication is an inspiration to all of us down here on Earth. I imagine every astronaut takes a moment to digest the history and glory of where you are and what you are doing for humankind."

When "Human Kind" enters Earth orbit, Eaton will become part of the small but growing community of artists whose works have been launched into or created in space, including the late cosmonaut Alexei Leonov, former NASA astronauts Nicole Stott and Karen Nyberg (the latter, Hurley's wife), second-generation astronaut Richard Garriott and U.S. postage stamp artists Paul and Chris Calle.

In addition to "Human Kind" soon reaching the space station, Eaton's art can be found in New York City's Museum of Modern Art and on the side of buildings in cities around the planet. His earlier works include murals for Universal Studios Hollywood, posters for Barack Obama's presidential campaign and the iconic art toys "Dunny" and "Munny" for Kidrobot.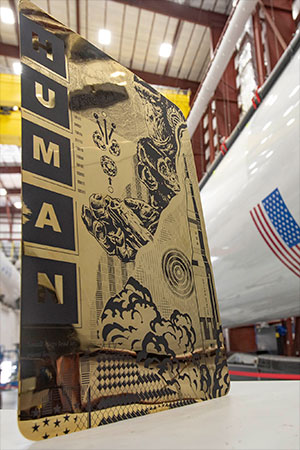 Tristan Eaton's "Human Kind" artwork, seen beside SpaceX Falcon 9 rockets at NASA's Kennedy Space Center in Florida, is launching on SpaceX's first crewed mission to the space station. (SpaceX)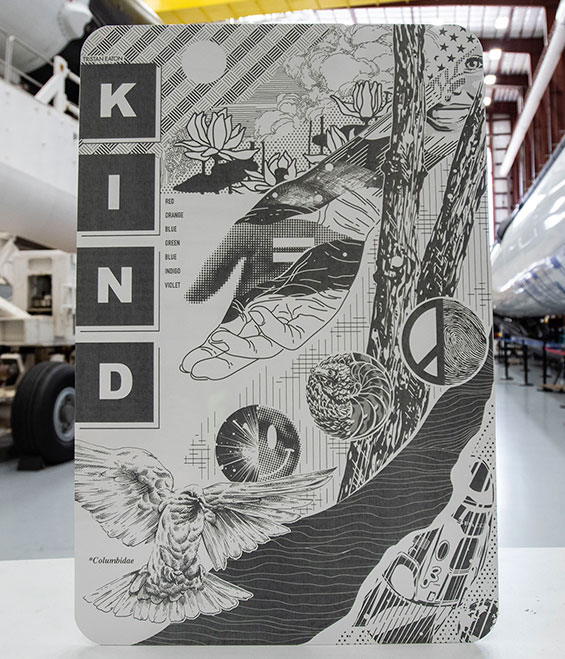 Tristan Eaton created his space station-bound "Human Kind" series to be indestructible using gold, brass and aluminum. (SpaceX)