Nov. 24, 2015
— For the first time in history, a rocket used to launch a payload into space has returned to Earth and landed upright on legs.

Blue Origin, the commercial spaceflight company founded in 2000 by Amazon CEO Jeff Bezos, achieved the first-of-its-kind feat on Monday (Nov. 23) at its West Texas launch site, located near the town of Van Horn. The New Shepard suborbital vehicle lifted off at 11:21 a.m. CST (1721 GMT). Its uncrewed capsule flew 62.5 miles high (100.5 km), just past the internationally-recognized boundary of space.

"Rockets have always been expendable," said Bezos in a statement posted on Blue Origin's website. "Not anymore. Now safely tucked away at our launch site in West Texas is the rarest of beasts, a used rocket."

"Full reuse is a game changer, and we can't wait to fuel up and fly again," he said.


Blue Origin's New Shepard, named after the first American in space, Alan Shepard, consists of a pressurized capsule and a booster. The vehicles launch vertically, accelerating for about two and a half minutes, before the rocket's BE-3 engine cuts off. The capsule then separates to coast to the edge of space.

After a few minutes of free fall, the booster then performs an autonomously controlled, rocket-powered landing, while the capsule lands under parachutes, both ready to be used again.

Blue Origin is developing the New Shepard to launch both commercial science payloads and humans into space. The capsule can seat six astronauts with more than ten times the room Alan Shepard had on board his Mercury capsule, Freedom 7, in 1961.

"We are building Blue Origin to seed an enduring human presence in space," said Bezos, "to help us move beyond this blue planet that is the origin of all we know."

The company has said it plans to begin flying commercial payloads by mid-2016. Astronaut flights will begin after the completion of a methodical flight test program.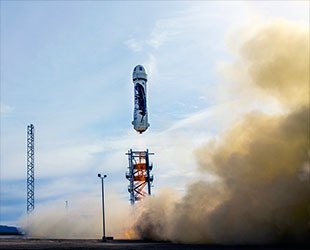 The New Shepard lifts off for space on Nov. 23, 2015.
(Blue Origin)
Monday's historic flight was Blue Origin's second attempt at achieving a vertical takeoff and landing with its booster. Earlier this year on April 29, the company launched its first New Shepard capsule to 58.1 miles (93.6 km). A hydraulic problem prevented the booster from executing a controlled landing, though.

This time, said Bezos, everything worked as was planned.

"[The] New Shepard space vehicle flew a flawless mission — soaring to 329,839 feet and then returning through 119-mph high-altitude crosswinds to make a gentle, controlled landing just four and a half feet from the center of the pad," he said.

"This flight validates our vehicle architecture and design," Bezos added.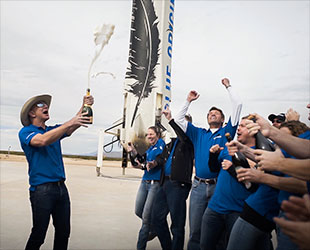 Blue Origin founder Jeff Bezos joins team members in celebrating the successful flight of the New Shepard.
(Blue Origin)
The booster deployed fins and brakes prior to re-igniting its engine at 4,896 feet (1.5 km) above ground level, slowing the rocket to just 4.4 mph (7.1 kph) just before touchdown. Meanwhile, the capsule deployed its drogue parachutes at 20,045 feet (6.1 kph), leading to a soft landing 11 minutes after its launch.

"Our fantastic team in Kent, Van Horn and Cape Canaveral is working hard not just to build space vehicles but to bring closer the day when millions of people can live and work in space," Bezos stated. "Congratulations to the whole Blue Origin team on [the] amazing accomplishment."