Nov. 20, 2014
– A mockup of a 1960's space capsule that was used by NASA for ground tests is set to sell for more than $20,000 — parking fees not included.


---
Update: The auction for the Gemini space capsule closed on Thursday (Nov. 20) with bids topping $50,000. The final sale price is still being confirmed by RR Auction.
---

The 9.5-foot-tall (3-meter) Gemini spacecraft, which is part of RR Auction's week-long space sale ending on Thursday (Nov. 20), narrowly escaped officers giving it a ticket when it was parked in a loading zone outside the Boston auction house's salesroom on Sunday.

"I had to talk my way out of a parking ticket!" wrote Bobby Livingston, RR Auction's executive vice president, in an e-mail to collectSPACE.

Parking citations aside, the two-ton artifact is an example of a "boilerplate" — metal, none-functioning capsules built to the same size and shape as the spacecraft they were designed to test. Used as mass simulators, the prototype capsules were employed by NASA to check out the load and handling characteristics that its craft would encounter during missions.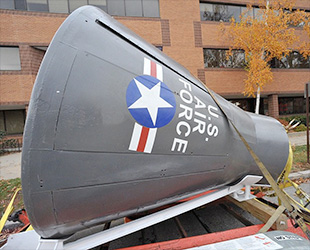 The Gemini boilerplate's empty interior has two weights attached to the ceiling and five weights on the floor to simulate the mass of the spacecraft's control panels and crew equipment.
(RR)
According to Livingston, this particular Gemini boilerplate was originally used for tests supporting the recovery of the Gemini capsules after they returned from orbit to a splash down in the ocean. Initiated in 1962, Project Gemini tested the docking and spacewalk skills needed to send crews to the moon.

"This [Gemini] boilerplate would have been used primarily for testing water tightness, flotation collars and [astronaut] exit procedures," he said.

Only two such Gemini boilerplates are known to be held in private collections.

"Most boilerplates are on display at museums, bases, and schools," Livingston noted.

David Ursin, who consigned the Gemini boilerplate to RR auction, bought it in 2008 from a collector in California. In the intervening years, the 56-year-old transplant nurse has worked to cosmetically restore the exterior of the capsule, painting it battleship gray and adding Air Force markings.

He says is selling it now to fund the restoration of another boilerplate — an Apollo capsule — and to help pay for his daughter's college tuition.

"I'm currently deep into an interior restoration of my Apollo and enjoy every minute of it!" Ursin wrote last month on the collectSPACE.com discussion forums. "I've restored a number of antique cars, trucks and even armored vehicles but never have I felt such a passion for it than for [working on the Apollo command module]!"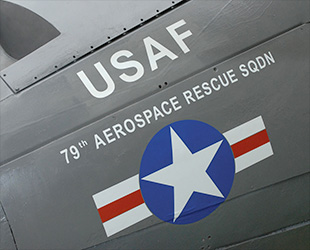 The U.S. Air Force 79th Aerospace Rescue & Recovery Squadron used the Gemini boilerplate in training exercises.
(RR)
By Thursday morning, nine bids had launched the Gemini capsule from its initial $10,000 opening to almost $21,500. RR Auction estimated it could ultimately sell for more than twice that.

The Gemini boilerplate is among 600 space artifacts and collectibles included in the RR sale. The online auction will begin closing at 7 p.m. EST Thursday (0000 GMT on Nov. 21). Among the sale's other highlights are hand controllers and a test-fired rocket engine from the Apollo spacecraft, as well as a spacesuit made for the former Soviet Union's Buran space shuttle.

RR kicked off its space auction on Nov. 13 with a special one-lot live sale of the first Hasselblad camera to be used in space. The Mercury program artifact sold for $275,000.

For more information about the Gemini boilerplate or to bid in the space sale see RR Auction's website.