November 14, 2014
— The first Hasselblad camera to be used in space has sold for $275,000 to a UK collector who says in some respects the rare artifact was a bargain.

The historic camera's new owner, who spoke exclusively with collectSPACE on the condition of anonymity, won the Hasselblad on Thursday (Nov. 13) during a special, one-lot live sale organized by RR Auction of Boston. The camera included parts flown into space in 1962 and 1963 with two of NASA's original Mercury 7 astronauts and was used to take the first professional-quality photographs of the Earth from orbit.

"It is a marvelous piece," said the winning bidder during a telephone interview on Friday. "It's something that is really tangible space history and it also gave a glimpse of space to the world and I am fascinated with that."

That fascination led him to spend "a lot of money."

"But on the other hand," he added, "we do live in a world where the first copy of the Batman comic would draw two or three million dollars, and I think from that perspective, you could say that these artifacts still remain a good value where as other things like comics fetch so much more."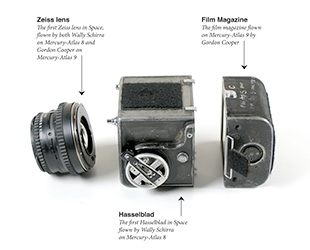 The Hasselblad camera that sold for $275,0000 is comprised of a body that flew on Mercury-Atlas 8, a film magazine flown onboard Mercury-Atlas 9, and a lens that flew on both flights.
(RR Auction)
The Hasselblad 500c body and 80-millimeter Zeiss lens launched with astronaut Walter "Wally" Schirra on NASA's Mercury-Atlas 8 mission on October 3, 1962. Schirra, who died in 2007, said that he had bought the camera himself from a shop in Houston after consulting LIFE and National Geographic magazine photographers as to the best model to use in space.

The camera's same lens and its film magazine then flew with Gordon "Gordo" Cooper on the last and longest flight, Mercury-Atlas 9, from May 15-16, 1963. Cooper held onto the parts, somehow ending up with Schirra's camera body as well, such that it originated from his collection when he wrote letters attesting to its authenticity it 1995.

"I will do further research to make sure I understand all of the pictures that were taken and what they represent and where on the flights they were taken with all of the various components of the piece," the camera's new owner said. "The fact that it touches several flights, to me, makes it more interesting."

"It is an operational camera, but it was built from multiple components that flew on multiple flights, so it represents more of the program than just one flight," he said.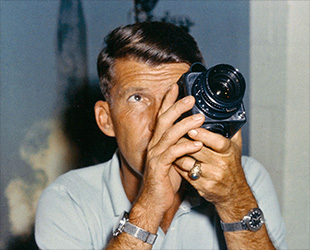 Astronaut Wally Schirra practices using a Hasselblad 500C like the type he flew on Mercury-Atlas 8 in October 1962.
(NASA)
The winning bidder, who works in the technology industry, said that he began collecting space memorabilia in recent years spurred on by a personal interest in engineering and scientific achievements. The camera now joins his small, but growing collection of Apollo-era artifacts documenting human space exploration.

"I'm trying to tell something of the whole story of the U.S. program, in particular, and so this really helps me capture the story of Mercury as part of that collection," he noted.

Bobby Livingston, RR Auction's executive vice president, said he was thrilled with the sale's results and specifically, who bought the historic camera.

"We estimated this to sell between $50,000 and $100,000 and we smashed that price," Livingston stated. "I believe this to be the most expensive Mercury item that has ever sold."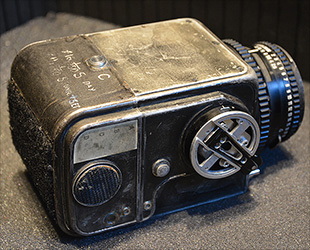 The Hasselblad was estimated to sell for $50,000 to $100,000 but well exceeded RR Auction's pre-sale appraisal.
(collectSPACE)
"The other thing I'm incredibly happy about is who won the item," Livingston told collectSPACE. "I was invited to the National Air and Space Museum [in Washington, D.C.] to show the curator there this camera because the museum understood its importance. The one thing she asked me to do was to make sure whoever won the camera preserved it and curated it and this is the collector that will do that."

The camera's new owner said that he intends to follow the Smithsonian's advice on caring for it as it becomes part of his private collection. He is also considering plans for how to share the camera with the public.

"I might do an exhibition," he said. "The neat thing about the camera would be to show it with some of the images it took and give the people some sense of the reality of what happened."