November 18, 2012
— A record-setting female space station commander, a veteran Russian cosmonaut, and a Japanese flight engineer returned to Earth Sunday (Nov. 18), their Russian spacecraft descending under parachute to a pre-dawn landing in Kazakhstan after four months off the planet.
The Soyuz TMA-05M capsule safely made it to the ground with NASA
astronaut Sunita "Suni" Williams
, Roscosmos cosmonaut Yuri Malenchenko, and astronaut Akihiko "Aki" Hoshide with the Japan Aerospace Exploration Agency on board. The spacecraft landed on its side at 8:56 p.m. EST (0153 GMT; 7:56 a.m. local time Nov. 19), an hour before sunrise near the targeted landing area located northeast of the remote town of Arkalyk.
The three crewmates wrapped up 127 days in space since launching
from the Baikonur Cosmodrome
in Kazakhstan on July 15, including 125 days working on the International Space Station (ISS).
The trio undocked the Soyuz from the orbiting complex at 5:26 p.m. EST (2226 GMT) as they soared 256 miles (412 kilometers) above northwestern China, beginning their trip home.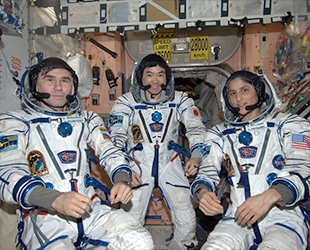 Soyuz TMA-05M crewmates Yuri Malenchenko, Aki Hoshide, and Suni Williams prior to their leaving the space station. (NASA)
The three, like all returning Soyuz crews, were limited on what they could pack for the voyage back to Earth.
"It is a little like the airlines, we do have a baggage limit," Williams wrote before she departed the station. "We don't pack our clothes, toothbrush, toothpaste, shampoo... this is our personal stuff."
"I have some stuff, like my yo-yo, my crew notebook with pictures, my specialty t-shirts I had sent up, my family photo album," she shared. "It's funny that your life actually boils down to these little things – really, think about it. Not much more is really important than the people (animals included), places and memories you have!"
At the time of their departure,
Expedition 34 began
aboard the station under the command of NASA astronaut Kevin Ford. He and his crewmates, cosmonauts Oleg Novitskiy and Evgeny Tarelkin, will tend to the space station as a three-man crew for one month until the arrival of three new crewmates — Tom Marshburn of NASA, Chris Hadfield of the Canadian Space Agency and Roman Romanenko with Roscosmos — in December.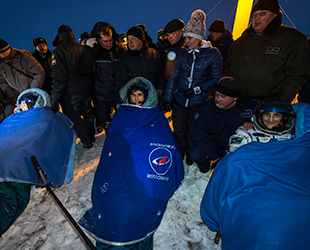 Sunita Williams (right), Yuri Malenchenko and Aki Hoshide sit in chairs near the Soyuz soon after they landed. (NASA/Bill Ingalls)
Williams, who led Expedition 33, now has a career total of 322 days in space after two missions. During this flight, she performed three spacewalks with Hoshide to replace a faulty power unit and repair an ammonia leak on one of the station's port-side radiators.
On Sept. 5, during her second outing, Williams broke the world record for the most time spacewalking by a woman, surpassing the career total of 39 hours and 46 minutes set by NASA's Peggy Whitson in 2008. Williams has logged a total of 50 hours and 40 minutes working outside the ISS.
Including this expedition, Williams has tallied 322 days in space, ranking her second on the worldwide list of female space explorers and 39th overall.
This was Hoshide's first long duration mission and second time in orbit. He now has 141 days in space.
Sunday's landing marked Malenchenko's fifth return from space, his fourth after a trip to the ISS. His career total is 641 days in space, which ranks him seventh for the most time off the Earth.
During their time in space together, Williams, Hoshide and Malenchenko saw the arrival of SpaceX's Dragon cargo spacecraft on the
first commercial resupply mission
to the station. Williams also set a personal record, racing in the first
triathlon run off Earth
.
Williams, Hoshide, and Malenchenko orbited Earth 2,032 times and traveled 54,090,628 miles.
Earlier this month, the three crew members helped mark the 12 year anniversary of continuous human presence on the ISS. The largest manmade structure ever assembled in space, the $100 billion complex was built by five space agencies representing the United States, Russia, Europe, Japan and Canada.