Fallen 'Teacher in Space' focus of new film

by Colin Burgess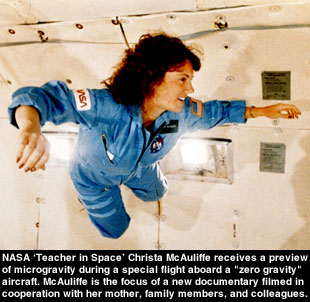 November 12, 2005 -- Nearly twenty years ago, the U.S. launched and lost its first "Teacher in Space".

On November 13, a documentary on the life of S. Christa McAuliffe will premiere at the High Falls Film Festival in upstate New York.

Co-produced by Rochester, NY native Renee Sotile with Mary Jo Godges, Christa McAuliffe: Reach for the Stars is the culmination of several years of research and filmed interviews. Self-described by the first-time filmmakers as "the most complete documentary ever produced" on the life of McAuliffe, Reach explains why the New Hampshire teacher was willing to accept the risks of space flight and charts the legacy of her life and death.

On January 28, 1986, Challenger and her crew of seven were lost in an explosion 73 seconds after lift-off, as the shuttle arced out into the Florida skies for the final time.

Narrated by Academy Award winner Susan Sarandon, Reach for the Stars also gained the interest of singer-songwriter Carly Simon, who composed an original song for the film, entitled You're Where I Go.

"This is a riveting and unusually moving story, told from the inside," commented Ken Burns, Emmy award-winning documentary filmmaker. "It is made uniquely affecting by the use of Carly Simon's music, a favorite of McAuliffe's."

Sotile says the film includes "powerful new material and interviews," including insights from NASA officials on the Challenger disaster, providing "some perspective on this iconic moment in spaceflight history." However Reach for the Stars does not attempt to analyze the tragedy; rather it examines McAuliffe's "personal journey as a fledging astronaut," and the "celebration of a life that continues to inspire."

Sotile and Godges worked closely with Christa's mother, Grace Corrigan and other members of her family, gaining exclusive access to family photos and home movies.

"For those in this generation who only know [S. Christa McAuliffe] as a name in a history book, it will be easy to see how she came to be so beloved, how deeply her loss was felt across the nation, and how this deeply personal loss drastically changed the dynamics of her family," said Sotile of her documentary's focus.

Sotile previously won two Emmys for her work as a video journalist. She has extensive experience working in television news covering high profile events and headline stories. Godges is an Avid/Final Cut Pro editor with a background in music. Her career began as an on-air radio personality in Los Angeles.

The High Falls Film Festival is an annual international film festival that showcases exceptional work by women in film and video - all positions before and behind the camera, including cinematographer, screenwriter, editor, composer, director, producer and stuntwoman. Named for the country's largest urban waterfall, the Rochester-based festival began on Nov. 9 and runs through Nov. 13.

Plans for distribution of Reach for Stars include a DVD that will feature additional interviews with people such as astronaut Pamela Melroy and June Scobee Rogers that had to be cut from the theatrical release because of time constraints.

For more information about Christa McAuliffe: Reach for the Stars, see www.teacher1986.com. For tickets to the film's premiere, see the High Falls Film Festival website.

Colin Burgess is the author of "Teacher in Space: Christa McAuliffe and the Challenger Legacy".

© 2022 collectSPACE.com All rights reserved.
Questions? E-mail contact@collectspace.com