November 10, 2015
— For 24 years, former astronaut Bonnie Dunbar came to Ellington Field to fly. On Monday (Nov. 9), she returned to the southeast Houston airport, the home to NASA's aircraft operations, to dig — in honor of the history, and future, of flight.

Dunbar, who launched aboard five space shuttle missions between 1985 and 1998, was among the dignitaries who took up a shovel of dirt to symbolically break ground on the new site of the Lone Star Flight Museum. After 30 years being based in Galveston, the aviation museum is moving to Ellington to a new 130,000-square-foot (12,100-square-meter) facility.

"I think having a museum on a flying field so that young people, old people [and] visitors can actually see airplanes flying is very special," said Dunbar, who co-chairs the Lone Star Flight Museum's education committee. "But to have your own history here —and I was with NASA for 28 years and most of that time flying in T-38 [training jets] off this field and on the KC-135 parabolic aircraft — it is extremely exciting and I think it will be an inspiration to the visitors as well."

Dunbar logged more than 700 hours flying in the backseat of the T-38 and has more than 100 hours as a co-pilot in a Cessna Citation jet. She said that aviation is something in her blood.

"Yes, I was in space, but I started with a love of aviation. I have about a thousand parabolas in the 'vomit comet' over there," said Dunbar, gesturing towards the display of the retired KC-135 "weightless wonder" that NASA once used to give its trainees brief experiences of zero gravity. The aircraft will serve as one of the outdoor bookends to the museum's new building.

"And history is important to me," she added. "That Corsair [F4U] over there was the only model airplane that was in our house [while growing up]. My dad was a member of the Marine Corps Fighting Fourth in World War II."

The new museum, which is set to open by February 2017 — in time to greet fans coming to Houston for Super Bowl LI, will display more than 40 historically-significant aircraft, many of which are still flyable today. In addition, a new $1 million Aviation Learning Center will teach students about science, technology, engineering and math, using aviation as the hook to get them interested.

"If you can inspire a child to want to study math, to study science, then you are 90 percent there," said Dunbar. "The [Center's] hangar will have a real airplane in it, where you will do a pre-flight of it and it is powered up and it has live avionics. It'll be the first time many of these students ever sit in an airplane."

"They will then go into a simulator room, where we'll have 10 student-sized simulators and they will 'fly' flights from Ellington Field, maybe down to Galveston and other places in Texas," she described.

The Flight Museum is also host to the Texas Aviation Hall of Fame, which since 1998 has honored Texans who have pioneered the field. Among the past inductees have been Howard Hughes, former U.S. President George H.W. Bush and Apollo astronauts Gene Cernan, Alan Bean and John Young.

Museum officials have not yet released specific plans as to how the new facility will recognize its NASA surroundings, but Dunbar said they "won't ignore space here."

"There is a spectrum of aviation to space," Dunbar said in an interview with collectSPACE. "Aerospace is a big tent and we need to work together to bring as many people as we can to the field, to build up the workforce of the future."

Presiding over Monday's ceremony was Scott Rozzell, the chair of the Lone Star Flight Museum's board of directors. In addition to Dunbar, who also serves as the director of the University of Houston's STEM Center, former United States Secretary of Education Rod Paige and Mario Diaz, the director of the Houston Airport System, took part in the ground breaking, among other officials.

"Historians say that you can't really know where you want to go until you know where you've been, and the museum sets that tone for us," said Diaz, who is also overseeing Ellington Field's current transformation as a newly-licensed commercial spaceport. "At some time in the future, people will say that Ellington is an airport of two tales: a tale of the future, as well as a tale of the past."

"It'll be a place where aviation and aerospace merge," said Diaz.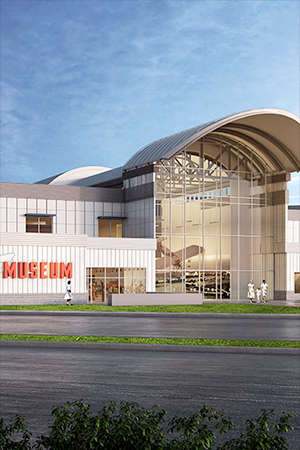 Artist's rendering of the new Lone Star Flight Museum being built at Ellington Airport in Houston, Texas. (Lone Star Flight Museum)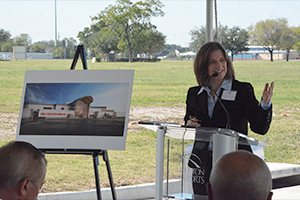 Former NASA astronaut Bonnie Dunbar, co-chair of the Lone Star Flight Museum's education committee, speaks at the Nov 9 ground breaking ceremony at Ellington Airport. (collectSPACE)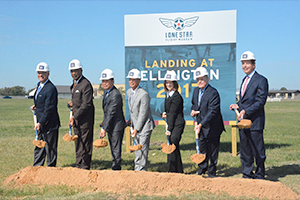 Former astronaut Bonnie Dunbar (third from right) joins Ellington Airport and Lone Star Flight Museum officials to break ground for the new 130,000 square foot facility in Houston. (collectSPACE)