Nov. 4, 2015
– Ever dreamed of being a NASA astronaut? Well, now's the time to get your resumé ready.

The space agency announced it will begin recruiting for its next astronauts on Dec. 14. Applications will be accepted online through mid-February 2016.

NASA expects to announce the new class, its 22nd group of astronaut candidates, in June 2017.

"This next group of American space explorers will inspire the Mars generation to reach for new heights, and help us realize the goal of putting boot prints on the Red Planet," said NASA Administrator Charles Bolden. "Those selected for service will fly on U.S. made spacecraft from American soil, advance critical science and research on board the International Space Station, and help push the boundaries of technology in the proving ground of deep space."

Members of the next class may fly on any of four different U.S. vehicles during their careers: the space station, two commercial crew spacecraft now being designed and built by Boeing and SpaceX, and NASA's Orion capsule. They may also fly on Russia's Soyuz spacecraft to the station.


Flights on Boeing's CST-100 "Starliner" and SpaceX Crew Dragon will resume U.S.-based crewed launches since the end of the space shuttle program and enable NASA to add a seventh crew member to each space station expedition, effectively doubling the amount of time astronauts will be able to devote to research in space.

The first crewed test launches of the commercial capsules are expected in late 2017.

NASA's Orion capsule, now in development by Lockheed Martin, will fly astronauts on top of Space Launch System (SLS) heavy-lift rockets to the vicinity of the moon, where NASA plans to learn how to conduct complex operations in the deep space environment before moving on to longer duration missions to the asteroids and ultimately Mars.

The first crewed Orion will be ready to fly by no later than 2023, and may fly as soon as 2021.

"This is an exciting time to be a part of America's human spaceflight program," said Brian Kelly, the director of flight operations at NASA's Johnson Space Center. "NASA has taken the next step in the evolution of our nation's human spaceflight program — and our U.S. astronauts will be at the forefront of these challenging spaceflight missions."

From military and civilian pilots to engineers, doctors and scientists, NASA chooses candidates from a diverse pool of U.S. citizens with a wide variety of backgrounds.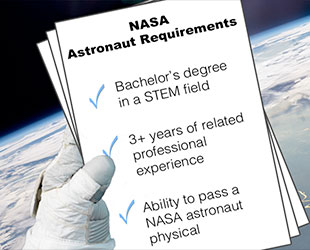 NASA's requirements to be selected as an astronaut.
(NASA)
Astronauts must have earned a bachelor's degree from an accredited institution in biological science, mathematics, physical science or engineering, though advanced degrees are considered desirable. Candidates need to also have at least three years of related professional experience, or at least 1,000 hours of pilot-in-command time in jet aircraft.

In addition, candidates need to pass NASA's long-duration spaceflight physical.

"We encourage all qualified applicants to learn more about the opportunities for astronauts at NASA and apply to join our flight operations team," said Kelly.

To date, NASA has selected 366 astronauts since naming the original seven Mercury astronauts in 1959. There are currently 47 astronauts in NASA's active astronaut corps, but more are needed to crew future missions to the space station and destinations in deep space.

NASA's most recent selection was in 2013, when it named eight astronaut candidates from a pool of more than 6,000 applicants. The four men and four women, nicknamed the "8 Balls," graduated from their two years of basic training earlier this year and are now eligible for spaceflights.