Nov. 2, 2014
— Pilots Peter Siebold and Michael Alsbury were at the controls of Virgin Galactic's SpaceShipTwo on Friday (Oct. 31), when the commercial space plane broke apart in flight during a test of a new hybrid rocket engine, officials revealed on Saturday.

Alsbury, 39, died in the crash, which took place over the Mojave desert in California. Siebold, 43, managed to exit the winged vehicle and parachute to the ground, suffering a serious shoulder injury that required he undergo surgery, local authorities said.

Both pilots worked for Scaled Composites, the aerospace company responsible for developing the two-pilot and six-passenger seat spaceship for Virgin Galactic since 2004.

"We remain focused on supporting the families of the two pilots and all of our employees, as well as the agencies investigating the accident," Virgin Galactic officials said in a statement, also noting that Siebold was alert and talking with his family and doctors.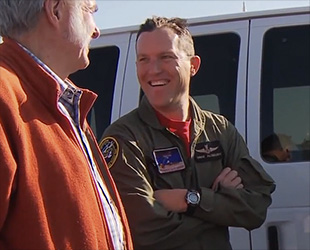 Michael Alsbury is seen with SpaceShipTwo designer Burt Rutan after co-piloting the craft's first powered flight.
(Virgin Galactic)
Friday's flight was Alsbury's ninth onboard SpaceShipTwo. On April 29, 2013, he was co-pilot on the spacecraft's first powered flight, rocketing beyond the speed of sound to an altitude of 56,200 feet (17,130 meters). He died while flight testing a new polyamide-based fuel grain engine during the vehicle's fourth powered flight.

Siebold, who is the director of flight operations at Scaled Composite, was making his 16th flight on SpaceShipTwo, out of the 55 captive and free-flying flights that the vehicle has logged during its test program. He is also one of the four pilots who 10 years ago test flew SpaceShipOne, the smaller spacecraft on which SpaceShipTwo was based.

"The bravery of test pilots generally cannot be overstated" Richard Branson, founder of Virgin Galactic, told reporters on Saturday. "Nobody underestimates the risks involved in space travel."

"In testing boundaries of human capability and technology, we are standing on the shoulders of giants. Yesterday, we fell short," Branson admitted. "We'll now comprehensively assess the results of the crash. We're determined to learn from this and move forward."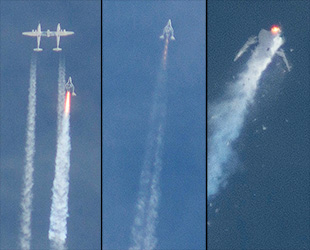 Photographs captured SpaceShipTwo breaking apart after firing its new hybrid rocket engine.
(Kenneth Brown/USA Today)
The formal investigation into the accident got underway on Saturday, as the members of the National Transportation Safety Board (NTSB) Go-Team arrived in Mojave. Though the agency has been involved in earlier spaceflight-related incidents, the loss of SpaceShipTwo marked a first.

"This will be the first time we have been in the lead of [an investigation of] a space launch that involved persons on board," NTSB chairman Christopher Hart said. "Because this has some new aspects for us, we want to make sure we cover all the bases."

Video footage shared by the NTSB showed investigators getting their first look at the SpaceShipTwo debris where it fell over a 5-mile (8-kilometer) stretch of the desert.

"On the far northeast [of the debris field] were the left and right tail booms," Hart told reporters Saturday night. "Next to that was the fuselage, along with the oxidizer tank and fuel tank. Next was pieces of the cockpit, and finally was the engine itself."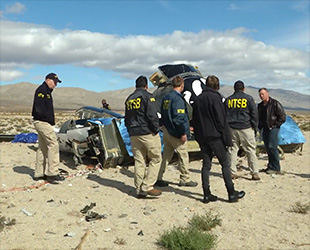 National Transportation Safety Board (NTSB) team members get a first look at SpaceShipTwo debris in the Mojave desert.
(NTSB)
"When the debris field spans that large an area, then we know there was an in-flight separation," he explained. "If they had crashed together, all the pieces would have been close together."

Hart said that because the accident had occurred during a test flight, there was more data available than is normal for NTSB investigations. In addition to both telemetry and radar, six cameras were on board SpaceShipTwo, another three were on the carrier aircraft WhiteKnightTwo, a chase plane had video footage and there was a camera tracking the flight from the ground.

The NTSB may require about a year to report its findings and recommendations, Hart said, during which time Virgin Galactic and Scaled Composites could still progress with their own plans on how to move forward.

"If we find something that needs immediate attention, then we'll put out immediate recommendations," he said.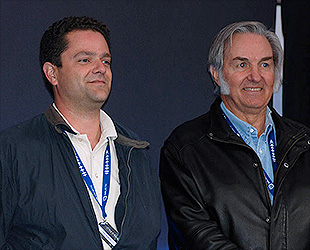 Peter Siebold (left) is seen in December 2009 at the public debut of SpaceShipTwo with its designer, Burt Rutan.
(collectSPACE)
Investigators have not yet spoken with Siebold about what happened on the recommendation of his doctors.

Alsbury was the 20th person to die in flight during a space mission or test flight, including four Russian cosmonauts, 14 NASA astronauts and a U.S. Air Force pilot.

He is the fourth Scaled Composites employee to die while supporting development of SpaceShipTwo. Three workers lost their lives in 2007 when a ground-based rocket motor test resulted in an explosion.

"We are determined to honor the bravery of the pilots and the teams by learning from this tragedy," Branson stated. "Only then can we move forward, united by the collective desire to push the boundaries of human endeavor."