October 29, 2016
— The first astronaut to sequence DNA in space is now back on Earth, together with her two space station crewmates.

Astronaut Kate Rubins, a molecular biologist who became the 60th woman to fly into space, returned home from the International Space Station Saturday (Oct. 29) with Anatoli Ivanishin of Roscosmos and Takuya Onishi with the Japan Aerospace Exploration Agency (JAXA).

The three crewmates landed on the steppe of Kazakhstan at 11:58 p.m. EDT (0358 GMT; 9:58 a.m. Oct. 30 Kazakh time) on the first of Russia's modernized spacecraft, Soyuz MS-01. Their parachute and retro thruster assisted landing concluded 115 days in orbit for the trio since their launch to the space station on July 6.

"I think time is a very interesting and not fully understood phenomena. I have the feeling that we came to the station just yesterday," said Ivanishin on Friday during a change of command ceremony aboard the orbiting laboratory.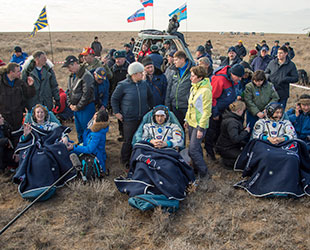 Kate Rubins, Anatoli Ivanishin and Takuya Onishi after landing on Soyuz MS-01 in Kazakhstan on Oct. 29, 2016.
(NASA/Bill Ingalls)
Ivanishin's, Rubins' and Onishi's departure from the space station on Saturday at 8:35 p.m. EDT (0035 GMT Oct. 30) marked the official end of Expedition 49. At the time of the undocking, Expedition 50 began aboard the space station under the command of NASA astronaut Shane Kimbrough.

Kimbrough, with cosmonauts Sergey Ryzhikov and Andrei Borisenko of Roscosmos, will operate the station for three weeks until the arrival of NASA astronaut Peggy Whitson, Oleg Novitsky of Roscosmos and Thomas Pesquet of the European Space Agency, who are scheduled to launch on Soyuz MS-03 on Nov. 17.

"You guys have done a lot," Kimbrough said to Ivanishin, Rubins and Onishi during Friday's ceremony. "You've done record breaking science and research, spacewalks, robotic operations [and] many vehicles coming and going, so you guys have done a lot and you should feel very proud of your accomplishments."

During their four months aboard the station, the Expedition 49 crew members contributed to hundreds of experiments in biology, biotechnology, physical and Earth science.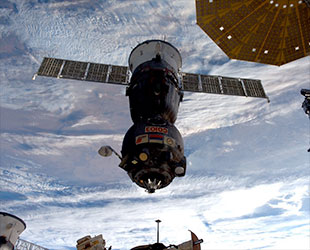 Soyuz MS-01 departs from the International Space Station.
(NASA)
Rubins, who has a doctorate in cancer biology, contributed to several new studies taking place for the first time aboard the station. By managing the Biomolecule Sequencer, she became the first person to sequence DNA in space.

"This was truly an experiment, in all senses of the word," said Rubins in a conversation with Francis Collins, director of the National Institutes of Health, on Oct. 18. "We did not know if it was going to work the first time."

"We were able to show that we can successfully do [DNA] sequencing in space and we've sequenced over one billion base pairs at this point, so we have this capability now in low Earth orbit," she said.

This ability to sequence DNA could enable astronauts to diagnose an illness or identify microbes growing on board the space station and determine whether they represent a health threat. A space-based sequencer could also be an important tool to help protect astronaut health during long duration missions into deep space, to the moon and Mars, according to NASA.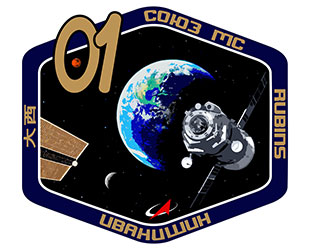 The Soyuz MS-01 mission patch.
(Roscosmos/spacepatches.nl)
The Expedition 48/49 crewmates also oversaw the arrival of three resupply spacecraft, including a Russian Progress spacecraft, a SpaceX Dragon capsule and an Orbital ATK Cygnus freighter.

Rubins joined Expedition 48 commander Jeff Williams on two spacewalks totaling 12 hours and 46 minutes outside the space station. The two installed the first international docking adapter for use by future U.S. commercial crewed vehicles, retracted a thermal radiator and added the first of several new high-definition television cameras planned for the station's exterior.

This was Rubins' and Onishi's first time in space. Ivanishin previously served as an Expedition 29/30 flight engineer in 2012. He now has spent a total of 280 days in space.

The three crewmates traveled a total of 48.6 million miles (78.2 million km) completing 1,840 orbits of the Earth.