October 16, 2023
— What do you get when you mix a commercial spaceflight company with a manufacturer of premium paints?

A shade of blue with a focus on inspiring future generations about STEM [science, technology, engineering and math] education and careers in the space industry.

Representatives from Benjamin Moore recently visited Blue Origin's orbital launch site in Cape Canaveral, Florida, to reveal their pick for Color of the Year 2024 and a new partnership with Blue Origin's not-for-profit Club for the Future.

"We are absolutely thrilled to announce the Benjamin Moore Color of the Year for 2024 as Blue Nova 825," said Andrea Magno, color marketing and development director at Benjamin Moore, during a live webcast from Blue Origin's facilities. "It's inspired by the brilliance of a new star formed in space. Blue Nova beckons us to unknown experiences and unknown places so we can seek out that adventure."

Magno and Sharon Grech, Benjamin Moore's color and design manager, also used the occasion to unveil the company's 2024 Color Trends palette, a collection of 10 colors that includes Blue Nova 825.

"[The palette] is a story of adventure and duality and juxtaposing light and dark, warm and cool and experiences from near and far," said Grech. "How we want to help people to explore the extraordinary [and] empower people to use color in their home. The palette can be a launching pad for bringing new ideas on how to use color in their spaces."

"And what better place to share the news then here at the Blue Origin orbital launch site?" said Grech, "Here, the leaders in space exploration are working hard at their mission to pave the road to space."

Under construction since 2015, Blue Origin's production facility will be used to manufacture and prepare for flight the company's orbital New Glenn rocket, which will then be launched from the nearby Space Launch Complex 36 at the Cape Canaveral Space Force Station.

Standing in front of a display of one Blue Origin's New Shepard sub-orbital rockets, Magno and Grech announced Benjamin Moore's plans for partnering with Club for the Future.

"We will be reimagining design at local community hospitals, create space-themed experiences at upcoming events and more, all while reinforcing the really important influence that travel —near and far — can have on our color inspirations and helping to build a future for the next generation," said Grech.

Founded in 2019 with the mission "to inspire young people to build the future of life in space," Club for the Future's primary activity has been its "Postcards to Space" program. Together with its partners, Club for the Future has launched to space hundreds of thousands of postcards decorated primarily by children with their visions for the future of space exploration.

After rocketing to space, the postcards are stamped as having flown and then are returned to their artist-owners as souvenir.

In a separate recent announcement by another of the Club's partners, Shaquille O'Neal's Big Chicken restaurant chain is inviting its guests to bring completed postcards to store registers to receive a free kid's sundae. The promotion is limited to one per postcard beginning Oct. 24 and continuing throughout November at participating locations nationwide.

Big Chicken and Club for the Future also developed a new education curriculum to inspire future generations about STEM careers. The lesson plans challenge students across the elementary, middle and high school levels to think creatively about what a new menu item might look like in space.

"Our partnerships with Blue Origin and Club for the Future are an integral part of bringing Shaquille's vision of big dreams and big fun to life for our brand," said Josh Halpern, CEO of Big Chicken, in a statement. "This new activity will inspire the next generation and foster a big sense of wonder and possibility."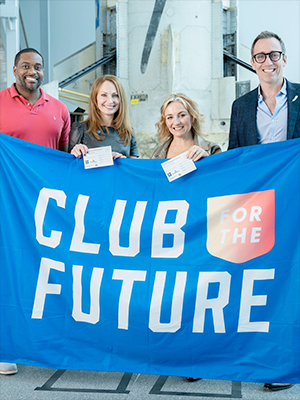 Keith Hamilton, deputy senior vice president at Blue Origin (at left); Andrea Magno, director of color marketing and development at Benjamin Moore (second from left); Benjamin Moore's color and design manager Sharon Grech (second from right); and Blue Origin senior vice president for manufacturing operations Ian Richardson pose with Benjamin Moore postcards and a flag for Blue Origin's non-profit Club for the Future at Blue Origin's production facility in Florida on Oct. 11, 2023. (Club for the Future)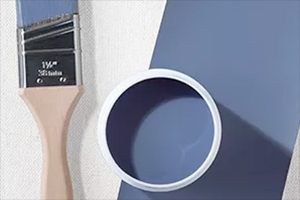 Blue Nova 825, Benjamin Moore's Color of the Year for 2024, was inspired by a new star being formed in space. (Benjamin Moore)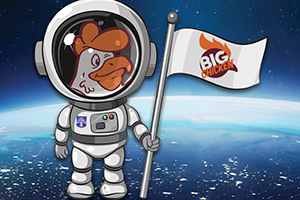 Shaquille O'Neal-owned Big Chicken will accept postcards to fly on Blue Origin spaceflights in return for a kid's sundae. (Big Chicken)