February 11, 2023
— Shaquille O'Neal is dreaming of the day he can sell you a chicken sandwich in outer space. Until then, his restaurant chain will help to send your postcards there first.

Big Chicken, which was founded by the retired four-time NBA (National Basketball Association) champion in 2018, has teamed up with Blue Origin, Jeff Bezos' commercial spaceflight company, "to feed the imaginations of the next generation of explorers for the benefit of Earth and space chicken."

"This first-of-its-kind partnership is a game changer," said O'Neal in a statement released on Thursday (Feb. 9). "I'm excited to take the chicken sandwich game to a whole new level."

Under the new agreement, Blue Origin's nonprofit, Club for the Future, will work with Big Chicken's leadership team and O'Neal as Club Ambassadors to launch new community outreach programs at Big Chicken restaurants, including inviting patrons to draw their vision of the future on postcards that Blue Origin will then launch on its New Shepard suborbital spacecraft. Once back on Earth, the cards will be stamped "flown to space" and returned to their creators.

"Living and working in space for the benefit of Earth should be delicious. Shaq's Big Chicken and Club for the Future will fuel students' appetites and minds as they pursue careers in STEM [science, technology, engineering and mathematics] — all while delivering some of Earth's tastiest foods to space," said Michael Edmonds, Blue Origin's senior vice president for strategy, marketing and sales and president of Club for the Future.

The Big Chicken partnership is the first commercial expansion of the Club's "Postcards to Space" initiative, which since 2019 has collected and flown hundreds of thousands of hand-drawn cards from students and space enthusiasts. The program's other partners include Challenger Center, Space Camp, NASA's Kennedy Space Center Visitor Complex and Space Center Houston.

In addition to flying cargo and passengers on its New Shepard spacecraft, Blue Origin is also developing an orbital rocket (New Glenn), a lunar lander (Blue Moon) and, together with partners Sierra Space and Boeing, a commercial space station (Orbital Reef). The company's objective is to move damaging industries into space to preserve Earth for the benefit of everyone.

"We've always said "Go BIG' when asked about growth plans for Big Chicken. Now, with Blue Origin, we're going as BIG as we can by advancing the dream of running restaurants in space," said Josh Halpern, CEO of Big Chicken. "When I think about what Shaquille stands for BIG fun and pursuing BIG dreams this relationship aligns perfectly with Blue Origin's vision to enable millions of people to live and work in space for the benefit of Earth."

Big Chicken's menu fuses O'Neal's home-cooked childhood favorites with trending flavors to include crispy chicken sandwiches and tenders, Cheez-It crusted mac n' cheese and hand-crafted ice cream shakes. The chain has locations in Arizona, California, New York, Nevada, Ohio, Texas and Washington, in addition to venues on three Carnival cruise ships. The company plans to open 200 U.S. locations in the coming years.

No start date was given for the Big Chicken Club for the Future postcards program. Blue Origin suffered a launch failure in September 2022 on its 23rd New Shepard mission, an uncrewed flight with only science experiments and cargo aboard. The company is expected to resume flights later this year.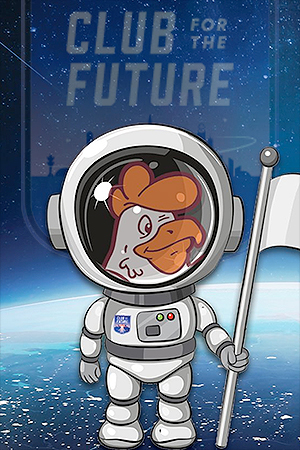 "For the benefit of Earth and chicken." Big Chicken and Blue Origin have partnered to invite the restaurant's patrons to send postcards on New Shepard "Club for the Future" launches. (Big Chicken)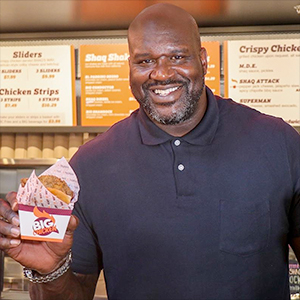 Founded by Shaquille O'Neal, Big Chicken could someday operate restaurants in space together with Blue Origin. (Big Chicken)