October 16, 2016
— China has launched two astronauts on a month-long mission to its second orbital space lab.

Veteran taikonaut Jing Haipeng and ex-military pilot Chen Dong lifted off aboard the Shenzhou 11 spacecraft Sunday (Oct. 16) at 7:30 p.m. EDT (2330 GMT; 7:30 a.m. Oct. 17 Beijing Time). The vehicle launched atop a Long March 2F rocket from the Jiuquan Satellite Launch Center in China's northwest Gobi desert.

"The main objective of this mission is to provide personnel and cargo transportation for the operation of the Tiangong-2 space lab," said Wu Ping, the deputy director of China's manned space engineering office, in a pre-flight briefing.

Jing and Chen will rendezvous and dock at Tiangong-2 on Tuesday (Oct. 18), beginning their 30-day stay. The space lab was launched into orbit on Sept. 15.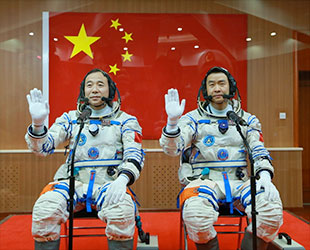 Shenzhou 11 crew mates Jing Haipeng (left) and Chen Dong wave during a pre-launch send-off ceremony on Oct. 16.
(Xinhua)
Once aboard, the two astronauts will follow a six-day work week, conducting science experiments and testing out the lab's systems, while also filing reports for the Xinhua news service, the official press agency of the People's Republic of China.

The crew's research will include working with a cold atomic clock for more precise time keeping in space, testing new materials in microgravity and observing plant growth.

China's longest crewed mission to date, the flight is aimed at testing the Tiangong and Shenzhou complex in its ability to "support the life, work and health of the astronauts and their capability to carry out spaceflight missions," Wu said.

The mission is more than twice as long as Jing's previous flight on Shenzhou 9, which docked at Tiangong-1, China's first space lab, in June 2012. The first taikonaut to launch on three space missions, Jing first flew as a crew member on the three-day Shenzhou 7 mission in September 2008.

"Flying in space is my job, and it is also my dream and my mission," Jing told reporters a day before the launch. "It is my great honor to conduct the third mission of my career."

Chosen in 1998 to become an astronaut, Jing, 49, serves as commander of the Shenzhou 11 mission.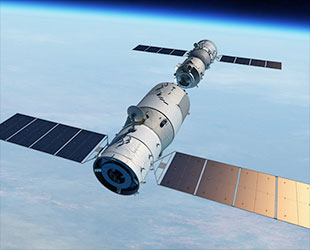 Tiangong (foreground) and Shenzhou meet in orbit.
(CCTV)
Jing's crewmate, Chen, is on his first spaceflight. Selected to be a taikonaut with China's second class of candidates in 2010, the 38-year-old former fighter pilot said that he will have many responsibilities during the mission.

"I'm [the] driver, navigator, scientist, farmer, mechanic and, not to mention, a janitor," Chen told Xinhua. "After all, we must keep the spacecraft clean."

Chen is also looking forward to taking full advantage of his free time aboard Tiangong-2.

"I will really cherish every second in space to look out the window at the planet, look at China from space, and also do the things not possible on Earth," said Chen.

The Shenzhou 11 mission is slated to be the only crewed mission to the Tiangong-2 lab. China's first cargo vehicle, Tianzhou-1, is set to launch to the Tiangong-2 after the two men leave in order to demonstrate automated docking and refueling capabilities important to China's future plans for a larger, permanent space station to be deployed in the early 2020s.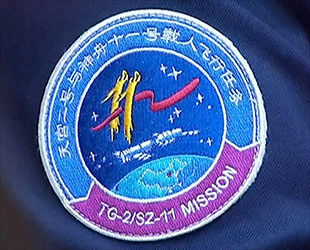 China's Shenzhou 11 mission patch, as worn by Jing Haipeng and Chen Dong during a pre-flight press conference.
(CCTV)
"For China, a space station is a beautiful home up in outer space and that is also the dream for all of the astronauts," said Jing.

Tianhe-1, the core module of the planned space station, is scheduled for launch in 2018.

The Shenzhou 11 crew will remain on Tiangong-2 through mid-November, when they will depart the space lab for the one-day trip back to Earth. In addition to setting a Chinese duration record, Jing and Chen will also have flown farther into space than earlier taikonauts, given the 244-mile (393-km) altitude of the space lab.

Chen is the 11th Chinese astronaut to fly into space since Yang Liwei became the first taikonaut aboard Shenzhou 5 on Oct. 15, 2003. Shenzhou 11 marks China's sixth human spaceflight.