Sept. 15, 2016
— China has launched its second space lab into Earth orbit, where soon it will send two astronauts to live and work for 30 days, advancing the country's plans for its own space station.

The Tiangong-2 space laboratory lifted off Thursday (Sept. 15) at 10:04 a.m. EDT (1404 GMT or 22:04 Beijing time) on a Long March 2F rocket from Jiuquan Satellite Launch Center in China's north-central Gobi desert.

"The launching of Tiangong-2 is a key milestone for fully completing our space lab series, and a solid foundation for the building of China's space station in the future," said Wu Ping, deputy director of China Manned Space Engineering (CMSE) office.

The 34-foot-long (10.4-m) Tiangong-2 was launched into a preliminary orbit 236 miles (380 km) above Earth, but will boosted another 8 miles (13 km) before the Shenzhou 11 crew spacecraft is launched in October. The two Chinese astronauts, or taikonauts, who will fly on board that month-long mission have yet to be named.

Once on the space lab, the two crew members will find 40 experiments dedicated to plant growth, fluid dynamics and composite material fabrication. They will also participate in cardiovascular research and conduct maintenance in orbit.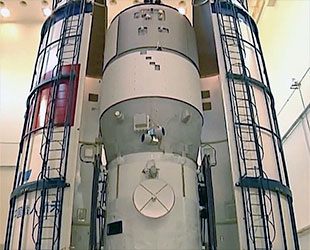 China's Tiangong-2 space lab seen prior to its encapsulation for its launch atop a Long March 2F rocket on Sept. 15, 2016.
(CCTV)
The lab is also outfitted with a cold atomic clock designed to keep time such that it is within a one-second error every 30 million years.

"The clock is of the world's leading technology to enhance time keeping in space by 1 to 2 orders of magnitudes," Wu said.

The outpost will also serve as a platform to study gamma ray bursts as part of an international collaboration between Chinese, Swedish and Polish scientists. The Gamma-Ray Burst Polarimeter, or POLAR, experiment will measure the high-energy radiation from the electromagnetic explosions originating from distant galaxies.

According to Wu, Tiangong-2 is comprised of two parts: an orbital module where the crew will reside and work, and a service module, which houses propulsion, life support and docking equipment. At its launch, the solar-powered space lab weighed 9.5 tons (8.6 metric tons).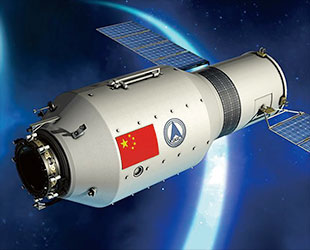 Artist's rendering of China's Tiangong-2 space lab, which will lead to the country's first space station in the 2020s.
(CCTV America)
In addition to the visiting Shenzhou spacecraft, China also plans to launch its first cargo vehicle to service the lab in 2017. The Tianzhou-1 will demonstrate automated docking and refueling capabilities important to China's future space station, while enabling Tiangong-2 to be operational for its intended two years.

Launching with Tiangong-2 on the Long March rocket was Banxing-2, a small satellite built by the Shanghai Academy of Spaceflight Technology. The satellite will fly close to and provide imagery of the space lab and Shenzhou spacecraft when they dock.

China's first prototype space lab, Tiangong-1, has been in orbit since September 2011. In June 2012, the Shenzhou 9 spacecraft delivered three taikonauts — including China's first female astronaut, Liu Yang — to live on the outpost for 10 days.

A second crew of two men and one woman arrived aboard Shenzhou 10 for a 12-day mission on Tiangong-1 in June 2013. The unmanned Shenzhou 8 spacecraft also docked with the lab, accomplishing China's first space docking, in November 2011.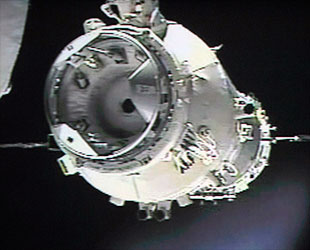 Tiangong-1, as seen from Shenzhou 9. China's prototype space lab is due to re-enter Earth's atmosphere in late 2017.
(CMSE)
Tiangong-1, which was retired in March, is set to make an uncontrolled re-entry into Earth's atmosphere in late 2017. It is currently orbiting about 230 miles (370 km) above the planet.

"Based on our calculation and analysis, most parts of the space lab will burn up during falling," Wu said.

One of the primary goals of the Tiangong-2 is to build off the success of its predecessor, including staging "medium-term" astronaut stays, establishing a new Chinese duration record. To date, China has launched 10 taikonauts on five missions, with two, Jing Haipeng and Nie Haisheng, flying twice.

The Tiangong, or "Heavenly Palace," space labs are a part of China's Project 921-2 space station program to deploy a space station, similar in scope, configuration and capability to the former Russian Mir space station, in the 2020s. The core module for that orbital complex, Tianhe-1, is targeted for launch in 2018 on a Long March 5 heavy-lift booster.