June 26, 2013
— Three Chinese astronauts returned to Earth Tuesday night (June 25), two weeks after launching on the final flight to China's first prototype space station.

Nie Haisheng, Zhang Xiaoguang and Wang Yaping landed aboard their Shenzhou 10 spacecraft at about 8:07 p.m. EDT (0007 GMT) on a sun-lit prairie in north China's Inner Mongolia Autonomous Region, where it was 8:07 a.m. on Wednesday morning.

The two men and woman, who lifted off atop a Long March rocket from the Jiuquan Satellite Launch Center on June 11, crewed China's fifth manned space flight since 2003. After 15 days circling the Earth, they set a record for the longest mission by a Chinese crew.

Nie, who commanded the mission, was the only veteran space traveler among the Shenzhou 10 astronauts. He set a personal record for the most time in space by a Chinese "yuhangyuan," or "taikonaut," logging more than 19 days (470 hours) during his two flights.

Nie previously flew on the Shenzhou 6 mission in October 2005.

"This is my second time to fly in space and this is a great privilege and honor for me," Nie said after emerging from inside the Shenzhou 10 spacecraft. "I feel very good back at home."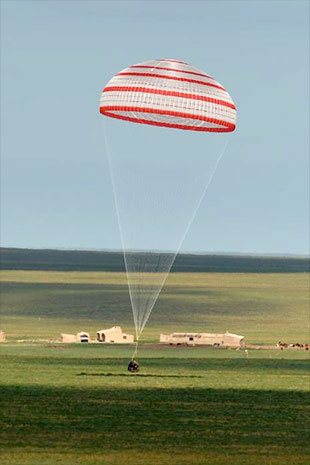 The Shenzhou 10 spacecraft touched down in a sun-lit prairie in northern China's Inner Mongolia Autonomous Region.
(Xinhua)
Nie and his Shenzhou 10 crewmates spent 12 days living and working on board China's first prototype space station, the Tiangong-1 ("Heavenly Palace"). The three performed medical and technical tests, the latter including docking to the module twice — the first under the automated control of their spacecraft and then guided by Nie during a piloted, second test of the rendezvous procedures.

Wang, China's second woman in space, used part of her time on Tiangong-1 to deliver a video lecture for more than 60 million Chinese students who were watching live. She used spinning tops, water droplets and a ball to show the basic physics of microgravity.

After undocking for the second and final time on Monday evening (June 24), ground controllers took over control of the Shenzhou 10 spacecraft to perform a fly-around and last rendezvous test with Tiangong-1, which was another first for China's still burgeoning space program.

China's President Xi Jinping spoke with the Shenzhou 10 crew before they returned to Earth.

"The space dream is part of the dream to make China stronger. With the development of space programs, the Chinese people will take bigger strides to explore further into space," Xi stated, as reported by the Xinhua state-run news service.

Zhang, Shenzhou 10's third crew member, also remarked about his country's "space dream" after landing.

"We are dreamers, and we have now fulfilled our dream," Zhang remarked. "Our space dream knows no boundary, and our hard work will never cease."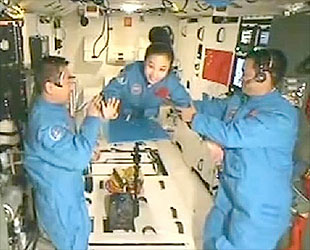 Video still showing the Shenzhou 10 crew participating in a live broadcast from aboard the Tiangong-1 module.
(CCTV/Xinhua)
Over the past two years, Tiangong-1 has been visited by three spacecraft. Two months after the module's launch in September 2011, the unmanned Shenzhou 8 successfully performed China's first rendezvous and docking. In June 2012, the crewed Shenzhou 9 mission demonstrated the country's first piloted docking with the space lab.

Shenzhou 10 is expected to be Tiangong-1's final visiting vehicle. The space module is slated to be de-orbited later this year, to be followed by the launch of a more advanced Tiangong-2 in 2015.

The automated and piloted docking tests with Tiangong-1 have been described by Chinese officials as steps toward the construction of a multi-module space station, which is being planned for launch by 2020.

China became the third nation after Russia and the United States to launch people in space, as well as demonstrate rendezvous and docking procedures in orbit. Since its first manned flight in 2003, China has launched ten astronauts on five spacecraft.