June 11, 2013
— China launched two men and a woman Tuesday (June 11) on the nation's fifth manned spaceflight and final planned mission to its first prototype space lab.

The Shenzhou 10 spacecraft lifted off at 5:38 a.m. EDT (0938 GMT; 5:38 p.m. Beijing Time) atop a Long March 2F rocket from the Jiuquan Satellite Launch Center in China's north central Gobi desert. Onboard the capsule were three Chinese astronauts ("yuhangyuan"), Nie Haisheng, Zhang Xiaoguang and Wang Yaping.

"The Shenzhou 10 spacecraft has entered its orbit," chief commander of China's Manned Space Engineering Office Zhang Youxia said. "The crew is in fine state. I announce the launch of the Shenzhou 10 spacecraft successful."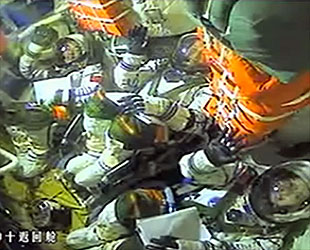 Shenzhou 10 crewmates (from left to right) Zhang Xiaoguang, Nie Haisheng and Wang Yaping are seen during waving from inside the spacecraft during their launch on June 11, 2013.
(CCTV)
During the Shenzhou 10 mission, which is planned for 15 days, Nie, Zhang and Wang are expected to twice test docking with the Tiangong-1, or "Heavenly Palace," space module, as well as live and work aboard the orbiting lab. Launched in September 2011, the Tiangong-1 has been visited by two other spacecraft: the unmanned Shenzhou 8 in November 2011 and the Shenzhou 9 crewed mission in 2012.

The Shenzhou 10 crew will first arrive at Tiangong-1 two days after launching on June 13.

During their stay aboard the single-room space station, the three Shenzhou 10 crew members will take part in medical and technical tests, as well as devote time to talking with Chinese students live from orbit.

"I'll demonstrate some physics experiments done in the space environment," Wang said, according to the Xinhua state news service. "As an astronaut, I'm also a learner, like those students. I think we'll learn together and have a great time in space."

Adding to the Wang's and her crewmates' "great time" will be a first for a Chinese space lab mission: some free time to enjoy the sights and sounds of space.

"On Shenzhou 9... the crew had to work 24 hours a day," said Nie, who serves as Shenzhou 10's commander. "But this time, we can sleep during the night, and after finishing our daily duties, we'll have time to relax and do things, like appreciate the beautiful view of space and listen to some music."

"I will look at our beautiful planet, our beautiful homeland," said Zhang, who like Wang is making his first spaceflight. "I can find out whether it is possible to see the Yangtze River and Yellow River."

"I can take a look at the deep universe and shining stars. I feel very excited," he added.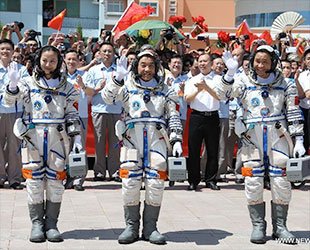 Nie Haisheng (right), Zhang Xiaoguang, and Wang Yaping attend the setting-out ceremony of the manned Shenzhou 10 mission at the Jiuquan Satellite Launch Center, June 11, 2013.
(Xinhua)
All three Shenzhou crew members are military pilots. Nie, 48, and Zhang, 47, were named to the Chinese astronaut corps in 1998. Wang was chosen in 2010 and at 33 is the first person born in the 1980s to fly in space.

Wang became China's second woman in space, following Liu Yang, who flew on Shenzhou 9 in June 2012.

Wang and her crew mates will be in orbit during the 50th anniversary of the first woman in space, a record set by Soviet cosmonaut Valentina Tereshkova on June 16, 1963 (the first U.S. woman in space, Sally Ride, flew 20 years and two days later, on June 18, 1983).

Nie is the only "taikonaut" on board Shenzhou 10 to have flown in space before. A member of the 5-day Shenzhou 6 mission in October 2005, Nie will set a new record on this mission for the most time in space by a Chinese citizen.

"Maybe I will hold that record for a while," Nie said, "but it will soon be broken by other newcomers."

Shenzhou 10 is China's last planned flight to Tiangong-1. The space module is expected to be de-orbited later this year. Advanced Tiangong space labs will reportedly follow, enabling longer crew stays and ultimately leading to China establishing its own multi-module space station in orbit.