June 18, 2012
— China achieved its first manned space docking on Monday (June 18), as its Shenzhou 9 crewed spacecraft and Tiangong-1 prototype space station met up in Earth orbit.

Shenzhou 9, with astronauts Jing Haipeng, Liu Wang and China's first woman in space Liu Yang on board, began approaching the Tiangong-1 lab module at about midnight EDT (0400 GMT) Monday. The crewed spacecraft, flying under autonomous control, made contact with the module at 2:07 a.m. EDT (0607 GMT).

About three hours later, the Shenzhou 9 crew entered the Tiangong-1, or the "Heavenly Palace," for the first time. Commander Jing, followed by Liu Wang, floated inside the module, which has been circling the Earth without a crew since its launch in September 2011.

Liu Yang later joined her crewmates on board Tiangong-1 after initially remaining behind in the Shenzhou to be ready if an emergency arose.

Shenzhou 9 was launched on June 16 atop a Long March 2F rocket from the Jiuquan Satellite Launch Center in the Gobi desert. It is China's fourth manned mission, the first to include a woman, and the first time a Chinese astronaut has flown twice (Jing previously flew on Shenzhou 7).

Astronaut aboard

Live TV showed the Chinese astronauts, or "taikonauts," waving as they came aboard the 530 cubic foot (15 cubic meter) cabin of Tiangong-1. The crew members used hand and foot holds, as well as velcro swatches placed along the module's floor, to maneuver inside the lab.

For the 10 days they will live and work on Tiangong-1, the Shenzhou 9 crew will conduct scientific experiments and perform technical tests in support of China's plans to build a full space station by 2020. The Shenzhou 9 mission is expected to last a total of 13 days from launch to landing.

The Tiangong-1 is outfitted with exercise equipment and two sleep stations for the crew. Interior views showed a traditional Chinese knots wall hanging and a Chinese flag decorating the mostly white and olive green-fabric covered module walls.

The astronauts will find "many surprises" waiting for them inside the Tiangong-1 as part of a test to see how they do solving problems in weightlessness.

"Discovering unexpected items by themselves could add more fun to living in space," Chen Shanguang, the general director of the astronaut system department, said.

First docking down, another to go

After several days of science and on-orbit operations, the Shenzhou 9 crew will depart the Tiangong-1, only to return for a second, more critical docking test.

"The real test will be the manual docking attempt six days later," Zhou Jianping, chief engineer of the manned space program in China, said. "A manual docking, if successful, will demonstrate the country's grasp of essential space rendezvous and docking know-how."

"It will mean China is fully capable of transferring human and cargo to an orbiter in space," Zhou added, as quoted by the state-run Xinhua news service.

China's first docking was completed last year between the unmanned Shenzhou 8 spacecraft and Tiangong-1. With the Shenzhou 9 mission, China became the third nation to accomplish a crewed docking, after the United States and Russia.

The first link up between a crewed spacecraft and another orbiting vehicle was achieved in 1966 by NASA's Gemini 8 mission, when astronauts Neil Armstrong and David Scott connected their spacecraft with an Agena target vehicle.

The former Soviet Union followed four years later with their own first crewed docking with the coupling of the Soyuz 4 and Soyuz 5 manned spacecraft.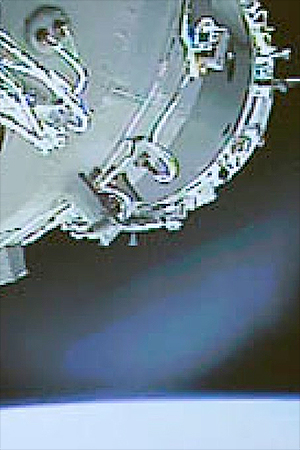 Exterior view showing China's Tiangong-1 (foreground) mated to Shenzhou 9, achieving the nation's first crewed docking. (CCTV)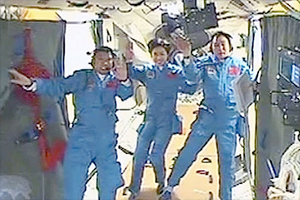 The Shenzhou 9 crew, Jing Haipeng, Liu Wang, and China's first woman in space Liu Yang, wave from inside Tiangong-1. (CCTV)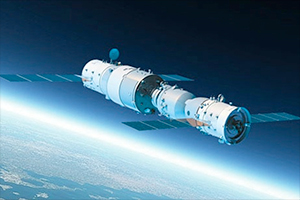 Artist rendition of China's Shenzhou 9 spacecraft docked with the Tiangong-1 orbiting space lab module. (ATCM)