October 15, 2021
— China has launched its second crewed expedition to its new space station to continue preparing the orbital outpost for its planned expansion.

Astronauts Zhai Zhigang, Wang Yaping and Ye Guangfu lifted off on board China's Shenzhou 13 spacecraft on Friday (Oct. 15) on a six-month mission to live and work aboard the Tianhe ("Harmony of the Heavens") core module of the Tiangong ("Heavenly Palace") space station. The crew rode atop a Long March-2F rocket that was launched at 12:23 p,m. EDT (1623 GMT or 12:23 a.m. on Oct. 16 Beijing Time) from the Jiuquan Satellite Launch Center in northwest China.

"The Shenzhou 13 crewed mission is the sixth [launch] in the space station key technology verification phase and the last mission of this phase," said Lin Xiqiang, deputy director of the China Manned Space Agency (CMSA). "After a comprehensive evaluation ... we will initiate space station construction phase."

After a fast track rendezvous with the space station, the Shenzhou 13 spacecraft is expected to perform an autonomous docking with the nadir, or Earth-facing port of the core module, a first for the program. The previous Shenzhou 12 crew, who left the station in mid-September after spending three months in orbit, docked and undocked from Tianhe's forward-facing port.

The Shenzhou 13 docking will form a complex with the Tianhe module and two already on-orbit cargo spacecraft, Tianzhou-2 and Tianzhou-3, launched in May and September, respectively.

Update: The Shenzhou 13 spacecraft docked with the Tianhe core module at 6:56 p.m. EDT (2256 GMT or 6:56 a.m. Beijing Time) on Saturday (Oct. 16). The crew entered the space station for the first time at 9:58 p.m. EDT (0158 GMT).

Zhai, Wang and Ye will spend the next six months testing station systems and the ability of the core module to support future assembly and construction, including repositioning a module using a robotic arm. The crew will also perform research and experiments in the fields of microgravity physics and space medicine, as well as collect data about their own health and take part in public outreach activities.

As many as three spacewalks may be conducted, in part to install a connector to link long and short mechanical arms.

Shenzhou 13 is the second spaceflight for both Zhai, 55, and Wang, 41, who flew on Shenzhou 7 and Shenzhou 10, respectively. Zhai, who in 2008 became China's first astronaut to perform a spacewalk, is commander of the Shenzhou 13 mission.

"Thirteen years ago in 2008, the successful completion of the Shenzhou 7 mission marked that China became the third nation to have mastered the key technologies of extravehicular activities and I was quite proud of this. In particular, I waved the five star flag and walked in space. To this date, it is still a vivid memory," said Zhai at a pre-launch press conference on Thursday. "After 13 years, I am going to set out for outer space again. I feel excited. I feel inspired. I also feel some pressure."

Wang was the second Chinese woman to fly into space. On Shenzhou 13, she will be China's first woman to enter the station and first female spacewalker.

"I am very honored to be part of the construction of China's space station," she said. "This will be the first time taikonauts have celebrated the Chinese New Year in space. According to my understanding, we have a big package of gifts to find and we do not know exactly what is inside. A lot of surprises are waiting us."

This the first flight for Ye, 41, who was selected with the second group of Chinese candidates in 2010.

"It is a great pleasure to be a member of this crewed mission," Ye said. "For me personally, this is a great challenge, but I have every confidence to complete this mission successfully. The confidence comes from generations of astronauts and their efforts, it comes from the teamwork of all of the astronauts and it also comes from my 11 years of hard work."

"I hope I have the opportunity to enjoy the beauty of outer space from a new angle with a bird's [eye] view of planet Earth," he said. "I also want a bird's [eye] view of the great land of China."

The work the Shenzhou 13 crew will complete will set up the next phase of the Tiangong space station. After Zhai, Wang and Ye leave to return to Earth in April 2022, six more missions — including the launch of the Wentian and Mengtian laboratory modules, two cargo spacecraft and two crewed spaceships — are expected to complete construction of the orbiting complex by the end of next year.

The Shenzhou 13 mission is China's eighth human spaceflight since 2003.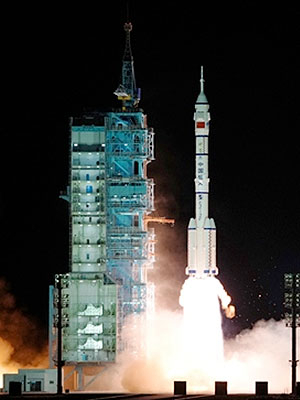 A Long March 2F rocket lifts off with the Shenzhou 13 spacecraft and astronauts Zhai Zhigang, Wang Yaping and Ye Guangfu from the Jiuquan Satellite Launch Center on Oct. 15, 2021. The crew will be the second to live on China's space station. (Xinhua)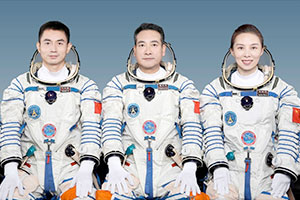 Shenzhou 13 crewmates (from left) Ye Guangfu, Zhai Zhigang and Wang Yaping pose together for a portrait. (China Manned Space)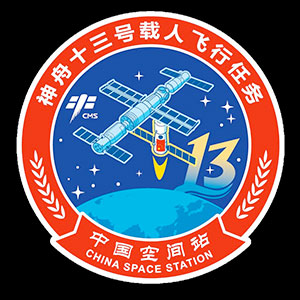 China's Shenzhou 13 crew mission patch. (China Manned Space)