Astronauts 'home' again on space station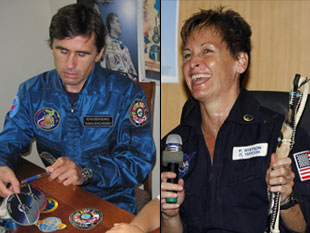 ISS crewmates Yuri Malenchenko and Peggy Whitson show off their mementos. (Images: USSR-AirSpace.com, Associated Press)

October 12, 2007 — For Peggy Whitson, the first female commander of the International Space Station, and Yuri Malenchenko, her Expedition 16 crewmate, today's arrival at the orbiting outpost was something of a homecoming. Both space explorers had previously lived aboard the ISS during earlier flights: Whitson for 184 days, 22 hours and 15 minutes in 2002 and Malenchenko for just 31 minutes longer a year later.

"When you are so familiar with the layout of the station, you know what is kept where and so it feels like you are at home when everything around you is so familiar," said flight engineer Malenchenko in a preflight interview with collectSPACE.

The crew arrived at the station at 9:50 a.m. CDT Friday. Whitson will officially become the ISS commander after a ceremony next Friday. They will spend the week learning about the station's systems from the outgoing Expedition 15 crewmembers.

To make the ISS feel even more like home for the next six months they are on-board, the American astronaut and Russian cosmonaut opted to bring items with them to adorn their living space. Unlike their prior stays though, their chosen personal decorations tend to be more virtual.

"I am doing a lot more electronically this time. It's just easier, less of a hassle. I can print whatever I want when I get up there, and not have to worry about hand-carrying so much. So that alone simplifies the personal items I was planning to take, in terms of like photos," explained Whitson. "That to me, is simpler."

One tangible, if initially unplanned item among Whitson's personal items was presented to her just a day before her and her crew's launch on October 10. In reverence to her role as the first woman to command the station, she was gifted with a "kamcha", a Kazakh riding whip, as a means of keeping her male crewmembers in line. Acknowledging the presentation by a member of the Russian launch crew at the Baikonur Cosmodrome, Whitson said, "I hope there will be no need to use this, but I'll take it on-board just in case."

Another commemorative item common among Whitson's crew is their mission emblem for Expedition 16. Whitson and Malenchenko wore the patch on their spacesuits to orbit, and Clay Anderson, who has been on the ISS since June, adopted it as his own soon after their arrival, as the three donned caps bearing the artwork.

The insignia's design represents the conjunction of two unique astronomical events: a transit of the ISS across the surface of a full moon and a nearly complete annular eclipse of the sun.

"My husband works [at] the Johnson Space Center and one of the guys in his laboratory, Brian Crucian was interested in doing the logo for me," shared Whitson. "He selected three or four different things and I told him I liked [it to be] simple and he came up with some different ideas. He had sent me the picture of the annular eclipse of the Moon with the station transit along it, so he had come up with the basic idea of the design, and then we expanded upon that. So he was the idea man behind it."

Malenchenko also had an emblem designed to represent their ride to orbit, Soyuz TMA-11, which he commanded and included Whitson and spaceflight participant Sheikh Muszaphar Shukor, the first Malaysian "angkasawan" or astronaut. The patch, which is based on a photograph of a Soyuz approaching the ISS captured by cosmonaut Salizhan Sharipov, was designed by space memorabilia dealer Alex Panchenko.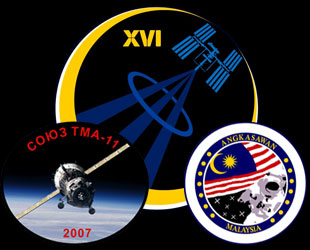 The Expedition 16 (middle), Soyuz TMA-11 (left) and Malaysian Angkaswan insignias (right).

Shukor, a trained orthopedic surgeon who is flying as part of a commercial agreement between the Malaysian and Russian governments, chose to bring items representing his nationality and culture for his nine days on the station.

"We are bringing some of our space food, Malaysian food actually, it's more for [our] cultural program," said Shukor to collectSPACE. According to his mission blog, Shukor's cultural food selections include Biryani Chicken, Rendang Tok, Satay Ayam, and Kuih Raya Bangkit.

He also packed a popular children's toy, a large spinning top called a "gasing," to show to Malaysian students during a planned live downlink. "I am also hoping to wear a Batik shirt in space," Shukor wrote on his website.

Shukor, together with Expedition 15 commander Fyodor Yurchikhin and flight engineer Oleg Kotov will return to Earth on October 21. Anderson will remain on the station until later this month when the space shuttle Discovery arrives with his replacement, Dan Tani, who will then join Whitson's crew.

In addition to the small items they brought with them to the ISS, Whitson and Malenchenko will also receive care packages on visiting shuttles and unmanned Progress resupply spacecraft.

"I received a lot of neat things that people would send me on the Progress vehicles, you know, letters and cards," described Whitson of her last stay on the station, "and those are very special, even now to go back and look and see what people wrote to me when I was on orbit."

Some of the contents of those former care packages are also still on-board.

"There is some music I brought up and some movies," Malenchenko said.

"There's movies up there, some will have stayed but we try to change them out because we have limited space and so we just add new ones. So we get to pick a new set of movies that go up for us to watch in our free time. And they've gotten a lot more capability now to send up short TV shows or other things for us, which is great, so if you have a favorite series of whatever, they can get that up to you," said Whitson.

© 2023 collectSPACE.com All rights reserved.
Questions? E-mail contact@collectspace.com