October 5, 2016
— The world's first rocket to reach space and land vertically on Earth is now museum-bound after a successful fifth flight that it was not expected to survive.

Blue Origin, the commercial spaceflight company founded by Amazon CEO Jeff Bezos, launched its history-making New Shepard rocket on a suborbital flight designed to test its crew capsule's abort system. The in-flight escape demo was critical to Blue Origin's plans to start launching paying passengers on 11-minute flights to space and back in the next couple of years.

"If you were an astronaut, it would've been a nice smooth ride," said Blue Origin spokesperson Ariane Cornell during a live broadcast of the launch on Wednesday (Oct. 5). "It would have been exciting, certainly, but most importantly, you'd be safe."

"From what we can tell, that was a nominal in-flight test of our escape system," she said.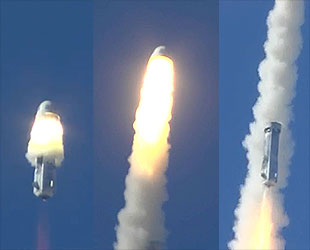 "That is one hell of a booster," Jeff Bezos said on Twitter on Oct. 5, describing a video clip of the New Shepard surviving the in-flight escape test of its crew capsule.
(Blue Origin)
The New Shepard launch began like the rocket's previous four flights, with a liftoff at 10:36 a.m. CDT (1536 GMT) from Blue Origin's West Texas launch site near the town of Van Horn. But instead of the booster and its empty crew capsule flying together to space — as they had four times before – the gumdrop-shaped spacecraft was intentionally commanded to fire its escape motor and blast away from the booster at the point of maximum dynamic pressure, or max Q, 45 seconds into the flight.

The abort, at about 16,000 feet (4,900 meters) above the ground, demonstrated that the New Shepard's expendable solid rocket motor could fly its crew to safety in the case of an emergency during the launch. As designed, the motor fired at the same moment that the capsule separated from the rocket, slamming 70,000 pounds of force (311,375 N) into the the booster below.

That thrust was expected to send the rocket off-course, resulting in the shutdown of the single BE-3 engine and a plummet to the desert floor. Bezos wrote prior to the flight that the propellant still remaining aboard the booster would make for a "most impressive" explosion on impact.

"The New Shepard booster was never designed to survive an in-flight escape," wrote Bezos, describing the test.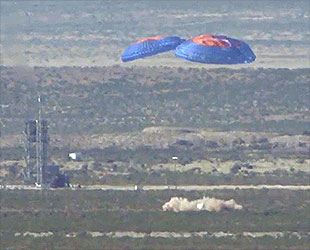 Thrusters on Blue Origin's New Shepard crew capsule kick up dust as the spacecraft touches down under parachutes.
(Blue Origin)
But that didn't happen. Not only did the New Shepard crew capsule successfully deploy parachutes and descend to a soft touchdown 4 minutes and 15 seconds after its launch, but the booster emerged from the escape motor's exhaust in what appeared to be stabile flight and continued up. The booster cut off its BE-3 engine at 240,000 feet (73,000 m), 11 miles (18 km) above the Karman line that divides Earth from space.

It then descended back to Earth as though on a nominal flight, deploying its speed brakes and re-igniting its engine to touch down on Blue Origin's landing pad 2 miles (1.2 km) from where it launched just 7 minutes and 30 seconds earlier.

"If the booster does manage to survive this flight — its fifth — we will, in fact, reward it for its service with a retirement party and put it in a museum," wrote Bezos in a statement released on Sept. 8.

The New Shepard capsule, which also flew on a pad abort test in October 2012, will be joining the rocket in retirement with this flight.

"What an extraordinary test and a tremendous final flight for both craft," stated Cornell. "As we'd very optimistically aimed for, both our crew capsule successfully executed its in-flight escape test and the booster brilliantly continued to space and came home for a fifth landing."

"Both of these vehicles are going to be retired after this epic flight, but we'll certainly find a place for these vehicles to be seen by everybody," she said.

Blue Origin's next test flights will be conducted using new boosters and capsules now being built at the company's manufacturing facility in Kent, Washington.


Wednesday's launch marked the fifth flight of Blue Origin's second New Shepard rocket. After losing its first booster during a successful flight in April 2015, Blue Origin made history seven months later on Nov. 23, when it launched the world's first booster to loft a payload to space and then land upright on legs.

The company then flew that second rocket on three more suborbital spaceflights on Jan. 22, April 2 and June 19 of this year.

Blue Origin built the New Shepard to launch commercial science experiments and paying passengers on suborbital spaceflights. The rocket and capsule system were named after Alan Shepard, the United States' first astronaut to fly into space, who launched on a suborbital flight of NASA's Mercury spacecraft on May 5, 1961.

Wednesday's in-flight escape demo followed similar abort tests conducted with NASA's Mercury and Apollo capsules in the 1960s. Unlike those "tractor" escape systems, which used tower-mounted motors on top of the capsules to pull the spacecraft to safety, the New Shepard motor pushes the vehicle away from the booster.

Cornell said that passengers who fly aboard New Shepard flights will be given priority for future flights on New Glenn, Blue Origin's orbital-class rocket announced in September. Similar in design but significantly larger and more powerful than the New Shepard, the New Glenn (named for the first American in orbit, John Glenn) will also feature a vertically-landed, reusable first stage.