Soyuz 15 cosmonaut Sarafanov dies at 63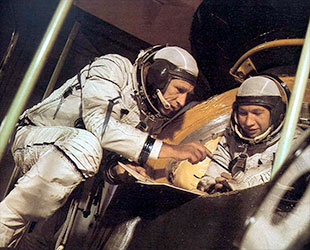 Soviet-era cosmonauts Gennady Sarafanov and Lev Demin train for their Soyuz 15 spaceflight in 1974. (Roscosmos)
September 30, 2005 — Cosmonaut Gennady Sarafanov, who in 1974 commanded an unsuccessful mission to the Salyut 3 space station, died on Thursday (September 29) due to complications from an unspecified surgery, reports the magazine Novosti Kosmonavtiki on their website. He was 63.

Gennady Vasilyevich Sarafanov flew Soyuz 15 with flight engineer Lev Demin, who passed away in 1988. The two were scheduled to be the second crew to live onboard the Soviet Union's first manned military space station, but the guidance system on their Soyuz spacecraft failed during their final approach.

As a result, Sarafanov and Demin returned to the Earth on August 28, 1974, just two days after launching from the Baikonur Cosmodrome.

Sarafanov was born in the Russian village of Sinekiye in January 1942. He joined the Soviet Army and after just one year transferred to the air force when he was 18. He was a fighter pilot in the Guards Regiment before being selected by the space program as a member of the third air force group of cosmonauts in November 1965.

After completing his initial cosmonaut training in 1967 and his assignment to the Soyuz group in 1972, Sarafanov (with Demen) was assigned to fly Soyuz 13, but his flight was canceled when the mission's target — the Salyut 2 station lost control in orbit. Demen and he served as the back-up crew to Soyuz 14 before flying as the prime crew of Soyuz 15.

Sarafanov remained with the Russian space program until July 1986. During the early 1980s, he was named to fly a proposed manned-version of a TKS transport ship, but his missions were canceled in favor of its unpiloted use. (The TKS evolved to become the base Russian module of the International Space Station, the "Zarya" Functional Cargo Block [FGB]).

He is survived by his wife Tamara and his children Alexei and Katya.

Biographical information used in this article was adapted and excerpted with permission from Who's Who in Space: The First 25 Years by Michael Cassutt.