Sept. 25, 2015
— A new international space race is set to launch between astronauts from the United States, Brazil, France and India.

But instead of blasting off for the moon or Mars, the space explorers have traded in their rockets for minivans and are racing from Connecticut's capital to Florida's Space Coast.

Former space shuttle astronaut Jon McBride is hitting the road against Marcos Pontes, the first Brazilian astronaut, first Frenchman in space Jean-Loup Chretien and Rakesh Sharma, India's first cosmonaut, in the 9th annual Fireball Run. Dubbed this year the "Space Race," the rally is an 8-day, 2,000-mile (3,200 km) trivia game, where the United States serves as the game board.

Beginning Sunday (Sept. 27), the astronauts — joined by celebrities, models, business owners and elected leaders — will travel from Hartford, Connecticut to Cocoa Beach, Florida, along the way answering trivia questions to reveal their next destination and an awaiting challenge they must complete to move on. The "Space Race" however, is not a road race — the teams' driving speed will be monitored by GPS and plotted online for all to follow.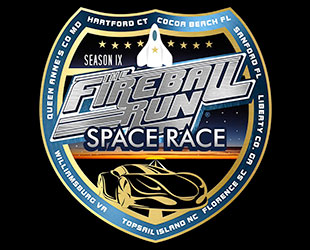 Fireball Run: Space Race will take 40 rally teams, including four astronauts, on a 2,000-mile, eight-city trivia game.
(Fireball Run)
The rally, which will be broadcast online as an adventure-travel reality show, benefits the Child Rescue Network, a Florida-based non-profit committed to protecting children. Each race team is provided 1,000 missing child posters to give out featuring a child who has gone missing from their home of origin.

In addition to watching online or through services such as Roku and Google Play, the public can meet and cheer on the race teams at the starting and finish lines in Hartford and Cocoa Beach, as well as at scheduled stops in Queen Anne's County, Md; Williamsburg, Va; Topsail Island, NC; Florence, SC; Liberty County, Ga., and Sanford, Fla.

Each of the astronauts competing in the "Space Race" are paired with a team member.

McBride, who piloted the space shuttle Challenger's sixth mission, STS-41G, in 1984, is the driver for team number 2, "Space Coast," riding with Bonnie King, director for film and special events for the Space Coast office of tourism. McBride today directs astronaut education at the Kennedy Space Center Visitor Complex in Florida.

Pontes launched on Soyuz TMA-8 for a 10-day visit to the International Space Station in 2006. He is part of team 6, "Team Brazil," riding with Chance Morris, a motion picture and television stunt driver who performs live in the Lights, Motor, Action! show at Disney's Hollywood Studios.

Chretien became France's first citizen in space on the first of his three spaceflights, Soyuz T-6, in 1982. In total, he has logged more than 43 days in space, including 25 days aboard Russia's space station Mir and an 11-day mission on the space shuttle Atlantis. He is riding with stunt driver James Cheek, as team number 14, "Team France."

Sharma spent 8 days in orbit on a mission to the former Soviet Union's Salyut 7 space station in 1984, becoming India's first cosmonaut. He is riding with Amy Tomberlin, a stunt trainer for Bobby Ore Motor Sports, on team number 9, "Team India."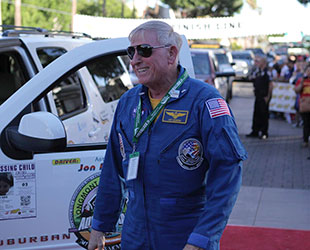 Astronaut Jon McBride at the finish line of the 2013 Fireball Run in Riverside, Calif. 'Space Race' will be his fifth run.
(Fireball Run)
Other racers launching in the Fireball Run "Space Race" include "America's Top Model" Adrianne Curry, actor Chris McDonald, Grant Imahara of MythBusters and Mayor Jeff Triplett of Sanford, Florida. In total, 40 teams are racing in vehicles that range from the Dodge Grand Caravans that the astronauts are driving to muscle cars to even a couple of DeLoreans (one identified as a "time machine").

This is McBride's fifth time competing in the Fireball Run. The other astronauts are new to the event.

The "Space Race" finishes Oct. 3 at the Kennedy Space Center Visitor Complex, in time for the four astronauts to join in on a 30th anniversary celebration for space shuttle Atlantis, which first launched in 1985 and is now displayed at the center. The visitor complex has scheduled its own full day of public events with other Atlantis crew members before hosting a banquet for the Fireball Run racers under the retired NASA orbiter.

See the Fireball Run: Space Race website for more about the adventure-travel competition.