July 7, 2015
– Ford Motor Company is launching a one-of-a-kind rocket-inspired muscle car to support educating the next generation of aviators.

The Saturn V-styled "Apollo Edition Mustang," donated to the Experimental Aircraft Association (EAA), is the feature lot being auctioned on July 23 to benefit the not-for-profit organization's youth programs. The black and white (with red trim) pony car will be sold during the EAA's Gathering of Eagles gala, part of AirVenture Oshkosh in Wisconsin.

"The Ford Apollo Edition Mustang salutes man's greatest technological achievement, with the ingenuity, precision, and power that defined the spirit of American innovation," Edsel B. Ford II, a member of the Ford board of directors, said in a statement released by the EAA. "Inspired by the Apollo program, Ford Motor Company committed itself to including exhilarating power, cutting-edge technology, and extraordinary craftsmanship in this automobile."


The unique Mustang draws its design cues from NASA's iconic Saturn V rockets that launched 24 astronauts to the moon between 1968 and 1972. Melvin Betancourt, Ford's design manager, led the company's teams that developed the customized 2015 Mustang.

Like the rocket on which it was based, the Apollo Edition Mustang features a white body and black roll pattern on its hood, roof and spoiler. "United States" and "USA" details, together with the American flag, replicate the markings on the 363-foot-tall (110-meter) booster.

While the Apollo astronauts are commonly associated with driving Corvettes, later space explorers, such as astronaut and musician Chris Hadfield, drove Mustangs.

The one-off Apollo Edition Mustang is the latest in the line of specially designed cars Ford has donated to EAA since 2007. Previous years' models were styled after the SR-71 Blackbird, the Blue Angels and the Thunderbirds.

Last year's auction featured an F-35 Lighting II fighter jet-inspired 2015 Mustang that sold for $200,000.

"Ford has helped the EAA build unmatched pathways for young people to discover the world of flight," Jack Pelton, EAA chairman of the board, said in a statement. "With its 8th Mustang donation inspired by aviation, Ford continues to excite with its specialty vehicles."

"[The donation] reflects the depth of Ford's commitment to EAA, its members, and the future of flight," Pelton said.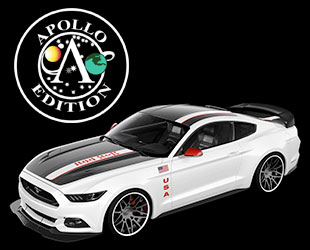 Ford Motor Company one-of-a-kind Apollo Edition Mustang.
(EAA)
The Gathering of Eagles gala is held annually at the EAA AirVenture Museum in Oshkosh, Wisconsin, drawing more than 1,000 aviation enthusiasts. This year's AirVenture fly-in at Wittman Regional Airport will also feature a tribute to the 45th anniversary of Apollo 13, including appearances by astronauts Jim Lovell and Fred Haise, as well as flight director Gene Kranz and other members of the April 1970 mission's ground team.

To bid in the Mustang auction or for more details, see the Experimental Aircraft Association's website.