Hall of humor welcomes astronauts home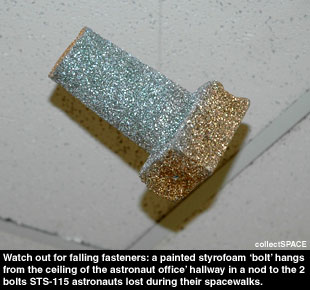 September 25, 2006 — "Words with more letters than 'Heidemarie Martha Stefanyshyn-Piper" reads one sign.

"Have you seen me?" begins another, which is designed to resemble the back of a milk carton. Underneath, is a photo of a fastener captioned as "Missing since 9/12/06".

Perhaps they should look up: hanging overhead is a large piece of styrofoam painted and cut in the shape of a bolt.

These and many more flyers, signs and decorations were awaiting the crew of space shuttle Atlantis as they came back to Johnson Space Center on Monday, their first day at work since landing from space on September 21.

This 'hallway of humor,' courtesy of their trainers, leads between the parking lot and the astronauts' offices inside JSC's Building 4 South. It has become a custom for the returning astronauts to relive the funny moments — and perhaps embarrassing ones too — from their training and mission, hung in full view of all of their coworkers.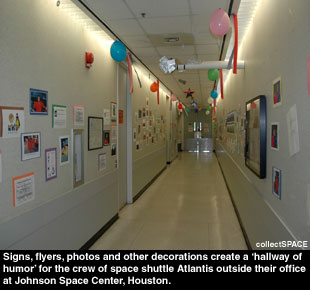 For this crew, that means a rich history to inspire their decorations. It's not that they were the funniest crew, or were the most error prone, but rather that they had been in training for four years before their launch — two years longer than most.

As another series of signs — subtitled "What you get for 4 years of training" — tallies, the STS-115 crew prepared for 224 weeks during which they had more than 13,500 training events, "1000 hours of gym time, 1120 hours of admin time [and] 1400 hours of holiday/leave". One flyer on the wall lists the astronauts' 18 "official launch dates" while another notes that at one point, their liftoff reached 81 weeks out before being rescheduled yet again.

Further down the passage way, past the quotable quotes heard during their 840 hours of simulator training and the jokes about astronauts' nationalities and military branch ("One of these things, is not like the other thing, One of these things just doesn't belong, Can you tell which thing is not like the other thing, Before I finish my song?" titles the sign with crew pictures of Brent Jett, Chris Ferguson and Heidemarie Stefanyshyn-Piper alongside their Navy seal with Dan Burbank shown with his Coast Guard logo) are a succession of gags chronicling the crew's mishaps and adventures on-orbit.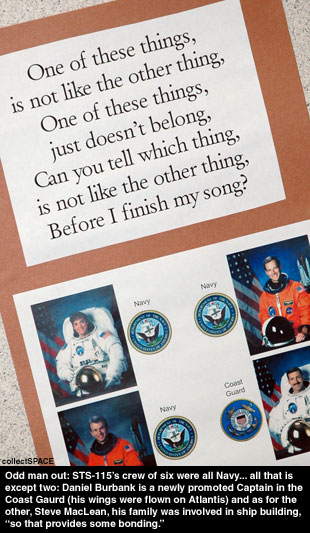 The STS-115 mission was dubbed a "return to assembly" by NASA, signaling the flight's goal of restarting station construction after a hiatus caused by the 2003 Columbia accident. One or more enterprising artists (the creators of the flyers are not specifically identified) saw similarities between that slogan and a popular 1980s-era movie. The result: A Back to the Future Assembly spoof poster with Commander Jett's and Pilot Ferguson's faces positioned to replace Christopher Lloyd's 'Doc Brown' and Michael J. Fox's 'Marty McFly' characters respectively.

During their 12 days in orbit, four of the astronauts made three spacewalks to install a school-bus sized truss and two solar arrays. In the process of temporarily removing protective covers from some of the equipment, a couple of small bolts escaped into space. Despite their tiny size and assurances by flight controllers that they were not a concern, the fasteners' loss made for big headlines and, apparently, big jokes with the space center workers, too.

In addition to the oversized styrofoam bolts hanging from the ceiling (alongside streamers, balloons and a model of the orbiter boom) are all sorts of flyers poking fun at the wayward hardware. An old wild west-style "Wanted" sign promises $5000 for the capture of Wild Bolt Hickock, The Rivet Kid for impersonating MMOD (NASA's acronym for space junk). Nearby, a black and white photo shows the proposed redesign for the bolts: a multi-foot long, clearly massive dumbbell-shaped piece of hardware that can be barely supported by the hard hat-clad man who is shown.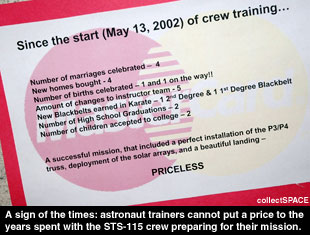 That's not to say all the signs are jokes at the STS-115 crew's expense. The overall impression one gets while walking the hall is one of a close family welcoming home their kin. As one sign parodies a popular credit card ad campaign: since the start (May 13, 2002) of crew training there have been four marriages celebrated, four homes bought, one birth (and one soon coming), two high school graduations, two children accepted into college and two blackbelts earned in Karate. Totaling the astronauts' and trainers' personal milestones, the sign reads at bottom:

A successful mission, that included a perfect installation of the P3/P4 truss, deployment of the solar arrays, and a beautiful landing — Priceless.
Click on thumbnails to enlarge

© 2022 collectSPACE.com All rights reserved.
Questions? E-mail contact@collectspace.com