September 19, 2016
— NASA's first space shuttle launch, 35 years ago, demonstrated that a winged orbiter could lift off like a rocket and land like an airplane, able to fly again.

For the two astronauts who flew on that second mission — the world's first launch of a "used" orbital spacecraft – that maiden mission, crewed by John Young and Bob Crippen, also cleared a large hurdle for the space shuttle flights that followed, beginning with their own.

"It was a great confidence builder that Crip and John flew it through ascent, got it on orbit, performed the mission and got it back on the ground. That was a big, big confidence builder," Joe Engle, STS-2 mission commander, remarked at a gala celebrating the 35th anniversaries of the first two space shuttle missions on Saturday (Sept. 17).

"Here was a brand new vehicle, [that weighed] a couple of hundred thousand pounds at landing. [It] had never been through ascent or been through entry, and they did it. That took a load off the remaining shuttle missions, specifically STS-2," added Richard "Dick" Truly, who piloted the orbiter Columbia on that second flight.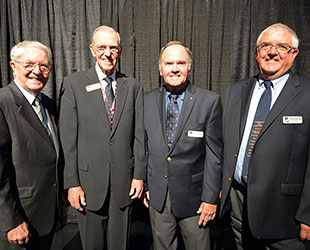 Dick Truly and Joe Engle, who flew together on STS-2, reunite with STS-1 pilot Bob Crippen and ascent capcom Dan Brandenstein at a gala celebrating the missions' 35th anniversary.
(collectSPACE)
Engle and Truly joined Crippen at Space Center Houston, where hundreds turned out to celebrate the crewmembers' contributions to history. The dinner benefited the Astronaut Scholarship Foundation, which to date has awarded more than $4 million to more than 400 college students excelling in science, technology and engineering degrees.

Moonwalker, rocket plane pilot and MOL men

"John Young was the chief of the Astronaut Office, he had flown twice on Gemini, twice on Apollo, including walking on the moon on Apollo 16, so I thought — well, I know I did and I think a lot of other people did — that John was going to be the guy to command that first flight," said Crippen of the crew selection for STS-1. Young was unable to attend Saturday's celebration.

Crippen and Truly came to NASA from the U.S. Air Force's Manned Orbiting Laboratory (MOL) after that secret space station program was canceled without ever flying in 1969. Crippen, unlike Truly, had applied to join the MOL corps of astronauts.

"Richard never applied to be an astronaut, at all," Crippen said. "When he was at test pilot school, Chuck Yeager and some [other officials] decided that these are the people we ought to have on the MOL program. They didn't ask them, they just assumed they'd want to go. So, he [Truly] did."

"I am the only person who has flown [in space] that never applied," Truly affirmed.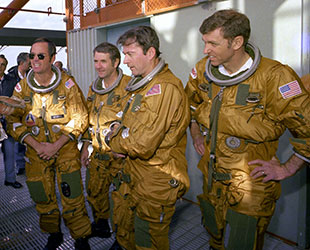 The astronauts who flew NASA's first two space shuttle missions, Robert Crippen, Richard Truly, John Young and Joe Engle.
(NASA)
Engle arrived at NASA having already flown to space on a rocket-powered winged airplane. As an Air Force test pilot, he flew 16 suborbital flights on board the X-15 rocket plane between 1963 and 1965. On three flights, Engle exceeded 50 miles (80 km), earning him Air Force astronaut wings.

"I was thrilled then, and I am thrilled to this day, that I got assigned with Joe Henry Engle to fly the [prototype orbiter] Enterprise off the top of the 747 [Shuttle Carrier Aircraft] and then backed up John and Crip. Then Joe and I flew on STS-2," said Truly.

Taking control of the space shuttle

"It had wings [and] it was going to have a stick and rudder pedals. Of course pilots really love stick and rudder pedals because it gives them something to do with their hands and feet," joked Engle while speaking of the development of the shuttle. "But initially it wasn't quite like that. Here at Johnson Space Center, for example, we were told, 'Yeah, you can have a stick to hold onto, but it won't be hooked up to anything."

NASA did not have the funds set aside to develop a new control system for the orbiter. So instead, they suggested the pilots could use the equipment that had already flown and been certified for use in space — the Apollo attitude and translation control handles. But the moon capsule did not have wings and splashed down, rather than glided to a landing.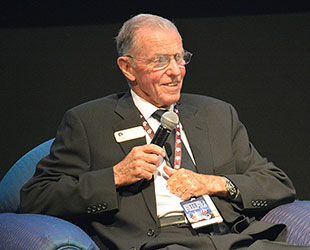 STS-2 commander Joe Engle recalls flying the space shuttle at the gala celebrating 35 years since his historic mission.
(collectSPACE)
"They [the Apollo handles] were not built to fly airplanes," recalled Engle. "They had very high break-out forces. You had to push relatively hard to get any type of a signal to the computer to make the airplane change attitude."

"It took a while to convince people that we just could not land an airplane like that. So a lot of the airplane systems had to be developed because the shuttle wasn't really an airplane, but you had to go through the airplane part of the shuttle to get it on the ground, the part where everybody could see you come back and land."

"And that was the important part," Engle said to laughter.

Even with a proper set of controls though, the shuttle flew like no other winged craft, so Engle, Truly, Crippen and the other pilots had to learn how to fly the orbiter.

"You would make an input into the system and sometimes there was a significant delay between the airplane doing what you wanted it to do, up to a full second," said Engle. "In the landing portion of the flight, where your gains are very high and the pilot-to-airplane loop gets very tight, one second is just intolerable, unless you have had some very good disciplinary training."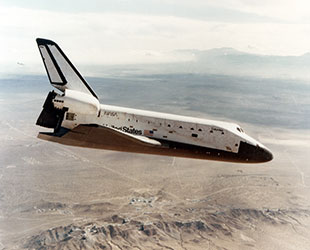 Columbia glides toward an STS-2 landing on Nov. 14, 1981.
(NASA)
"It was like riding a horse," he continued. "It was like riding a very high-spirited black stallion, if you will. Some horses you have really got to jerk on the reigns to get them to go where you want them to go. Some, if you do that, well, you might as well figure out how soft the ground is... because that is where you're going to be."

"And that is the way the shuttle was, you just had to learn how to communicate with it. You were not communicating with it, you were communicating with the computers, which in turn told the airplane what to do," Engle described.

'Very unspacey'

The space shuttle was the first crewed launch vehicle to fly with astronauts on its first flight. Proposals were put forth at NASA as to whether to modify the vehicle so it could fly autonomously, but Young and Crippen insisted otherwise.

"John and I lobbied very hard that we thought the mission would have a better chance of success if we were aboard. Thank goodness that was the decision that prevailed," said Crippen.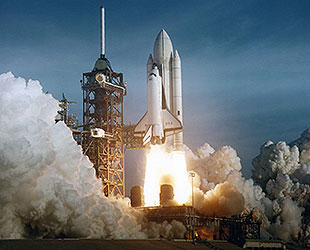 Space shuttle Columbia lifts off on STS-1 on April 12, 1981.
(NASA)
The STS-1 crew launched on the space shuttle Columbia on April 12, 1981, on a two day and six hour mission that put the space transportation system through its paces.

"When it lifted off, it was an exciting moment in my life, as well as in everyone else's who worked on the program," said Crippen, adding that his favorite memories of the flight were, "like John says, 'the parts between the take-off and landing.'"

For Engle and Truly, their STS-2 launch on Nov. 12, 1981, was immediately memorable for the noise it made.

"We launched and went through the vibrations of launch, which was very impressive," stated Engle. "And very loud and noisy – very unspacey, by the way – it was like an old pickup truck with a lot of loose tools in the back."

"As soon as we lifted off, I didn't think they had screwed all of the things down," Truly remarked. "I never heard such a rattling in all my life."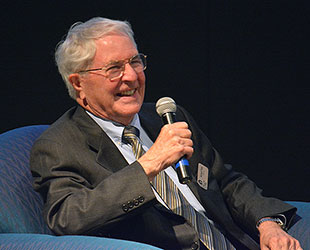 STS-2 pilot Richard "Dick" Truly reminisces at the gala celebrating the 35th anniversary of his historic mission.
(collectSPACE)
Engle's and Truly's mission had been planned to last twice as long as Young's and Crippen's, but a failed fuel cell cut their mission short.

"We flew almost exactly the same duration on board STS-2 as STS-1," said Truly. "But we had five days of potatoes to put in a 2.5-day sack. I went through the flight plan after the mission and I figured that we got maybe two, two-and-and-half hours' sleep."

In addition to proving the shuttle was reusable, the STS-2 crew was also the first power the Canadarm robotic arm in Columbia's payload bay.

World's greatest flying machine

The space shuttle Columbia went on to fly 26 more times, out of the 135 missions of the 30-year program. Columbia and its STS-107 crew was lost in flight in February 2003 in the second accident involving a shuttle orbiter.

The remaining space shuttle fleet was retired in 2011 after the assembly of the International Space Station. Today, the shuttle orbiters Discovery, Endeavour and Atlantis, as well as the prototype Enterprise, are displayed in museums as NASA pursues a return to capsules to take its astronauts to and from the space station and to destinations beyond low Earth orbit.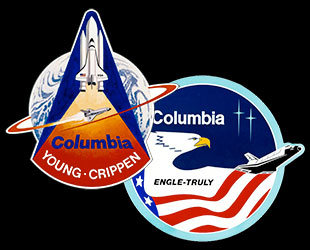 Space shuttle Columbia STS-1 and STS-2 mission insignia.
(NASA)
The space shuttle was originally envisioned as the vehicle that would reduce the cost of spaceflight, making missions routine — a never realized hope and plan that according to Truly troubled NASA over the course of the program.

"If you remember, it was going to be easy, it was going to be fairly cheap, it was going to fly 60 times a year," Truly stated. "Even though the people at Johnson Space Center and at the other contractors very quickly realized it was not going to do those things, that early selling job haunted us throughout the program."

"It is still, to me, the world's greatest flying machine," Truly said to applause.

Star-studded celebration

Crippen, Engle and Truly delivered their remarks as part of a discussion with astronaut Dan Brandenstein, who served as the ascent capsule communicator (CapCom) for STS-1 and STS-2 before he went on to launch on four missions of his own, including commanding the first flight of the shuttle Endeavour in 1992.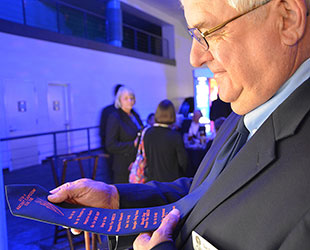 Astronaut Dan Brandenstein looks at his tie, the same he wore for the STS-1 launch, printed with the ascent checklist.
(collectSPACE)
Brandenstein now serves as the chairman of the Astronaut Scholarship Foundation.

Among the 230 guests who joined in the celebration were other members of the STS-1 and STS-2 teams, including veteran flight director and shuttle program manager Glynn Lunney, controllers Marianne Dyson, James Oberg and Bill Moon, and crew trainer Stokes McMillan. Michael Griffin, former NASA Administrator, also attended.

Other astronauts attending the gala included Apollo 7 pilot Walt Cunningham and shuttle veterans Bonnie Dunbar, Bill Thornton, Scott Parazynski and Eileen Collins.

collectSPACE was proud to be named the media sponsor for the STS-1 and STS-2 35th anniversary celebration.