March 21, 2016
— Thirty-five years after they launched on board the "world's greatest all-electric flying machine," the astronauts who flew aboard NASA's first two space shuttle missions are set to land in Houston this September for an anniversary celebration.

STS-1 pilot Robert Crippen, STS-2 commander Joe Engle and STS-2 pilot Richard Truly, who with Engle proved that the space shuttle was reusable, will be the honored guests at a dinner on Sept. 17 at Space Center Houston in Texas, the Astronaut Scholarship Foundation (ASF) announced.

"It was an honor for me to fly [on] STS-1 with John Young," Crippen told collectSPACE, as he looked to the event this fall. "Everyone involved with the space shuttle program — and there were tens of thousands — put in a lot of blood, sweat and tears to make it a success. I was proud to be a part of proving their hard work had paid off."

Young and Crippen lifted off aboard the maiden flight of the space shuttle Columbia on April 12, 1981 (by coincidence, 20 years after the first human spaceflight in 1961). For two days and 36 orbits of the Earth, the two astronauts tested the winged vehicle on its first mission, opening and closing its payload bay, firing its orbital maneuvering and reaction control system thrusters, and putting the orbiter's avionics controls through its paces.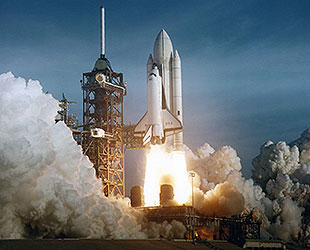 Space shuttle Columbia lifts off on STS-1 on April 12, 1981.
(NASA)
On April 14, they safely re-entered the Earth's atmosphere and landed Columbia on the dry lake bed at Edwards Air Force Base in California, despite hundreds of the shuttle's thermal heat shield tiles being damaged.

"Columbia on that first flight demonstrated that she was everything we had hoped for and more," said Crippen.

Unlike NASA's previous spacecraft, the shuttle, or Space Transportation System (STS), was developed to be largely reusable, with the external tank being the only component discarded on each mission.

Columbia's second mission, STS-2, marked the first time in history that a piloted space vehicle launched again.

"Over a six-month period in 1981, the space shuttle made its maiden flight, then turned around and demonstrated it could be re-used, flying again. It was a great privilege and a load of fun to be involved with the thousands who made these remarkable events happen," said Truly.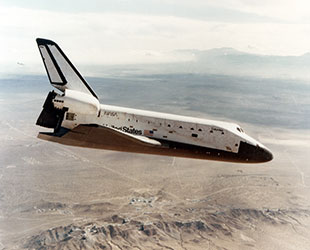 Columbia glides toward an STS-2 landing on Nov. 14, 1981.
(NASA)
Engle and Truly launched on board Columbia on Nov. 12, 1981. During the two-day mission (cut short by three days due to a failed fuel cell), they operated the space shuttle's Canadarm robotic arm for the first time and the orbiter was used for its first remote sensing observations of the Earth.

In another first, Engle manually piloted Columbia through a part of its re-entry and through the approach and landing, touching down at Edwards in California on Nov. 14, 1981.

"Tens of thousands of the finest administrators, managers, designers, fabricators, technicians and operators in the world committed their professional talents and reputations to produce the world's first and finest reusable spacecraft," Engle said. "They all did their jobs superbly."

"John, Crip, Richard and I were selected as [the] pilots to demonstrate just how superb and professional a job they had done," added Engle. "It was an honor to represent this team... it was humbling."

Crippen, Engle and Truly will further recount their historic flights at the ASF's dinner in Houston. Their success led to a fleet of five shuttle orbiters flying a total of 135 missions over the 30-year program. The final space shuttle mission, STS-135, landed five years ago this July.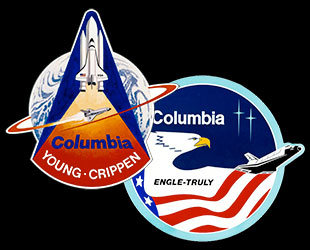 Space shuttle Columbia STS-1 and STS-2 mission insignia.
(NASA)
Dan Brandenstein, who served as a CapCom (spacecraft communicator) in Mission Control during both STS-1 and STS-2 and who today is the chairman of the ASF's board of directors, will be emcee for the evening. Brandenstein is also a veteran astronaut, including commanding the orbiter Endeavour's maiden mission in 1992.

When tickets go on sale April 1, guests will have the option to also tour NASA's Johnson Space Center and have their photo taken with the astronauts. Jacobs Engineering and Texas A&M University have partnered as sponsors for the event.

The Astronaut Scholarship Foundation was founded by the Mercury astronauts in 1984 to award students excelling in undergraduate science and engineering degrees. Since its inception, the ASF has bestowed more than $4 million in scholarships to more than 400 of the nation's top scholars.

In addition to presenting the STS-1 and STS-2 celebration in September, the ASF is also hosting the gala for the U.S. Astronaut Hall of Fame induction on May 13-14 at NASA's Kennedy Space Center Visitor Complex in Florida. Tickets for that event are available now through the ASF website.

collectSPACE is a proud media sponsor for the Astronaut Scholarship Foundation's STS-1 and STS-2 celebration.