March 3, 2016
— NASA's last surviving external tank built to launch the space shuttle is about to embark on its final mission, but instead of rocketing to orbit, the fuel tank will travel by road and ocean to join a retired orbiter on display.

The California Science Center, which last May announced it was receiving NASA's External Tank 94 (ET-94) to mate with the space shuttle Endeavour for a new vertical launch pad-like exhibit to open in 2019, has now set the route and dates for the orange-brown tank's move from New Orleans to Los Angeles.

The journey, which will see the external tank pass through the Panama Canal and navigate the streets of L.A., comes almost three and a half years after Endeavour arrived atop a NASA jumbo jet and completed a similar road trip to the Science Center.

"It is another really significant move and it is another really significant piece of the shuttle," Jeff Rudolph, the Science Center's president and CEO, said in an exclusive interview with collectSPACE. "It's an incredibly historic artifact, being the last of its kind."

Over the course of the 135-mission, 30-year space shuttle program, 136 flight-qualified external tanks were produced at the Michoud Assembly Facility in Louisiana. Just one of those tanks, number 94, wasn't launched and so still exists today to be put on display.

First though, ET-94 needs to be transported the more than 5,000 miles (8,000 km) from LA to L.A.

Sea launch

The 154-foot-long by 32-foot-wide (47 by 10 meter) tank is presently at Michoud, located just outside of New Orleans. It is from that facility, where NASA is now assembling parts for its new heavylift rocket, the Space Launch System, that ET-94 will be loaded on a barge for the ocean segment of its journey.

Emmert International, an engineering and logistics firm, is overseeing the ET-94 move.

"The tank will be loaded onto a flat-deck commercial barge on April 10 or 11 and depart Michoud on April 12, weather permitting" said Dennis Jenkins, a former shuttle engineer who is now the California Science Center's project director for Endeavour's display.

If ET-94 does launch on April 12, its departure will coincide with the 35th anniversary of the first space shuttle mission, STS-1, in 1981.

Passing from a river to an ocean tug boat later that same day, the tank will begin its slow tow to the Panama Canal. Traveling at 6 knots, it will take about two weeks to reach the passing from the Atlantic to Pacific Ocean.

"Current plans are to go through the canal during the week of April 25, but the exact dates are still being worked," said Jenkins, who noted that the crossings are for the most part first-come, first-served and so it can take a few days just to get a slot.

Assuming the canal transit proceeds as planned and the weather cooperates, ET-94 will arrive in San Diego during the week of May 9. There, it will wait another week prior to leaving for Marina del Rey, where it will be brought ashore on May 19.

Dance until the ET comes home

ET-94's landing will be celebrated at the California Science Center's 18th annual Discovery Ball, which will be held on Friday, May 20 at the marina.

"We thought that this was a great opportunity to essentially welcome ET-94 to Los Angeles and see it on its way," said Rudolph. "We are looking forward to a great Discovery Ball that will pick up some themes from the shuttle, but with the ET there as a backdrop, also from the tank's journey."

"In the New Orleans' tradition, we want to give guests the chance to join in a 'second line' following ET-94 as it starts on its journey. It should be really fun," he said, adding that the black tie dress code for the evening might be amended to substitute sneakers for shoes for those guests who want to walk along with the tank.

In October 2012, it took Endeavour three days and three nights to carefully travel the 12 mile (19 km) distance from Los Angeles International Airport to the California Science Center's Samuel Oschin Display Pavilion. ET-94's road trip will cover 3.5 more miles (5.6 km) but will be done in the course of a day (13 to 18 hours) on Saturday, May 21.

"It is bigger than Endeavour but much easier to move as it does not have wings or a vertical stabilizer," Rudolph said. "The wings were really the challenge and the desire on our part to save every possible tree. With the external tank, we really do not have that problem because there is no where in the route where trees are in the way."

Those trees and the need to replant so many of them was largely why Endeavour's move cost about $10 million more than the $5 million needed to move ET-94, said Rudolph.

Leaving the Marina del Ray parking lot atop dollies towed by a custom-built Mack truck, ET-94's route will follow Fiji Way to Lincoln Boulevard to Mindanao Way. From there, it will take California State Route 90 (CA-90) to Culver Blvd., back to Lincoln and then onto Loyola Boulevard.

Turning onto Westchester Parkway, which turns into Arbor Vitae Street at Airport Boulevard, the tank will then take La Brea Avenue to Manchester Boulevard. From there, ET-94 will take Vermont Avenue to Martin Luther King Boulevard to Exposition Park, where the Science Center is located.

Tank turnout

Beyond the guests at the Discovery Ball, Rudolph expects the external tank's move to attract the public from the Los Angeles community at large.

"Were we only moving the tank and this was the first thing we did, it would generate a lot of interest, but it would not generate as much interest as we think it will now," he said. "After Endeavour's move, there is a heightened awareness and excitement about everything that we're doing here."

The Science Center has already heard from many of those who were involved in the shuttle's 2012 move who are now looking forward to taking part in ET-94's move — including the mayor of Los Angeles.

"As the world's last surviving flight-qualified space shuttle external tank journeys from the coast to its final home, it will inspire a new generation of Angelenos," stated Mayor Eric Garcetti. "We're honored that NASA has entrusted the California Science Center and the City of Los Angeles with this incredible piece of history."

Rudolph acknowledged ET-94, by itself, is not as iconic as a space shuttle orbiter, but he still expects its move will be widely popular.

"Do I think it's going to be as big as Endeavour?" Rudolph said. "No, because first off we are only going to take a day and not three days but I think it will still be a big community celebration," he said.

Big tank, big project

Before leaving the dock at Michoud, workers will ensure all of the tank's openings – where hardware used to be – will be sealed to prevent any salt-water intrusion. The external tank's exposed metal will also be painted to protect it from corrosion. But otherwise, any work needed to prepare ET-94 for display will take place at the Science Center.

"We're going to place ET-94 just to the north of the Samuel Oschin Pavilion, where Endeavour is now, and we're going to have a viewing area where people will be able to see it," described Rudolph. "Visitors are not going to be able to go all around it because there is going to be a fair amount of work to be done on it, but we actually think that will be a point of interest."

Jenkins' team at the Science Center will be re-installing all of the feedlines and other hardware removed from ET-94, as well as repairing the insulating foam that gives the tank its orange color.

"There is a fair amount of foam that needs to be repaired," said Jenkins. "North Carolina Foam Industries, the original manufacturer of the foam, is working with us, as is PPG, manufacturer of the primer used on the tank. In addition to repairing the 'acreage' foam, we will need to recreate all of the ice-frost ramps, bipod ramps, PAL ramps, etc. So it's a big project."

Meanwhile, work is expected to get underway this year on the construction of the Samuel Oschin Air & Space Center, where the external tank and orbiter Endeavour, as well as a pair of twin solid rocket boosters, will be stacked and go on vertical display.

"We are still working on the final schedule," said Rudolph. "At this point, we're probably going to be into 2019 when it opens. We have taken our time with the plans to really get it right."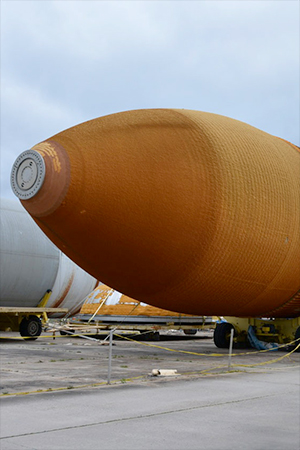 ET-94, the last of NASA's space shuttle external tank flight articles, seen at the Michoud Assembly Facility in Lousiana, will journey to Los Angeles for display. (California Science Center/Dennis Jenkins)
Mission 26: ET Comes Home
Key dates in the move of External Tank 94 (ET-94) to the California Science Center (weather permitting)
| | | |
| --- | --- | --- |
| | | |
| | | Departure from New Orleans |
| | | |
| | | |
| | | Departure for Marina del Rey |
| | | Offloading at Marina del Rey |
| | | Discovery Ball at Marina del Rey |
| | | Delivery to Science Center |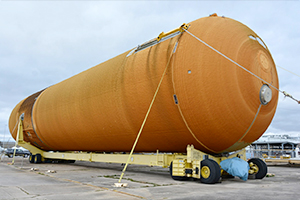 External Tank 94 will travel by barge through the Panama Canal in April before arriving in Los Angeles in May. (CSC/Dennis Jenkins)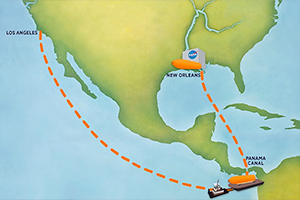 Map illustrating the basic path that External Tank 94 will be barged from the Michoud Assembly Facility outside New Orleans, through the Panama Canal to Marina del Rey in Los Angeles. (CSC)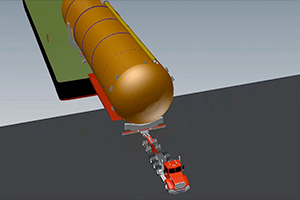 Rendering showing how External Tank 94 (ET-94) will be moved off the barge and through the streets of Los Angeles. (Emmert)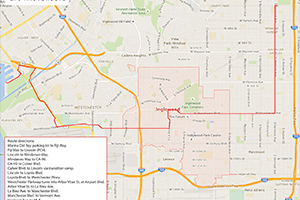 Street map of Los Angeles showing the route ET-94 will take from Marina del Rey to the California Science Center. (CSC)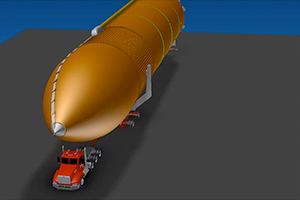 Rendering showing how ET-94 will be positioned on the barge that will transport it from New Orleans to Los Angeles. (Emmert)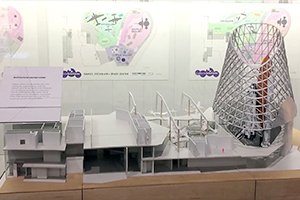 Architectural concept model of the Samuel Air and Space Center at the California Science Center, slated to open in 2019. (CSC)