Sept. 10, 2014
— Buzz Aldrin, whose accolades include being the second out of only 12 men to walk on the moon, can now add being one of the 25 greatest guest stars on "The Simpsons," at least as immortalized in a new series of toy figures.

The Apollo 11 moonwalker, who in 1994 voiced a cartoon version of himself on the long-running animated television sitcom, was revealed Tuesday (Sept. 9) to be part of the fourth series of celebrity-inspired, limited edition figurines being released by the National Entertainment Collectibles Association (NECA) in partnership with Twentieth Century Fox Consumer Products.

"I'm honored to be one of the '25 Greatest Guest Stars on The Simpsons!'" Aldrin, who landed on the moon with Neil Armstrong in July 1969, wrote on Facebook. "Can't wait to get mine."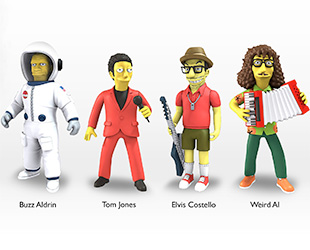 In addition to Buzz Aldrin, NECA's fourth wave of Simpsons guest star figures include "Weird Al" Yankovic and Tom Jones.
(NECA)
Available in October, the Buzz Aldrin action figure will be offered alongside eight other "Simpsons" guest stars toys, including figures modeled after "Weird Al" Yankovic, Elvis Costello, Tom Jones, and the five members of the band Aerosmith. The figures will be offered in two sizes: 5-inch-tall (12.7-centimeter) articulated action figures and 2-inch-tall (5.1-cm) mini-figures. The toys will be sold separately packaged and in multi-packs.

NECA's "25 Greatest Guest Stars on The Simpsons" line of toy figures retails for $9 to $25 depending on the size and number of figures per package.

The Buzz Aldrin figure depicts the Apollo astronaut as he appeared in the episode "Deep Space Homer," which first aired Feb. 24, 1994. In the show, NASA recruits "ordinary man" Homer Simpson to launch with Aldrin into space in an effort to increase public support for the space program. The episode, a fan favorite, parodies a number of space-related movies, including "The Right Stuff" and "2001: A Space Odyssey."

The NECA figures replicate Aldrin's cartoon-likeness in the white spacesuit he "wore" in "Deep Space Homer."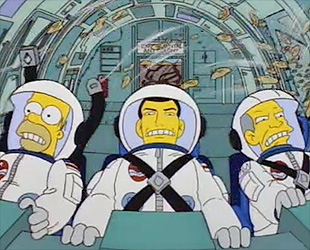 Buzz Aldrin voiced his cartoon likeness (at right) in "Deep Space Homer," a 1994 episode of "The Simpsons."
(Fox)
The NECA line marks the first time in "The Simpsons'" 25-year history that merchandise has been designed around celebrity guest stars. In addition to the figures, the limited-edition boutique collection also includes apparel and other collectibles featuring the animated likenesses of 25 of the most celebrated guest stars as they appeared on the TV show.

Aldrin is the only real-life astronaut to voice a character on "The Simpsons." NECA's previous figures, released earlier this year, have also included Tom Hanks, who portrayed Aldrin's Gemini 12 crewmate Jim Lovell in the 1995 movie "Apollo 13," Leonard Nimoy, who played Spock on "Star Trek," and Mark Hamill, who is set to reprise his role as Luke Skywalker in the upcoming "Star Wars: Episode 7."

Other guest stars selected for the "25 Greatest" collection include magicians Penn and Teller, actress Lucy Lawless ("Xena"), professional skateboarder Tony Hawk, Playboy's Hugh Hefner, and pop singer Britney Spears.

This is not the first time Aldrin has been the model for an action figure. In 1999, Hasbro introduced a 12-inch (30.5-centimeter) action figure of the Apollo astronaut as part of its G.I. Joe classic collection. And Dragon Models issued a one-sixth scale figure of Aldrin similarly dressed in his Apollo 11 spacesuit in 2002.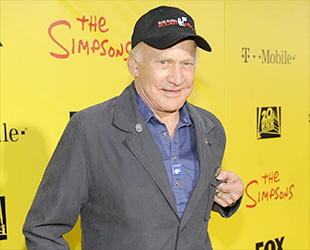 Apollo astronaut Buzz Aldrin at "The Simpsons" 20th anniversary celebration in Santa Monica, California in October 2009.
(Fox)
Previously, Playmates Toys released action figures based on the "Deep Space Homer" episode, though they did not feature Aldrin. The figurines included a spacesuited Homer Simpson (holding an "inanimate carbon rod"), an unnamed NASA scientist, fictional astronaut Race Banyon, Barney Gumble in a blue flightsuit, and a "space monkey."

"The Simpsons," which is currently airing its 25th season as the longest-running scripted show in television history, has won 31 Emmy Awards and has been honored on five U.S. postal stamps designed by the show's creator Matt Groening. It was named "Best Show of the 20th Century" by TIME magazine and the "Greatest American Sitcom" by Entertainment Weekly in 2013.