July 8, 2014
— Where were you when the first astronauts landed on the moon 45 years ago this month and how did that achievement inspire you?

Buzz Aldrin wants to know.

The Apollo 11 astronaut, who with Neil Armstrong became the first men to walk on the moon on July 20, 1969, has launched a social media campaign to remind people of the lunar landing and encourage them to share their memories of the historic event or how Apollo 11 inspired them.

"The whole word celebrated our landing but we missed the whole thing, because we were out of town," Aldrin remarks in a video introducing the campaign. "So now, I invite you to share with me, and the world, your story or your family's story of where you were on July 20, 1969. Or feel free to tell me how the Apollo missions inspired you."


#Apollo45: Where were you when Apollo 11 landed on the moon?
The public can share their stories through YouTube, or on Facebook, Twitter, Google+ or Instagram with the hashtag #Apollo45. A YouTube channel for the campaign has also been created at youtube.com/Apollo45.

Aldrin, who regards himself today as a "global statesman for space," hopes the campaign will help the world recall what NASA accomplished in going to the moon and "what is still in our future at Mars."

"We need to remind the world about the Apollo missions and that we can still do impossible things," Aldrin said.

To help launch the campaign, the moonwalker recruited celebrities and politicians to share their own memories of his mission, including John Travolta, Stephen Colbert, Tim Allen, Richard Branson, Bryan Adams, David Copperfield and the mayor of London, Boris Johnson.

"What a day that was," says Tom Hanks in a brief preview of his #Apollo45 video.

"For me, it has just been an inspiration in my life," director J.J. Abrams remarks. "I still have the original newspaper."

"Going to space is a big deal," performer Pharrell Williams observes. "Walking on the moon is literally 'walking on the moon.'"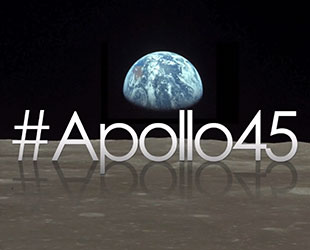 You can share your moon landing memories on YouTube and the other social networks using #Apollo45.
(Buzz Aldrin Enterprises)
Aldrin will host a countdown to the Apollo 11 anniversary, releasing new videos every day starting on Thursday (July 10) and continuing through July 20.

The campaign, says the astronaut, is a modern outgrowth of an activity he had been doing for decades.

"Everywhere in the world I [have gone] someone tells me their memory of the moon landing," Aldrin said. "I used to keep a little black book to keep track of where everybody was. Now I want to use social media to have people share their stories with me and the world."