September 8, 2014
— A new wristwatch designed to be worn by the future crew members of a commercial space station has received the signature of approval of a former NASA astronaut.
"I especially like the signature on the back!" wrote retired astronaut Clay Anderson, describing on Facebook a photo of his autograph etched onto the stainless steel caseback of Giorgio Fedon 1919's new "Space Explorer" watches. "I am proud to be [their] Global Ambassador."
Anderson, who in 2007 spent five months living aboard the International Space Station, was at the Hong Kong Watch and Clock Fair on Sept. 4 to help launch the timepieces, which feature day and date dials, stopwatch functions and eight hours of luminescence.
The Space Explorer chronographs come as the result of a partnership between Modern Concept Watches Limited, a licensee of the Giorgio Fedon 1919 brand, and SpaceTek, which plans to operate an upgraded Soviet space station under a joint venture with the private spaceflight company Excalibur Almaz.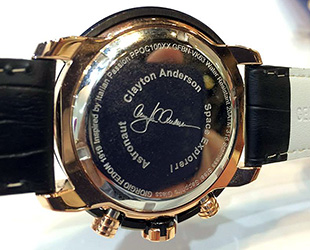 Astronaut Clayton Anderson's autograph is etched on the back of the Giorgio Fedon 1919 Space Explorer watch. (Clay Anderson)
SpaceTek recruited Anderson as its brand ambassador for the watches.
"We are excited by the addition of [Anderson], having had such an illustrious career with NASA," said Stiphan Beher, SpaceTek's CEO, in a statement. "Clayton will utilize his expertise in space to support future designs of our Space Explorer watches."
According to Anderson, the initial design is waterproof to 200 meters, with a sapphire glass face and a "distinctive Giorgio Fedon leather band."
"I'll be working with the Modern Concept Watches Limited company on their future designs, hoping that my space-
flight experience will help lead them to solid performance features, dependability and good looks that will make it something many Earthlings — as well as astronauts and aquanauts — may choose as their timepiece of choice," wrote Anderson.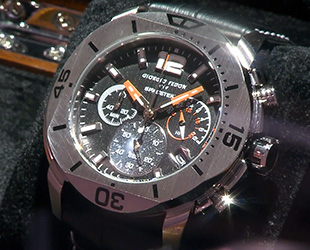 The Giorgio Fedon 1919 Space Explorer watch features day/date and stopwatch functions, and is waterproof to 20 ATM. (HKTDC)

Selected for the astronaut corps in 1998 after working at the NASA Johnson Space Center in Houston on mission planning and flight design since 1983, Anderson followed up his five months on the International Space Station with a two-week mission aboard the space shuttle Discovery in 2010.

During his two spaceflights, Anderson wore Omega-brand chronographs issued to him by NASA. Inside the shuttle and space station, he donned the Omega Speedmaster X-33, a watch with both digital and analog displays, as well as space-specific features such as mission elapsed time.

The Giorgio Fedon 1919 Space Explorer watches are not the first timepieces to benefit from an astronaut's input. Apollo 10 commander Thomas Stafford advised Omega in the development of the X-33, astronaut Christer Fuglesang advised on the design of Halda's Space Discovery watch, and "space tourist" Richard Garriott tested Seiko's Spring Drive Spacewalk.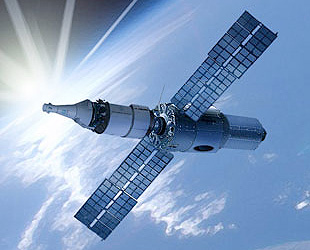 Artist rendering of Excalibur Almaz's upgraded Soviet-era space station in Earth orbit. SpaceTek plans to operate such an Almaz (Salyut) space station beginning in 2018. (Excalibur Almaz)

SpaceTek intends the Giorgio Fedon 1919 Space Explorer watch to be used onboard its private space station being developed by Excalibur Almaz.

Excalibur Almaz acquired two Salyut-class space stations from what was left over from the Soviet space program of the 1970s. The Isle of Man-based company said it could launch its own station as soon as 2015, though SpaceTek is planning to begin operations a few years later.

"This is a major milestone for SpaceTek, which has had strong interest from European and Asian investors, and sets us on course to achieve our 2018 launch," said Beher upon SpaceTek signing a memorandum of understanding with Excalibur Almaz in July.

In the meantime, SpaceTek's initial line of Space Explorer watches will be available in a few months.

"It is expected that this model will retail for approximately $500 (US)," Anderson commented on Facebook. "Look for it sometime after November 2014."