September 6, 2016
— Duane Graveline, a medical doctor who was among NASA's first scientist-astronauts, but who resigned after just six months for "personal reasons," died on Monday (Sept. 5). He was 85.

Graveline, who went by the nickname "Doc," died following a short illness at a hospital near his home in Merritt Island, Florida, according to a source close to his family.

Named in June 1965 as a member of NASA's fourth group of astronauts, Graveline joined five other scientists – Owen Garriott, Ed Gibson, Joe Kerwin, Curt Michel and Harrison Schmitt – as the space agency's first trainees recruited for their academic backgrounds, rather than flight experience. But Graveline had only reported for supersonic jet training, before he was out of the astronaut corps.

"Duane Graveline, one of the nation's scientist-astronauts, is the first to resign before making a space flight," reported the Associated Press in an article published on August 18, 1965. "[NASA] announced that Dr. Graveline had resigned for personal reasons. It said [Graveline] would remain with the Manned Spacecraft Center [Johnson Space Center] as a medical doctor."

'Didn't need a scandal'

Just the month earlier, Graveline's first wife, Carole Jane, filed for divorce, accusing him of "ungovernable outbursts of temper," according to the AP report. The charge was at odds with NASA's carefully-crafted image of its astronauts being clean-cut, all-American men.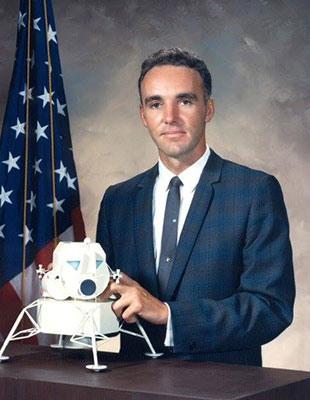 NASA portrait of scientist-astronaut Duane E. Graveline.
(NASA)
"The program didn't need a scandal," stated Deke Slayton, who as the director of flight crew operations oversaw all of the activities of NASA's astronaut office. "A messy divorce meant a quick ticket back to wherever you came from."

"Not because we were trying to enforce morality — which was impossible, anyway, but because it would detract from the job," said Slayton in his autobiography, "Deke!" written with Michael Cassutt.

Graveline, who remained silent on the motivations behind his former wife's actions, understood NASA's decision.

"I had no problem with NASA's reaction," stated Graveline, as quoted by authors David Shayler and Colin Burgess in "NASA's Scientists-Astronauts." "My divorce publicity was anything but appropriate for a newly-appointed astronaut."

Still, it meant that he would never have even the possibility of flying to the moon, a prospect that Graveline spoke of with desire when interviewed soon after his selection as an astronaut.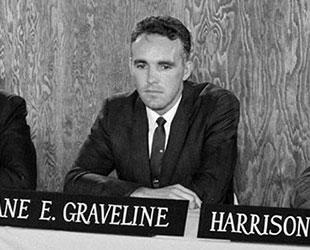 Duane E. Graveline at the June 1965 press conference announcing his selection as a scientist-astronaut.
(NASA/Retro Space Images)
"My resignation was the hardest decision of my life," stated Graveline decades later. "For every time an Apollo mission occurred, I was pulled more deeply into self-doubt."

Three months after leaving the astronaut corps, Graveline resigned from NASA and opened a family medical practice in Burlington, Vermont.

'Sputnik started it for me'

Born on March 2, 1931, Duane Edgar Graveline earned a Bachelor of Science degree from the University of Vermont in June 1951 and his Doctor of Medicine degree from the University of Vermont College of Medicine in June 1955.

Graveline then entered the U.S. Air Force Medical Service and interned at Walter Reed Army Hospital from July 1955 through June 1956. In February 1957, he was granted the aeronautical rating of flight surgeon.

Eight months later, as he worked toward a Master's degree in public health at Johns Hopkins, Graveline was inspired by the launch of the world's first artificial satellite.

"All things are supposed to have a beginning, and I guess Sputnik started it for me," recalled Graveline, as quoted by Shayler and Burgess. "From that moment on, I did my best to guide my path towards space."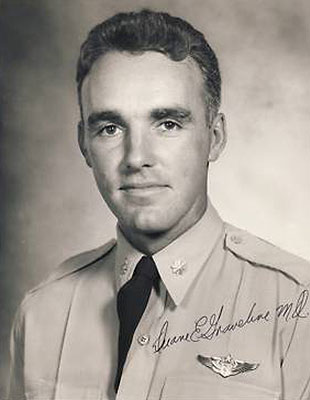 U.S. Air Force portrait of Duane E. Graveline.
(spacedoc.com)
In July 1960, after completing his residency, Graveline was assigned to the Aerospace Medical Research Laboratory at Wright-Patterson Air Force Base in Ohio, as a research scientist with special interest in prolonged weightlessness deconditioning and countermeasures.

"Using both bed rest and water immersion, I explored the use of various countermeasures to prevent zero-g [gravity] deconditioning including ... extremity tourniquets and lower body negative pressure device, the prototype of which was conceived by me," Graveline wrote on spacedoc.com, his website. "The LBNP device was flown on Skylab, Mir and shuttle flights and remains in current use."

Graveline continued his research and directed an analysis team on Soviet bioastronautics at Brooks Air Force Base in San Antonio, Texas, beginning in July 1962.

"I broke out the unique Soviet telemetry link for continuous monitoring of cosmonaut heart and respiratory rates used during their entire Vostok and Voskhod series," described Graveline.

"On one memorable afternoon while on the Pacific Ocean-located tracking ship Rose Knot Victor, the NASA tracking system [was] able to follow the biomedical progress of the Soviet's Voskhod 2 mission," he recalled, referencing the March 1965 flight that included the world's first spacewalk by cosmonaut Alexei Leonov.

Graveline also worked as an early NASA flight controller.

"I was appointed as one of the medical monitors for NASA spaceflights with deployment for every mission — from the flight of Enos, through Mercury and most of Gemini before my own selection as one of NASA's scientist astronauts."

'Surly Bonds'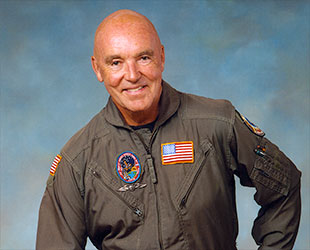 Portrait of Dr. Duane Edgar "Doc" Graveline.
(spacedoc.com)
In the years that followed his November 1965 resignation, Graveline briefly returned to NASA to support the first four space shuttle missions as director of medical operations at Kennedy Space Center in Florida. After a six-month leave, he returned to his practice in Vermont, where he continued to work until his retirement from clinical medicine in 1994 at the age of 63.

A prolific author, Graveline wrote 15 books, including two memoirs about his time with the space program, a number of science fiction novels and three books about his medical research into statin drugs.

He was also the author of 15 professional publications and reports on weightlessness countermeasures and biological deconditioning.

Graveline had four daughters with his first wife, Carole. He is survived by his second wife, Suzanne Gamache.