August 31, 2016
— Before NASA launched men to walk on the moon, the space agency almost turned to a human-like robot to test its astronauts' prototype spacesuits.

The hydraulic-powered android might have worked, too — had it not been for its tendency to leak oil when used.

Now, 50 years after its rejection, one of the robot dummies is set to be sold among 100 "Remarkable Rarities" offered by RR Auction. The ten-day online auction will begin Sept. 15 and culminate in a live sale at Royal Sonesta Boston on Sept. 26.

"Only two of the test robots were produced — the other is on display and owned by the Smithsonian National Air and Space Museum," Robert Livingston, RR Auction executive vice president, in a statement. "This [robot] was purchased as surplus from the University of Maryland."

The so-called "Power Driven Articulated Dummy" project ran from May 22, 1963 through July 31, 1965. Produced by the IIT Research Institute in Chicago, the robot could be used to simulate 35 basic human motions. It was equipped with sensors at each joint to measure the forces imposed on the human body by a pressurized spacesuit.


"It was impressive on the motions it could make," said Joe Kosmo, a retired NASA suit engineer, in an interview with space historian Andrew Chaikin for Smithsonian magazine in May, describing the robot on display at the institution's Steven F. Udvar-Hazy Center in Chantilly, Virginia.

Though a person could climb into a spacesuit and describe how it felt, the articulated dummy was designed to provide quantitative data for a more scientific approach to refining the suit's design.

That is, if it didn't destroy the spacesuit in the process.

The robot dummy's movements were enabled by hydraulic actuators powered by oil that flowed through a nylon-tube circulatory system. The design allowed for the android to swivel its hips, raise and lower its arms and legs, shrug its shoulders, clench its fists, and even shake hands — but it could not handle the pressure needed to move the robot's extremities without leaking.

"Leaking oil would contaminate the suit. We didn't want to risk ruining a suit," stated Kosmo. "You couldn't place the dummy inside a one-of-a-kind spacesuit."

Despite trying some creative solutions, including outfitting the robot in a scuba diver's wetsuit, the problem was never solved. NASA dropped the project and directed its funding elsewhere.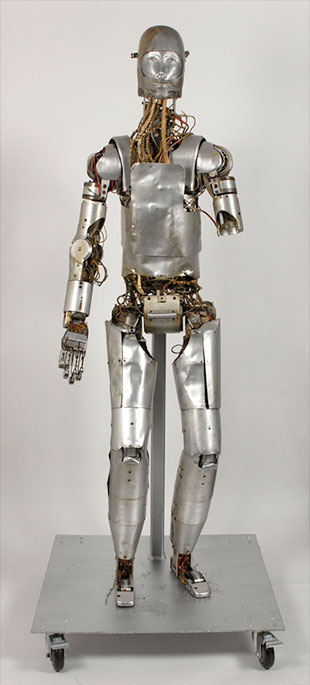 The life-size robot dummy could simulate 35 basic human motions and was equipped with torque sensors at each joint to gather data on forces imposed on the body by a pressurized suit.
(RR Auction)
"This remarkable robot [dummy] stands as a testament to the innovative creativity NASA inspired," Livingston said.

Weighing 230 pounds (104 kg), the android's height could be adjusted from 5 feet, 5 inches to 6 feet, 2 inches (1.5 to 1.8 meters) to represent the average American male from the 5th to 95th percentile. The robot's exterior was covered with an aluminum skin and topped with a fiberglass head. Its "face" could be removed to access interior connections.

The dummy up for auction is missing a forearm and hand, has various scuffs and dings to its body, and some of its wiring is frayed or damaged, according to RR Auction. It is estimated to sell for more than $80,000.

The spacesuit test robot is included among a dozen other aviation and space exploration artifacts being auctioned as part of RR's Remarkable Rarities sale.

Other auction highlights include a nearly two-foot-long (61 cm) exterior panel fragment from NASA's Mercury 1 space capsule and a 1969-1970 guest book from Richard Nixon's Air Force One signed by Apollo 11's Neil Armstrong, Buzz Aldrin and Michael Collins, the wives of the Apollo 13 crew and President Lyndon B. Johnson, among other historical NASA leaders.