NASA to go 'Wayback' with space imagery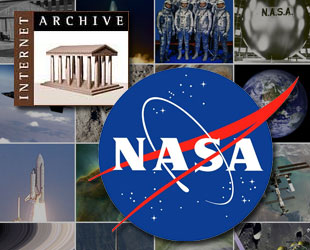 August 23, 2007 — From the same people who brought you The Wayback Machine, the internet's only library of archived websites, will soon be a "one-stop-shop" for the vast and varied collection of NASA's photographs, video and film holdings. Announced Thursday, the partnership between the nation's space agency and Internet Archive of San Francisco has the California-based non-profit org scanning, archiving and managing NASA's imagery over the next five years.

Internet Archive's effort will combine more than 20 major imagery collections currently maintained online by NASA with the agency's analog archive of still-to-be digitized multimedia. The resulting internet library will be free to the public, historians, scholars, students and researchers.

"Making NASA's important scientific and space exploration imagery available and easily accessible online to all is a service of tremendous value to America," said NASA's strategic communications chief, Robert Hopkins.

NASA's collaboration with Internet Archive is through a non-exclusive agreement with no use of NASA funds.

Brewster Kahle, digital librarian and founder of Internet Archive said that his organization is dedicated to making all "human knowledge" available digitally.

"Digitizing NASA's imagery is a big step in Internet Archive's ongoing efforts to digitize a vast spectrum of content and make it freely accessible to the public in an easily searched online destination," said Kahle, adding that the educational value of NASA's images collected over the course of five decades was "unprecedented."

In the first year under the five year agreement, Internet Archive will consolidate NASA's major online imagery collections. In the second year, digital imagery will be added to the archive. In the third year, NASA and Internet Archive will identify analog imagery to be digitized and added to their online collection.

Internet Archive will also work with NASA to create a system through which new imagery can be included in the online archive automatically.

In addition to visual files, Internet Archive may include other historically significant NASA material such as audio files, printed documents and computer presentations.

© 2018 collectSPACE.com All rights reserved.
Questions? E-mail contact@collectspace.com