Viking, Voyager launch pad to be destroyed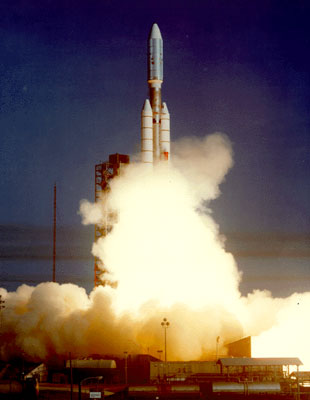 August 14, 1999 — Lockheed Martin has set September 12 as the destruction date for Launch Complex 41 at the Cape Canaveral Air Station, Florida. The pad, which was originally designed to support Titan IIIC launches, will be rebuilt to launch the new Atlas 5 rocket.

Complex 41 was completed in April 1965. Its first launch was on December 21 of that same year. Since then, the pad has supported numerous military missions involving the Titan IIIC, Titan 34D and Titan IV boosters.

The pad may be best known, though, for the launches of NASA's Viking and Voyager planetary probes. Launched August 20 and September 9, 1975 (both on-board a Titan IIIE), the Viking I and II missions provided scientists with insights into the nature and history of Mars.

Voyager I and II, launched two years later (to the month), extended NASA's exploration of the solar system beyond the neighborhood of the outer planets.

Lockheed Martin will implode the complex's launch tower and rolling service structure, once used to assemble and service rockets on the pad. The structures are no longer necessary as the Atlas 5 will be prepared in an adjacent facility and then rolled to the pad aboard a mobile launch platform.

The decision to bypass the more common methods of dismantling pad stuctures — piece by piece — was made to save time and money. Plans for the pad's replacement have already been delayed by the launch of the final Titan from the complex. The liftoff was postponed as the result of an investigation into a mid-air explosion of a Titan last August. With the launch now completed, Complex 41 was turned over to Lockheed Martin.

This hand over marks the first time control of a pad at the air station has been re-assigned to a commercial interest.