John S. Bull, former NASA astronaut, dies

August 14, 2008 — John Bull, a former NASA astronaut who due to illness was forced to resign while supporting what would become the first crewed mission to the Moon, died August 11 at age 73.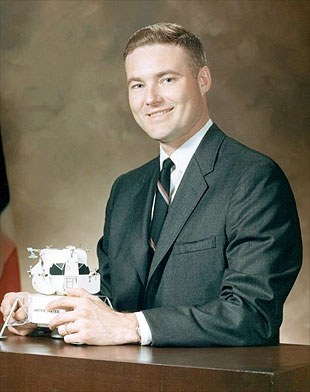 John Bull in his 1966 official NASA astronaut portrait. (NASA)

Selected in 1966 with NASA's fifth group of astronauts, Bull's class of 19 trainees, dubbed the "Original 19", also included future moonwalkers Charles Duke, James Irwin and Edgar Mitchell.

Training for an assignment as a lunar module pilot, Bull was named with Irwin in early 1967 to the crew of LTA-8, a thermal vacuum test of the moon lander. Citing sinus problems however, Bull was replaced by his backup prior to the test starting at the Space Enviroment Simulation Laboratory in Houston, Texas.

Together with Thomas Mattingly and Gerald Carr, Bull was then named on November 20, 1967 to the support crew for the second Apollo manned flight of the Saturn V, to assist prime and backup crew members — including Neil Armstrong, Buzz Aldrin and Michael Collins — as they trained.

Ultimately, that mission with its crew of Jim Lovell, Frank Borman and Bill Anders would launch in December 1968 as Apollo 8, becoming the first manned flight to orbit the Moon.

Bull would leave the astronaut corps before then however, never flying in space himself. Diagnosed with a rare pulmonary disease, he was forced to resign in July 1968.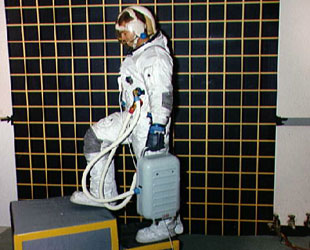 Bull checks mobility of the Apollo pressure suit. (NASA)

After attending Stanford University to earn his Masters and Ph.D. in aeronautical engineering, Bull returned to NASA in 1973, working at the Ames Research Center in California where he conducted simulation and flight test research in advanced flight systems for both helicopters and fixed-wing aircraft. From 1986 until his retirement in 1989, he managed NASA-wide research programs in autonomous systems technology for space applications.

Born on September 25, 1934 in Memphis, Tennessee, John Sumter Bull earned his bachelor of science degree in mechanical engineering from Rice University in 1957, when he entered active duty with the Navy. From March 1959 to November 1960, he flew F-3 Demons and F-4 Phantom IIs as a naval aviator. He also made three tours on the aircraft carriers Ranger, Hancock and Kitty-Hawk.

He graduated from the U.S. Naval Test Pilot School in February 1964, and was named "outstanding student" of his class. When named an astronaut, Bull was a project test pilot in the Carrier Suitability Branch at the Naval Air Test Center at Patuxent River, Maryland.

Bull is survived by his wife, Nancy, and their two children Scott and Whitney.

Bull's passing was first reported by SpaceFacts.info, a website dedicated to astronaut statistics. The site was contacted to update their site by a friend of Bull's family.

© 2022 collectSPACE.com All rights reserved.
Questions? E-mail contact@collectspace.com