August 10, 2021
— As the debate continues as to where Earth ends and outer space begins, one thing is now for certain: a 7-Eleven Slurpee has come closer to leaving the planet than any convenience store-dispensed drink has done before.

The high-flying frozen concoction took the skies on Tuesday (Aug. 10) for what 7-Eleven described as a "space delivery" for its 94th birthday. Poured into a special commemorative cup created just for the occasion, the Slurpee — and its camera-equipped platform — was "launched" under a helium-filled weather balloon from a 7-Eleven store in Michigan, the "Slurpee capital of the United States" (Michigan is the state where the most Slurpee drinks are consumed).

"My Slurpee said it needed some space, so here we are," 7-Eleven wrote on Instagram, sharing a video of the blue and purple Slurped-filled cup set against the blackness of space and the blue and white of Earth below.

"It was the perfect amount of space, in my opinion," the social media account for the Slurpee brand replied.

7-Eleven, the largest and oldest chain of convenience stores, let Slurpee fans decide the flavor for the flight by tallying all of the Slurpee orders it received for delivery through the 7-Eleven app in July. Beating the runner-ups, Cherry and Blue Raspberry, Coca-Cola became the first Slurpee flavor to enter the stratosphere.

"In 1985, Coca-Cola became the first soft drink to be consumed in space, so it's only fitting that fans decided the classic flavor is best suited to go where no other frozen beverage has been before!" a 7-Eleven representative said in a statement.

Coca-Cola, together with Pepsi, first launched into orbit on NASA's 19th space shuttle mission, STS-51F, on board the orbiter Challenger. Packaged in special "space cans," the drinks were warm and not very satisfying according to the astronauts, other than for forming carbonated Coke balls to float around the cabin.

Coca-Cola later flew on two more shuttle missions, testing more sophisticated pressurized cups and a multi-flavor dispenser, but it was ultimately retired from spaceflight in 1996.

Tuesday's 7-Eleven flight had the potential to climb a few times higher than the cruising altitude of a commercial airliner, but fell short of reaching even the lowest definition of outer space by more than 100,000 feet (30,480 m). By U.S. definition, space begins at 50 miles high (262,000 ft or 80 km), whereas the world's record-keeping body sets the boundary at 62 miles (328,000 ft or 100 km).

Flying with the Coca-Cola Slurpee were a limited number of additional (empty) cups to be randomly awarded to customers who used 7-Eleven Delivery through the 7-Eleven app in July. The 10 stainless steel tumblers and 30 plastic cups each feature the "Slurpee Space Delivery" logo on their front and a take on the Apollo lunar lander plaques on their back, declaring it as a "Slurpee For All Mankind."

7-Eleven first announced its Slurpee "spaceflight" on July 12, the day after the space tourism company Virgin Galactic launched its founder, Richard Branson, on its first fully-crewed suborbital test flight. Branson flew on July 11, or 7-11.

"Richard Branson, now we're even and we can all move on," 7-Eleven tweeted on Tuesday.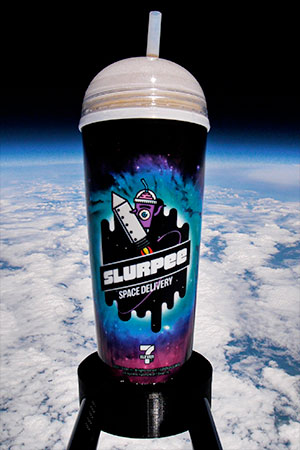 A 7-Eleven Coca-Cola Slurpee is seen flying high above Earth on a balloon-launched "space delivery" for the convenience store's 94th birthday on Tuesday, Aug. 10, 2021. (7-Eleven)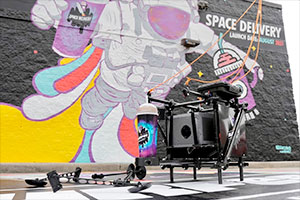 The Slurpee is seen before its launch outside a Michigan 7-Eleven store decorated with a mural for the "Space Delivery." (7-Eleven)