July 11, 2021
— Billionaire business mogul Richard Branson has safely landed back on Earth after joining five of his Virgin Galactic employees on the company's first fully-crewed suborbital flight into space.

Branson's "Unity 22" crew touched down aboard Virgin Galactic's SpaceShipTwo rocket plane at Spaceport America in New Mexico on Sunday (July 11), just an hour after they took off from the same runway. The flight marked a milestone for the company, which since 2004 has been working to provide space tourism and suborbital research flights to the edge of space.

"I was upside down a few minutes ago, so excuse me," said Branson, soon after landing aboard VSS Unity, as he gathered his thoughts. "What a day, what a day, what a day, what a day."

"I think like most, I have dreamt of this moment since I was a kid and honestly nothing could prepare you for the view of Earth from space. The whole thing was just magical," said Branson.

The Unity 22 mission was the 22nd flight test for the VSS (Virgin SpaceShip) Unity and fourth crewed spaceflight since 2018. It was also the first to carry a full crew complement of two pilots and four mission specialists, including Branson, who was aboard the flight to assess the astronaut experience.

The 60-minute flight began Sunday at 8:40 a.m. MDT (1440 GMT) with VSS Unity mounted underneath its carrier aircraft, the WhiteKnightTwo VMS (Virgin MotherShip) Eve, named after Branson's late mother. Piloted by former NASA astronaut (and Virgin Galactic commercial astronaut) Frederick "CJ" Sturckow and Kelly Latimer, a former NASA research pilot, the VMS Eve lofted the VSS Unity to about 46,000 feet (14,000 m) before releasing it to fly alone and fire its engine to begin the climb to space.


With a crowd of spectators watching from the spaceport below and even more through a live broadcast of the flight online, VSS Unity's RocketMotorTwo ignited, burning a rubber-based solid fuel and liquid oxidizer to accelerate the vehicle to just over three times the speed of sound, or Mach 3. After about a minute the engine switched off and SpaceShipTwo pilots Dave Mackay and Michael "Sooch" Masucci oriented VSS Unity to maximize the view of Earth below.

Continuing to coast upwards, the Unity 22 crew reached a maximum altitude of 53.5 miles (86.1 km) high — 3.5 miles (5.6 km) above the spaceflight qualifying altitude under Federal Aviation Administration (FAA) rules, but under the 62 mile (100 km) Kármán line recognized by the world-governing Fédération Aéronautique Internationale (FAI).

Flying with the 70-year-old Branson as mission specialists were Virgin Galactic's chief astronaut instructor Beth Moses, who was making her second spaceflight aboard Unity; lead operations engineer Colin Bennett; and Sirisha Bandla, Virgin Galactic's vice president for government affairs and research operations, who spent some of her time operating an experiment from the University of Florida to evaluate the human-tended research experience.

As a flight crew (rather than passengers) all six Unity 22 crew members are now Commercial Astronauts as defined by the FAA. First-time fliers Branson, Bennett and Bandla are the 581st, 582nd and 583rd people to fly above 50 miles (80 km) and the eighth, ninth and tenth recipients of FAA Commercial Astronaut wings.

The four mission specialists released their straps and floated weightless around the cabin for about 5 minutes, while Mackay and Masucci configured the vehicle for its return to Earth. With its unique tail booms feathered much like a shuttlecock, VSS Unity fell back into the atmosphere to begin its return to Spaceport America.

"I was so honored to test the customer experience," said Branson. "Initially, I thought testing the customer experience was a little bit of an excuse to get me on — it wasn't. It was so great to get out there and test the customer experience."

Pulling out of a 3.5 G (three and a half times the force of gravity) descent, Mackay and Masucci flew VSS Unity as a glider back to the ground, touching down on the runway at 9:40 a.m. MDT (1540 GMT).

A celebration followed, including a performance by Khalid, who debuted his new space-inspired single, "New Normal." "Late Night" host Stephen Colbert and former Canadian Space Agency astronaut Chris Hadfield were also on hand and helped narrate the flight for those watching online.

Hadfield also presented Bandla, Bennett, Branson and Moses with the first set of Virgin Galactic astronaut wings, which were modeled after sycamore seeds.

"It is the time of year where from the sycamores and maples, these little keys, after having worked so hard to grow vertically, are going to detach from the mothership of their tree and float and tumble and plant a seed somewhere else," Hadfield said. "The wings that are the Virgin Galactic wings that I have the huge privilege of pinning on the crew are those sycamore seeds."

Virgin Galactic plans two additional test flights before commencing its commercial service in 2022. The FAA updated the company's commercial space transportation operator license in June to allow it to fly customers to space.

Sunday's flight made headlines in part because it came nine days before Virgin Galactic's competitor, Blue Origin, plans it own first crewed flight, including flying its billionaire founder, Jeff Bezos. Like VSS Unity, Blue Origin's New Shepard can carry six people into space but does so as a vertical take-off and landing rocket without the need for any pilots to be aboard.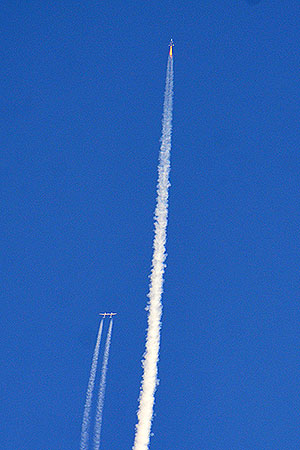 Virgin Galactic's SpaceShipTwo VSS Unity soars to space, leaving behind its mothership, the WhiteKnightTwo VMS Eve, with Richard Branson and the Unity 22 crew on board, above Spaceport America in New Mexico on Sunday, July 11, 2021. (collectSPACE)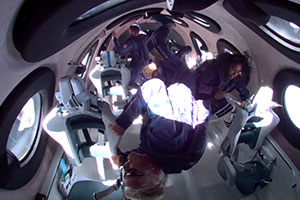 Virgin Galactic founder Richard Branson (foreground) and his Unity 22 crewmates float about the SpaceShipTwo VSS Unity cabin while on a suborbital spaceflight on July 11, 2021. (Virgin Galactic)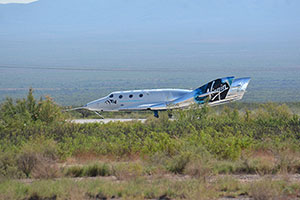 Virgin Galactic's SpaceShipTwo VSS Unity lands after its 22nd test flight, first-fully crewed flight and fourth spaceflight at Spaceport America in New Mexico on Sunday, July 11, 2021. (collectSPACE)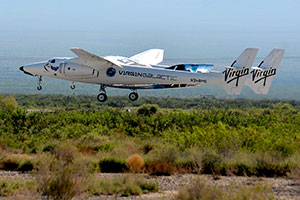 Virgin Galactic's WhiteKnightTwo mothership, the VMS Eve, takes off with SpaceShipTwo VSS Unity and the Unity 22 crew (including Richard Branson) from Spaceport America in New Mexico, Sunday, July 11, 2021. (collectSPACE)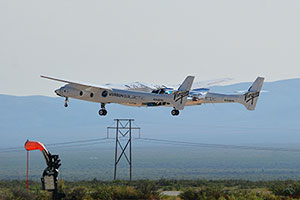 Virgin Galactic's WhiteKnightTwo mothership, the VMS Eve, climbs skyward with SpaceShipTwo VSS Unity and the Unity 22 crew from Spaceport America in New Mexico, July 11, 2021. (collectSPACE)