July 1, 2021
— Billionaire Richard Branson will become "Astronaut 001" aboard Virgin Galactic's first fully-crewed test flight of its SpaceShipTwo rocket plane, set to lift off this month.

The space tourism company on Thursday (July 1) announced the long-expected news that Branson, who founded Virgin Galactic in 2004, would join the next flight of its SpaceShipTwo "Unity," flying with two pilots and three mission specialists. Branson's role leading up and through the flight test will be to evaluate the private astronaut experience.

"I am so proud to have this remarkable crew of mission specialists and pilots by my side as we fly into space," Branson said in a video accompanying the announcement. "I have always been a dreamer. My mum told me to never give up and to reach for the stars."

"This July, our dream will become a reality," he said.

Virgin Galactic's chief pilot Dave Mackay and lead trainer pilot Michael "Sooch" Masucci will be at Unity's controls for the test flight, which is scheduled for July 11, pending weather and technical checks. Former NASA astronaut Frederick "CJ" Sturckow and Kelly Latimer, a former NASA research pilot, will fly VMS Eve, the WhiteKnightTwo mothership that will carry Unity to about 44,000 feet (13,411 m) before it is released to fire its engine and begin its climb to the edge of space.

Joining Branson as mission specialists will be:

Beth Moses, chief astronaut instructor at Virgin Galactic, will serve as cabin lead and test director in space, overseeing the execution of the test flight's objectives.



Colin Bennett, lead operations engineer, whose job will be to evaluate the cabin's equipment, procedures and experience during both the boost phase and in the weightless environment.



Sirisha Bandla, Virgin Galactic's vice president of government affairs and research operations, who will evaluate the human-tended research experience using an experiment from the University of Florida that requires several handheld fixation tubes to be activated at various flight phases.
Branson will undergo the same training, preparation and flight experience as will Virgin Galactic's paying passengers. The company plans to use his observations and feedback to enhance the journey for its customers.

"I'd like to extend a special thank you to our pilots and mission specialists, each of whom will be performing important work," Michael Colglazier, Virgin Galactic CEO, said in a statement. "Tapping into Sir Richard's expertise and long history of creating amazing customer experiences will be invaluable as we work to open the wonder of space travel and create awe-inspiring journeys for our customers."


In June, a month after Virgin Galactic completed its third test flight into space, the Federal Aviation Administration (FAA) updated the company's commercial space transportation operator license to allow it to fly customers to space. Following this flight with Branson, Virgin Galactic plans two additional tests before commencing its commercial service in 2022.

The "Unity 22" mission will be the twenty-second flight test for VSS Unity and second spaceflight based out of Spaceport America in New Mexico. It will be the third flight into space for Mackay, second for Masucci and Moses and the first spaceflight by Bandla, Bennett and Branson.

The Unity 22 flight will also mark the first time that Virgin Galactic livestreams a spaceflight, with the video available on the company's website and social media channels.

"Audiences around the world are invited to participate virtually in the Unity 22 test flight and see first-hand the extraordinary experience Virgin Galactic is creating for future astronauts," the company said.

Beyond just watching, though, Branson said that after he and his crew lands, he will announce a way for more people to fly into space like him.

"When we return, I will announce something very exciting to give more people a chance to become astronauts because space does belong to us all. So, watch this space!" he said.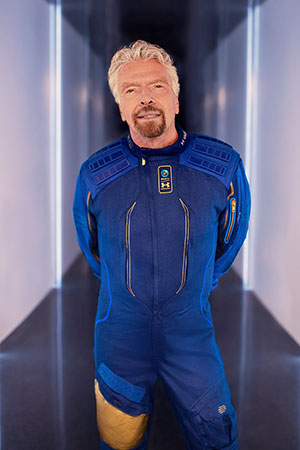 Virgin Galactic founder Richard Branson will be "Astronaut 001" on the company's first fully-crewed test flight of its SpaceShipTwo VSS Unity, scheduled for launch on July 11, 2021. (Virgin Galactic)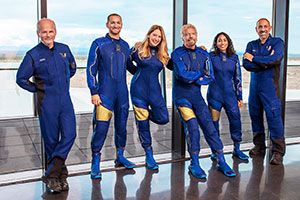 "Unity 22" crew: chief pilot Dave Mackay (at left), pilot Michael Masucci (at right) and mission specialists Colin Bennett, Beth Moses, Richard Branson and Sirisha Bandla. (Virgin Galactic)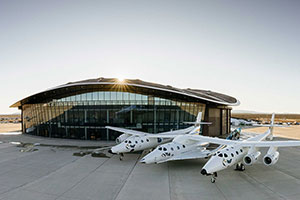 Virgin Galactic's SpaceShipTwo "Unity" and WhiteKnightTwo VMS Eve in front of Spaceport America in New Mexico. (Virgin Galactic)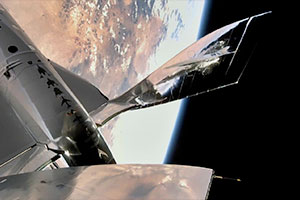 Virgin Galactic's SpaceShipTwo "Unity" flies in space over the state of Mexico on Saturday, May 22, 2021. (Virgin Galactic)