The long road to space...
Shuttle Endeavour launches STS-118 crew, teacher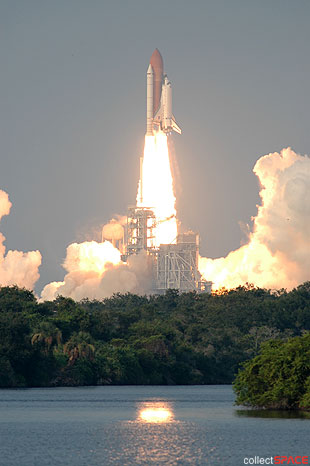 Endeavour launches from Pad 39A. More photographs below.


August 8, 2007 — Space shuttle mission STS-118 is off to a brilliant start, launching from NASA Kennedy Space Center's Pad 39A at 5:36 p.m. CDT. The flight marks the 22nd mission to the international space station (ISS) and the 119th shuttle mission.

"3... 2... 1... zero! And lift-off of space shuttle Endeavour expanding the international space station while creating a classroom in space," proclaimed George Diller, NASA's commentator for the launch.



Click on thumbnails to enlarge



STS-118 also heralds a return to flight for space shuttle orbiter Endeavour, which received an extensive upgrade, including the installation of a glass cockpit, three-string global positioning navigation system and a power transfer system that will allow electricity to be siphoned from the station to extend the orbiter's planned 11 day mission by three days.

Endeavour was last in orbit 1,703 days ago, a record for time between flights, as result of its planned modification and the delays to the schedule in the wake of Columbia's loss in February 2003.



Click on thumbnails to enlarge



STS-118's seven person crew, led by Scott Kelly on his first flight as commander, includes Barbara Morgan, the first of NASA's educator mission specialist astronauts to fly in space.

"Morgan [is] racing towards space on the wings of a legacy," commented NASA's Rob Navias, narrating the launch from mission control in Houston.

Twenty-two years ago, Morgan was selected as back-up for 'Teacher in Space' Christa McAuliffe, who was killed with the STS-51L crew when shuttle Challenger was lost 73 seconds into flight on January 28, 1986. Morgan was invited to return to NASA in 1996 to train as an astronaut.

During STS-118, Morgan and her crewmates will install a new station truss segment, deliver supplies and conduct educational activities, including up to three live downlinks with classrooms and science centers. They will also be flying millions of basil seeds to distribute after the flight to students who design growth chambers suitable for future use on the Moon.



Click on thumbnails to enlarge

At right from bottom right: Scott Kelly, Charles Hobaugh, Richard Mastracchio, Dave Williams and Tracy Caldwell

At left from bottom right: Williams, Barbara Morgan and Al Drew


Charles Hobaugh is pilot for STS-118. Mission specialists Tracy Caldwell, Benjamin "Al" Drew, Richard Mastracchio and the Canadian Space Agency's Dave Williams round out the crew. Williams and Mastracchio will make several spacewalks during the flight to assist in installing the S5 truss segment and an external stowage platform (ESP3), while Caldwell, Morgan and Drew assist them from inside.

"We will see you in a couple of weeks, and thanks for loaning us your space shuttle," said Kelly shortly before liftoff of Endeavour.

© 2023 collectSPACE.com All rights reserved.
Questions? E-mail contact@collectspace.com