August 3, 2013
— A Japanese cargo spacecraft is on its way to the International Space Station to deliver science experiments, spare parts and a conversational "crewmate" of the robot kind.

The Japan Aerospace Exploration Agency's (JAXA) fourth unmanned H-II Transfer Vehicle (HTV) launched Saturday (Aug. 3) on six-day journey to the space station. The HTV, referred to as "Kounotori," Japanese for white stork, lifted off atop an H-IIB rocket from Japan's Tanegashima Space Center at 2:48 p.m. CDT (1948 GMT, 4:48 a.m. Japanese time, Aug. 4).

The 33-foot-long by 14.4-foot-wide (10 by 4.4 meter) cargo craft is scheduled to arrive at the space station on Friday (Aug. 9), where the outpost's crew will use the station's robotic arm to reach out and capture the 12-ton spacecraft and berth it to the Harmony module's Earth-facing port.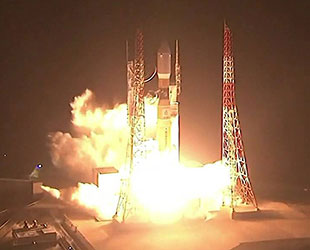 The Japan Aerospace Exploration Agency's H-II Transfer Vehicle "Kounotori-4" launched Aug. 3 for the space station.
(NASA TV)
Among the HTV's cargo is a 13.4-inch-tall (34 centimeter) robot named "Kirobo." The humanoid automaton, which is billed by its creators as a "robot astronaut," is designed to talk with its human astronaut crewmates in space, as well as people on the ground.

Kirobo is scheduled to speak with JAXA astronaut Koichi Wakata, who is due to launch to the station in November. One of two such robots built by the University of Tokyo's Research Center for Advanced Science and Technology as part of the Kibo Robot Project, Kirobo seeks to further technologies for robot-human interaction.

The robots are equipped with voice and face recognition, a camera to recognize emotions and language processing. Toyota Motor Corp., Robo Garage and the public relations firm Dentsu Inc. are partners in the project.

"I want to help create a world where humans and robots can live together," Kirobo said when asked what its dream is during the Kibo Robot Project's unveiling in late June.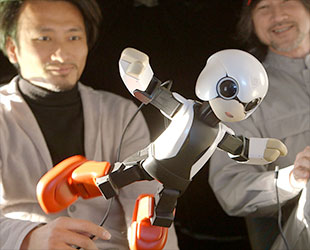 Kirobo was put through a series of zero-gravity and other safety tests before it was deemed ready for flight.
(Kibo Robot Project)
The project's second robot, named "Mirata," is remaining on Earth to aid project engineers if problems develop with Kirobo in space. Kirobo is scheduled to return to Earth in December 2014 (or later), but its ride home will not aboard HTV-4.

The HTV are built for one-time use. Once unloaded of its pressurized and unpressurized cargo — including a new experiment freezer and four CubeSats to be deployed from the station — the astronauts will fill Kounotori-4 with spent equipment and other refuse before sending it off to burn up in Earth's atmosphere in a month's time.

Only Russia's Soyuz and SpaceX's Dragon are capable of returning supplies and experiments to the ground.

Kirobo will be the space station's second humanoid robot. The first, NASA's Robonaut 2 (R2) developed with General Motors, was delivered to the orbiting laboratory in 2011 on the final flight of space shuttle Discovery. Unlike Kirobo, R2 cannot speak but can carry out tasks autonomously or through telerobotic control using its dexterous hands.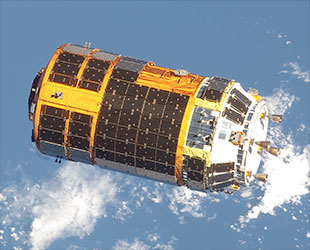 The Japan Aerospace Exploration Agency's Kounotori-2 is seen backdropped by the blue and white Earth in March 2011.
(NASA)
JAXA's first H-II Transfer Vehicle, Kounotori-1, launched in September 2009. HTV-2 was sent to the space station in January 2011 and HTV-3 in July 2012.

Space.com managing editor Tariq Malik contributed to this article.