July 10, 2018
— A Russian uncrewed spacecraft has blazed a new, faster trail from Earth to the International Space Station.

Russia's Progress MS-09 cargo spacecraft completed the record-setting journey to the space station just 3 hours and 40 minutes after its launch on Monday (July 9), shaving off roughly two hours from the previous "fast track" rendezvous and docking. The expedited trip, made possible by orbital dynamics, is expected to be used for future Russian cargo and crew launches to the space station, pending more tests.

"The first time ever in space station history that a docking of a Progress resupply vehicle has occurred in just two orbits following its launch," said NASA public affairs officer Rob Navias, providing commentary from Mission Control in Houston.

The 70th Russian cargo spacecraft to lift off with supplies for the International Space Station since August 2000, Progress MS-09 launched atop a Soyuz 2.1a rocket from Site 31 at the Baikonur Cosmodrome in Kazakhstan at 5:51 p.m. EDT (2151 GMT or 3:51 a.m. July 10 local). It autonomously attached to the space station's Pirs docking compartment at 9:31 p.m. EDT (0131 GMT) the same day.

The Progress, packed with almost three tons (5,658 pounds or 2,566 kilograms) of food, fuel and logistics, will remain docked to the station through late January.

The speedy rendezvous was the result of Russia scheduling the Progress' launch for a day and time when the space station would be in proximity of the Baikonur Cosmodrome. The liftoff occurred just as the orbiting outpost flew 250 miles (400 kilometers) over northern Uzbekistan, southwest of the launch site and about 370 miles (595 kilometers) behind the Progress.

"During the Progress' climb into orbit, the station leap-frogged over the Progress and at the time of [the rocket's] third stage shutdown and spacecraft separation, 8 minutes and 45 seconds after launch, the Progress was about a thousand miles behind the space station," said Navias.

Such alignments between the launch site and space station in orbit are not a daily occurrence. Prior launches followed either a 34-orbit, two-day rendezvous that was less dependent on where the outpost was in relation to the Cosmodrome, or since 2012, a four-orbit, six-hour approach based on a tighter but more schedule-friendly intersection between the station's ground track and timing of the launch.

Russia attempted to send two earlier Progress vehicles on the two-orbit trip, but technical issues with their Soyuz rockets forced last minute scrubs. The delayed launches no longer lined up with the station's flyover of the launch site and so they reverted to the two-day rendezvous instead.

"I think it finally worked out for us," said Dmitry Rogozin, head of Russia's federal space corporation Roscosmos, in a call to Expedition 56 flight engineers Oleg Artemyev and Sergey Prokopyev shortly after the Progress docked. "This is pretty quick that we got these cargo items to you and this is very promising in support of our upcoming plans, both for the current program and programs of the future."

"This is definitely a giant step forward," said Rogozin.

"We've been waiting for this milestone for a long time and hopefully it will become the rule of thumb from here on out," replied Artemyev.

U.S. commercial resupply spacecraft operated for NASA by SpaceX and Northrop Grumman usually follow a multi-day approach to the space station.

But it was aboard a NASA mission, Gemini 11 in September 1966, that astronauts Charles "Pete" Conrad and Richard Gordon demonstrated the first "direct ascent" rendezvous, docking with an Agena target vehicle on their first orbit, just one hour and 34 minutes after their launch from Florida.

The Russian Kosmos 186 and Kosmos 188 uncrewed spacecraft performed an even quicker approach — and history's first fully autonomous docking in space — linking together in orbit one hour and eight minutes after their launch in October 1967.

Russia's next two crewed launches to the space station, Soyuz MS-10 in October and Soyuz MS-11 in December, are currently slated to follow the relatively slower four-orbit, six-hour rendezvous. The next Russian cargo launch, Progress MS-10, is scheduled for late October.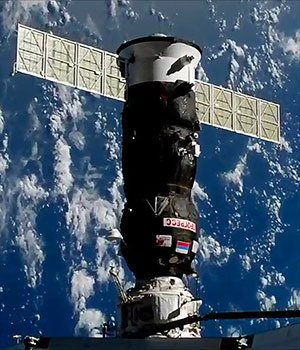 Russia's Progress MS-09 cargo spacecraft is seen docked to the Pirs module on the International Space Station less than four hours after its launch on Monday, July 9, 2018. (NASA TV)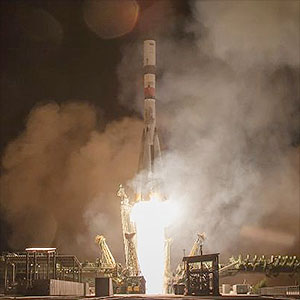 Launch of Russia's Progress MS-09 cargo spacecraft atop a Soyuz rocket from the Baikonur Cosmodrome, Kazakhstan. (Roscosmos)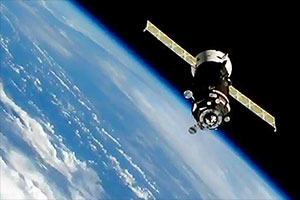 Russia's Progress MS-09 spacecraft on approach to a docking at the International Space Station on July 9, 2018. (NASA TV)