July 10, 2018
— NASA has a new mission for Snoopy, 50 years after the comic strip beagle first entered service for the U.S. space program.

NASA and Peanuts Worldwide announced on Tuesday (July 10) a new multiyear Space Act Agreement that provides the space agency the chance to use Snoopy and the other characters created by the late Charles M. Schulz to help promote NASA's future deep space exploration missions and its on-going efforts to engage students in science, technology, engineering and mathematics (STEM) activities.

The agreement builds off a historic partnership that dates back half a century to the start of NASA's Apollo missions into space, when Schulz gave his permission for the agency to use Snoopy as a symbol for promoting safety. In 1968, NASA introduced the Silver Snoopy award, a special honor presented only by astronauts to NASA employees and contractors whose outstanding achievements contribute to mission safety and success in human spaceflight.

"My husband, Charles Schulz, fully embraced a collaboration with NASA for Snoopy," said Jeannie Schulz in a statement released by Peanuts Worldwide. "He was inspired to create a series of original comic strips detailing Snoopy's fantastical journeys through space. Those strips remain among the most popular ones in circulation today,"

The partnership reached new heights in May 1969, when NASA's Apollo 10 command and lunar modules launched with the crew-chosen call signs, "Charlie Brown" and "Snoopy." The Apollo 10 mission, which served as a full-up dress rehearsal for the first moon landing two months later, was to "snoop around," scouting the Apollo 11 landing site, hence the inspiration for borrowing the beagle and his owner's names.

"My father once told me that when NASA selected his characters, Charlie Brown and Snoopy, to be the names chosen for the modules for the Apollo 10 mission on its trip to the moon, that it was the proudest moment in his career," said Craig Schulz, producer of the 2015 "The Peanuts Movie" and youngest son of the comic strip creator. "He was honored then, and I am honored today as we renew the historic relationship between NASA and Peanuts."

The new Space Act Agreement extends the relationship outside of the agency to students and fans across the United States.

Working with NASA, Peanuts will create content for Astronaut Snoopy, including a STEM-based curriculum about America's deep space exploration objectives and interactive ways to celebrate next year's 50th anniversary of humans first setting foot on the moon.

"Engaging the public and sharing what we're doing through partnerships with organizations that have a unique way of reaching people helps generate interest and curiosity about space in the next generation," said Mark Geyer, director of NASA's Johnson Space Center in Houston, who signed the agreement on the agency's behalf.

Peanuts will begin revealing its updated space-themed activities at this year's San Diego Comic-Con. A July 19 panel, "Snoopy Space Traveler: The History and Future of Snoopy and NASA," will bring together representatives from Peanuts, NASA, the Schulz Museum, collectSPACE and more to talk about the past and present partnerships.

Peanuts' booth at the convention will also offer an array of exclusive products themed around NASA and Astronaut Snoopy, including a new mini-comic book, "Mission (Out of) Control," and a boxed set of two collectible Snoopy figures, one featuring the beagle in his Apollo 10-era spacesuit and the other dressed for his future flights on NASA's Orion spacecraft.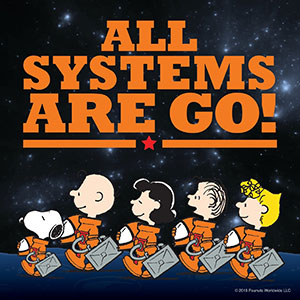 NASA and Peanuts have entered a multiyear Space Act Agreement to promote deep space missions and STEM. (Peanuts Worldwide)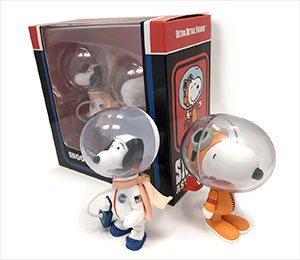 A Comic-Con exclusive set of Astronaut Snoopy figures celebrate the beagle's past and future in space. (Peanuts Worldwide)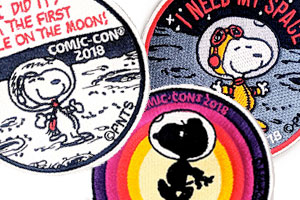 Astronaut Snoopy embroidered patches are among the exclusives that will be offered at San Diego Comic-Con. (Peanuts Worldwide)