January 31, 2009
— Four months before the first humans landed on the Moon in 1969, a beagle beat them to it.

More important than racing the Russians, or passing Neil Armstrong and Buzz Aldrin, was that this "World Famous Astronaut" had beat "that stupid cat who lives next door."

Of course, Snoopy's moon trip only took place in the daily "Peanuts" comic strips created by Charles M. Schulz and syndicated in newspapers the week of March 10, 1969.

Two months later though, Snoopy — along with his owner Charlie Brown — took a different trip to the Moon, only this time it was for real. Serving as the spacecraft names for NASA's final lunar landing dress rehearsal, Charlie Brown and Snoopy cleared the way for Neil and Buzz to become the first men on the Moon.

Snoopy's space flights, both those real and imagined, are celebrated in "To the Moon: Snoopy Soars with NASA", a six-month exhibit that opened Saturday at the Charles M. Schulz Museum in Santa Rosa, California.

Approaching the Moon

"We were thinking about the fact that it was the 40th anniversary of Apollo 10 and how wonderful it would be to explore that connection between the Peanuts characters and NASA," curator Jane O'Cain told collectSPACE.

The resulting exhibition, which runs January 31 through the 40th anniversary of the first manned moon landing on July 20, 2009, uses both space exploration and Schulz artifacts to guide visitors through the past four decades of Snoopy's space adventures.

Divided into four themed-sections, "Snoopy Soars with NASA" first introduces how the comic strip beagle came to serve as the space agency's official safety watchdog.

In 1968, Snoopy began promoting safety awareness and contamination control within NASA facilities appearing on posters, many of which are on display in the exhibit. The agency was granted use of the cartoon character so long as Schulz drew Snoopy on all the NASA-related material and a copyright notice accompanied the artwork.

"I believe their thought was that Snoopy was such a wildly popular character that it was a way to gain people's attention and get them to concentrate more on what was going on," explained O'Cain.

Schulz's first drawing of Snoopy as an astronaut was not for a poster but rather a pin to be flown in space and then rewarded to fewer than 1% of the NASA workforce yearly.

"We have [in the exhibit] the original drawing that Schulz did for the template for the Silver Snoopy award pin," said O'Cain of the "astronauts' personal award" presented for outstanding contributions to their missions' success. "It is fascinating because it was his first attempt at drawing Snoopy as an astronaut. You can actually see the pencil under-drawing as he grappled with where would Snoopy's arms be if he was carrying the [oxygen supply] suitcase and how would he draw the actual suit."

Fortunately, Schulz had hands-on access to a flight suit courtesy the co-owner of the company chosen to mint the Silver Snoopy pins, by nature he was also in the Marines.

"So Don Fraser actually brought out his flight suit to Schulz's office here in Santa Rosa so that Schulz could kind of get an idea about how to go about drawing Snoopy as an astronaut," recounted O'Cain. "I am kind of hoping that people will appreciate the kind of stretch that Schulz went to capture Snoopy in that way."

Entering lunar orbit

As a secretary in the Astronaut Office in 1969, Jamye Flowers was assigned on temporary duty to the Cape for about six weeks prior to launch to work with the Apollo 10 prime, backup, and support crews in the crew quarters' offices. It was there that Flowers got caught up in the pre- flight preparations... literally.

Standing in the hallway where the Apollo 10 astronauts would pass on their way to their ride to the launch pad, Flowers held a large stuffed Snoopy doll.

"She was going to tease [lunar module pilot Eugene] Cernan about taking Snoopy to the Moon. Unfortunately for her — or perhaps funnily for her — the tables were turned and she and Snoopy almost went to the Moon instead. We have the famous picture of Cernan grabbing Snoopy and Jamye," described O'Cain.

Carried a few feet down the hall, Flowers and Snoopy were ultimately left behind as Cernan, Thomas Stafford and John Young left for the Moon. NASA photographs caught the moment for posterity, which led O'Cain to add Flowers' story to the exhibit.

"I video taped a short 'clip' explaining the circumstances of the Apollo 10 Snoopy send-off photograph and it is my understanding that visitors will be able to view the clip at the exhibit," explained Flowers, now Jamye Coplin, in an interview with collectSPACE. "When that photograph was taken launch morning in May 1969, I never imagined that forty years later I would be lucky enough to be included in such an outstanding exhibit."

In addition to Coplin's video, the Apollo 10 dedicated area of "Snoopy Soars with NASA" includes a one-third scale model of an Apollo Command Module (Charlie Brown, the real Apollo 10 module is on display in London), a NASA loaned flightsuit and a collection of never-before exhibited parts from the same type of rocket that lofted Apollo 10.

"We have a wonderful collector in the Bay area and he has loaned us his Saturn V components and they are the first time they have been seen in a museum. It will be quite wonderful for people who are technical bent and would like to see that type of technology, what put a man on the Moon," said O'Cain.

The exhibit also features two renderings of Snoopy, one drawn by Schulz, the other not, but both flew on Charlie Brown to the Moon.

"Renderings of Snoopy and Charlie Brown were taken on board Apollo 10 and we actually have the Snoopy that was on the flight that you can see on the video where John Young is holding Snoopy and Charlie Brown for the camera," said O'Cain. "We're thrilled to have the Snoopy painting in the exhibit but it wasn't done by Schulz, it was done by a graphic artist at NASA."

It's not known who the space agency had paint Snoopy, but its understood that Edgar Mitchell, who served on the Apollo 10 backup crew and later walked on the Moon on Apollo 14, was responsible for coming to Schulz for a few surprises for the crew.

"He asked for some renderings of Snoopy that he could then insert into the checklist so that the astronauts would then find them in space," O'Cain described. "So we have this wonderful artifact that has a rendering of Snoopy on one side, and the careful calculations that the astronauts were making on the other."

Return to the Moon

"Snoopy Soars with NASA" ends with the message that Snoopy's adventures in space will continue with the next generation of explorers.

"Rounding out the exhibit, we have a creative play area for children, which includes a rocket ship and a chance to dress up in astronaut costumes," O'Cain shared.

The display also features an entire case that looks at all the different ways that Snoopy as an astronaut has been interpreted in toys and products over the past 40 years.

And even though original Peanuts' strips ceased after Schulz's passing in February 2000, Snoopy continues to serve as NASA's mascot for mission success.

"We especially wanted to note that Snoopy continues in his role at NASA, even up until today," said O'Cain.

The Charles M. Schulz Museum is 50 minutes by car north of San Francisco on Highway 101. The Museum is located at 2301 Hardies Lane, Santa Rosa, Calif. 95403.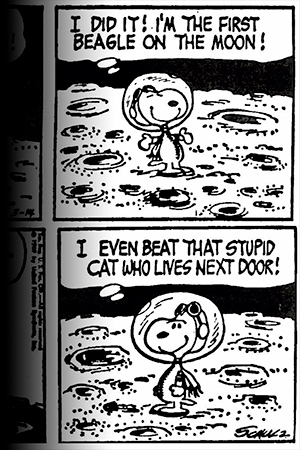 A new exhibit marks 40 years since Snoopy flew to the Moon, both in the comics and in real life. (United Features Syndicate)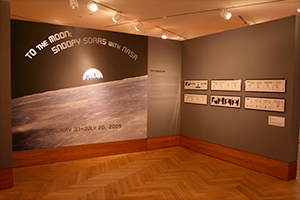 The entrance to "To The Moon" (Susie Martinez/Schulz Museum)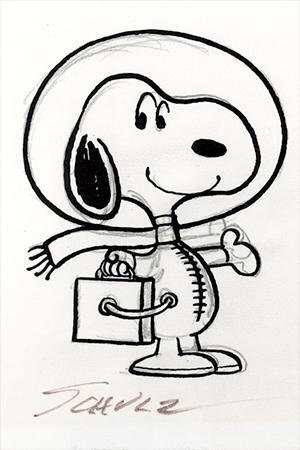 Charles Schulz's original concept art for NASA's Silver Snoopy award. (Donald Fraser/United Feature Syndicate)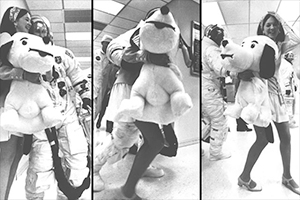 Jamye Flowers-Coplin carries a stuffed Snoopy while Apollo 10 Lunar Module Pilot Gene Cernan carries her. (NASA)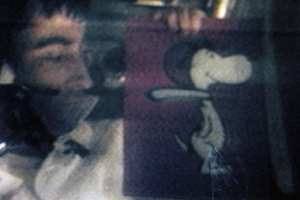 John Young displays Snoopy on-board Apollo 10. (NASA)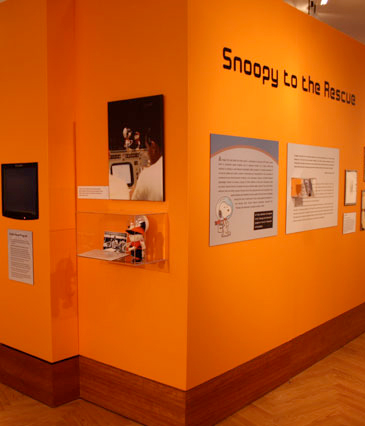 "Snoopy Soars to the Moon" exhibit (Martinez/Schulz Museum)