July 3, 2015
— Russia's 60th resupply ship launch to the International Space Station reached its intended orbit early Friday (July 3), marking a return to normal flight operations for the Progress spacecraft since a prior freighter tumbled out of control and was lost in late April.

Progress M-28M lifted off from the Baikonur Cosmodrome Pad No. 1 in Kazakhstan at 12:55 a.m. EDT (0455 GMT; 10:55 a.m. local) for a two-day rendezvous with the space station. The uncrewed craft is scheduled to linkup with the complex's Russian Pirs docking compartment at 3:13 a.m. EDT (0713 GMT) on Sunday (July 5).

The Progress is packed with more than 3 tons of supplies, including 3,071 pounds (1,393 kilograms) of crew logistics and science research; 926 lbs (420 kg) of water and 1,146 lbs (520 kg) of fuel for station's Zvezda module thrusters.

The success of this supply run is particularly important to the station's Expedition 44 crew given the recent losses of three different types of cargo ships. After a launch failure claimed an Orbital Sciences' Cygnus freighter in October, Russia's Progress M-27M was lost in April, and just earlier this week, a SpaceX Dragon cargo launch broke apart 139 seconds into flight.

By coincidence, all three of the launch failures took place on the 28th of their months (Cygnus on Oct. 28, Progress on April 28 and SpaceX on June 28).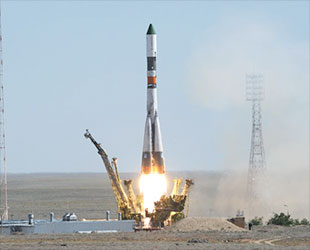 Russia's Progress M-28M cargo craft lifts off for the International Space Station from the Baikonur Cosmodrome.
(RSC Energia)
Russia's investigation into the loss of the Progress M-27M pointed to a problem with its Soyuz 2.1a rocket's upper or third stage. For Friday's launch, the Progress M-28M lifted off atop a Soyuz-U, an older configuration of the booster.

"We understand the differences from the recent Progress failure," said William Gerstenmaier, NASA's chief of space operations. "They've essentially replaced the third stage of the rocket with an older configuration that has flown with Progress before."

With the failure of the previous Progress and the two U.S. commercial cargo ships, the station had enough supplies aboard to support its crew through October. Assuming the Progress M-28M docks as expected Sunday, it will extend the outpost's consumables by a month to November.

"We will have a lot of crew logistics — food and water and provisions," said Mike Suffredini, NASA's station program manager. "They're trying to get their supplies back up to a higher level, and so that, in turn, will drive the logistics up for the entire [space station]."

Currently, there are three crew members aboard the space station: NASA's Scott Kelly and Roscosmos cosmonauts Mikhail Kornienko and Gennady Padalka. They were to be joined by three more in May, but that launch was delayed in the wake of Progress M-27M.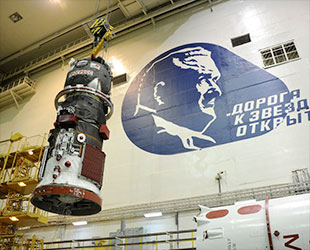 Russia's Progress M-28M cargo craft during final preparations at the Baikonur Cosmodrome in Kazakhstan.
(RSC Energia)
Friday's successful launch clears the way for Soyuz TMA-17M to lift off July 22 with NASA astronaut Kjell Lindgren, cosmonaut Oleg Kononenko and Kimiya Yui of JAXA (the Japan Aerospace Exploration Agency).

"We are looking forward to getting those new guys up here pretty soon," Kelly said from orbit on Thursday. "We need their help up here ... it would be great to have some extra hands."

Progress M-28M, after docking Sunday, will be unpacked by the crew and repacked with spent equipment and trash. It is scheduled to depart the space station on Nov. 19 and be purposely destroyed during its re-entry into the Earth's atmosphere.

M-28M will be followed by JAXA's HTV freighter in August and then Progress M-29M, slated to launch in September.