June 29, 2012
— Three Chinese astronauts returned to Earth Thursday evening (June 28), ending a nearly 13-day mission that advanced China's plans for a space station.

The Shenzhou 9 spacecraft, with Jing Haipeng, Liu Wang and China's first woman in space Liu Yang aboard, landed at 10:04 p.m. EDT (0204 GMT June 29) in Inner Mongolia, an autonomous region of the People's Republic of China.

A live video broadcast of the landing showed the capsule descending under a parachute and then firing its braking engines just before hitting the ground. The spacecraft was then seen flipping over.

Chinese space officials commenting on the broadcast said the capsule's end-over-end roll was normal.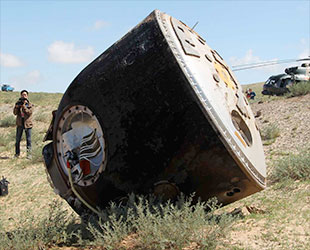 The Shenzhou 9 spacecraft as seen after it flipped over during its landing on June 28, 2012 in Inner Mongolia, China.
(Xinhua)
Despite what appeared to be a rough landing, the three astronauts, or "taikonauts" said soon after touching down that they were doing well. The three remained inside their capsule for more than an hour though, needing additional time to readjust to gravity.

Jing, Shenzhou 9's mission commander and China's first astronaut to fly a second spaceflight, was the first to exit the capsule. Liu Wang was next, followed by Liu Yang. All three looked to be in good condition, smiling, waving and together saluting "China and its people."

"It feels really good to feel the ground and be back home," Liu Wang said during a brief interview with China Central Television (CCTV).

The landing brought an end to the Shenzhou 9 mission after 12 days and 15 hours in space. Launched on June 16 from the Jiuquan Satellite Launch Center in northwest China's Gobi desert, Shenzhou 9 was the country's fourth crewed spaceflight since 2003. It was China's first mission to demonstrate rendezvous and docking under the crew's control.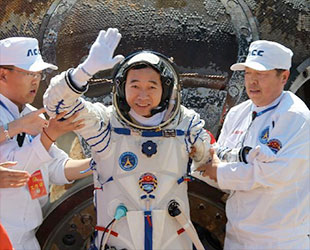 Shenzhou 9 commander Jing Haipeng smiles and waves as he is assisted exiting the capsule following 13 days in space.
(Xinhua)
"We fulfilled the first manned manual docking," Jing said after landing on Thursday.

The Shenzhou 9 spacecraft first arrived at the Tiangong-1 lab module, a prototype for China's planned space station, under automated control. Then on Sunday (June 23), the vehicles were separated and Liu Wang took control of the Shenzhou 9 to demonstrate a piloted approach.

The astronauts then reentered the 34 foot (10 meters) long space module, staying until Wednesday night when they undocked for a last time to begin their return to Earth.

"It was like a home in Tiangong, and I feel very happy and proud of my country," Liu Yang told CCTV after landing.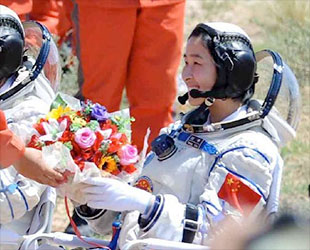 China's first woman in space, Liu Yang, is presented with flowers after landing in Inner Mongolia on June 28, 2012.
(Xinhua)
During their almost ten day stay aboard the Tiangong-1, or "Heavenly Palace," the crew completed all their mission's planned medical and science experiments and produced "valuable data," Chen Shanguang, chief commander of the mission's astronaut system, said.

"The data will help us improve technologies for astronauts' future, long-term stays in a space station," Chen said, as quoted by the state-run Xinhua news service.

China has announced it plans to deploy a multiple module space station by 2020. Before then however, the country will launch at least one more crew to Tiangong-1, followed by at least two additional test modules.

China's Premier Wen Jiabao hailed the successful mission as important advancement for his country. "This manned docking mission of Tiangong-1 and Shenzhou 9 marks a large milestone, a major breakthrough for China to master the space docking technology," Wen said, reading from a statement. "And also, it marks a decisive step forward on China's second step on its space strategy."