Museum "covers" Soviet space history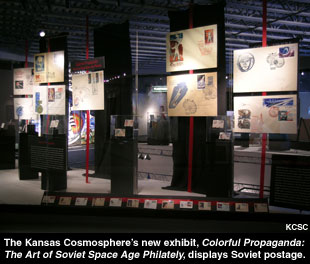 June 28, 2006 — You could say that the new exhibit at the Kansas Cosmosphere and Space Center rewrites the book on how museums share Soviet space history, from cover to cover.

Now on display in Hutchinson, Colorful Propaganda: The Art of Soviet Space Age Philately showcases the Soviet Union's space conquests through the miniature works of art that graced the nation's postage stamps and philatelic paraphernalia.

The display features rare stamps and cover art enlarged to poster size, lending visitors the chance to truly take in the craftsmanship and artistry of each piece of postage.

"The Cosmosphere is delighted to unveil parts of our collection typically kept in storage," said the museum's curator of collections, Kiersten Latham.

"Soviet cover art was highly detailed and beautiful, in spite of being created for a very functional purpose. Anyone interested in space, art, or stamp collecting will find themselves captivated by the seamless way the Soviet artists incorporated Space Age life onto one tiny postage stamp," continued Latham.

A 'cover' is the name assigned by philatelic enthusiasts to stamped and canceled envelopes. Very often, covers also feature decorative cachets that compliment the art or theme presented on the postage.

The Cosmosphere's exhibit features 40 examples in total.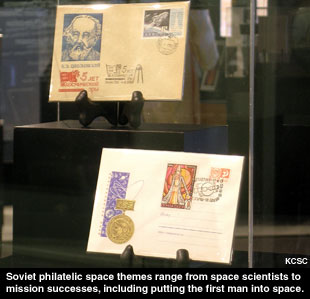 The Soviet Union's space program claimed many "firsts" in the 1960s space race with the United States. Among these were the first artificial satellite in orbit, the launch of the first man and woman, and the first spacewalk. These successes were shared globally, in part by their depiction on postage. Other popular space themes included images of Soviet scientists, such as Konstantin Tsiolkovsky, the "father of cosmonautics."

Colorful Propaganda will remain on exhibit throughout the summer in the Cosmosphere's rotunda.

© 2022 collectSPACE.com All rights reserved.
Questions? E-mail contact@collectspace.com